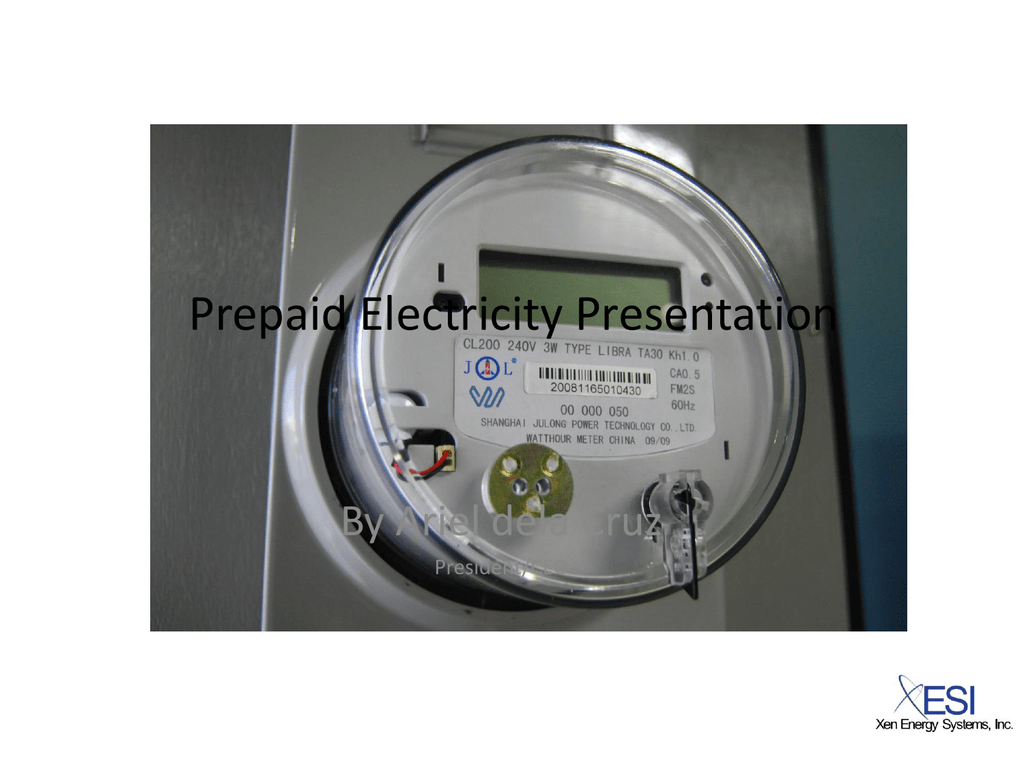 Prepaid Electricity Presentation
By Ariel dela Cruz
President/CEO
Prepaid Success Drivers
• Sachets: small denominations
• Pervasive Point of Sales (aka sari-sari stores)
– Healthy ecosystem (store owners must make
reasonable profits)
– Familiar SMS reloading process
• Low Cost of CPE
Types of Prepaid Retail
Electricity Systems
• Token Based
– Customers buy from a vending station and are given a
numeric token to be keyed into the meter
• Reloadable Cards
– Customers buy from a vending station using
reloadable cards which are either inserted into the
meter or swiped near the meter
• Online
– Customers buy from retailers scratch cards or e-loads
which can reload the system thru text similar to
electronic loads of the telcos
Major ERC requirements for
Prepaid Electricity Systems
•
•
•
•
Mandates specific Information on the meter
Loading in reasonably small increments
Load available 24 hours
DU advances the cost of the meter. Meter Cost
recovery mechanism to be approved by ERC
• Prepaid system MUST implement lifeline rates.
• 2 years of record keeping
Meter Display Requirements
•
•
•
•
Current Load Balance
Time and date
Previous 30 day KWHR consumption
The number of days into the current 30 day
period
• Current consumption into the period
• Low Load warning
Logical Choice
• Online
– Connectivity Challenges:
• Circuit Switched Data (sunset protocol)
• GPRS/EDGE/3G (Shared Pipes, not fully provisioned in
Provinces)
• No SLA
• Wireless Broadband (not fully provisioned)
• Wireless ATM connectivity shows us the way:
– Symstream Data over GSM Voice Channel
– Best in Class remote device management
Prepaid/postpaid/TOU AMR Capable meter
System Architecture
• Near Real Time Online System (30 mins. Update)
• Loading via SMS
– Makes use of existing Telco load retailer network
– Balance inquiry via SMS
• Calculation of remaining load is at the back end server
– Allows monthly rate changes
– Accommodates lifeline rate calculations
• Can be used as Postpaid Meter read via AMR
•
•
•
•
TOU capable
Tamper alarms
Optional support for Google PowerMeter
Symstream GSM technology for highest SLA
communications connectivity
Advantages vs. Competition
• Customized to ERC requirements
• Uses Symstream GSM connectivity for highest
reliability & security in wireless data
communications
• Uses SMS top-up infrastructure
• Use of concentrators brings the cost of wireless
airtime to a minimum
e-Load Internet Store by RCBC
Best fit solution
+
Thank you.