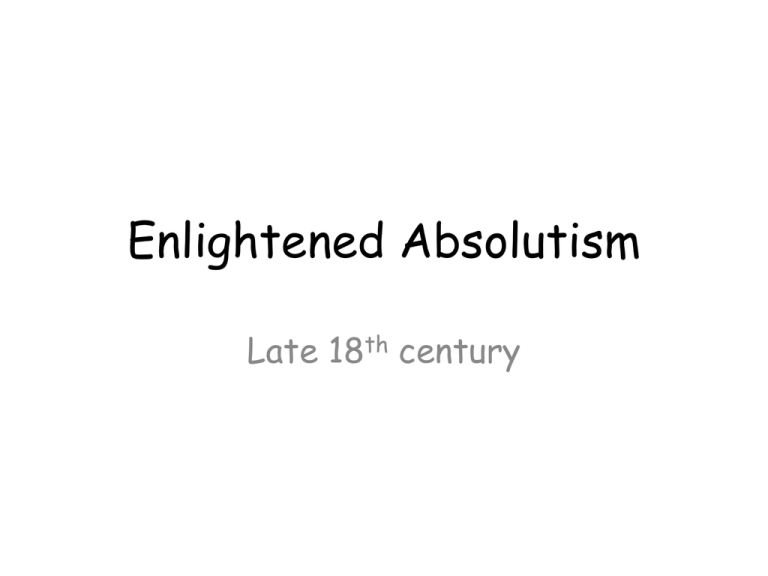 Enlightened Absolutism
Late 18th century
Enlightened Absolutism
Enlightened Despot/Absolutist: rulers who
tried to justify their absolute rule by
claiming to rule in the people's interest
by making good laws, promoting human
happiness, and improving society
–
–
–
–
They were instructed by the philosophes
Typically didn't argue "Divine Right"
Late 18th century
A bit of an oxymoron
Why Respect the Philosophe?
• The philosophes were considered
intellectuals and had elevated status,
therefore were well respected by
monarchies throughout Europe.
• Philosophes were not the voice of the
common people ("people").
• Most influential Enlightened Absolutists:
– Catherine the Great, Russia
– Frederick the Great, Prussia
– Joseph II, Austria (Hapsburg)
Catherine the Great (r.1762-1796)
German princess who led Russia (was married
to Peter III, plotted to have him murdered)
-created hospitals
-codified Russian law
-brought "culture" to Russia
-allowed some religious toleration
-improved education, local govt.
-sought territorial expansion
-Pugachev serf uprising (1773) led her to
reverse some reforms
Catherine the Great & Peter III
Frederick II, Prussia (r. 1740-1786)
Nicknamed "The Great" for his enlightened
reforms
Positive:
-improved educational system
-eliminated torture of accused criminals
-allowed freedom of religion and press
Negative:
-Didn't end serfdom, kept noble privileges in
tact
Frederick the Great
Maria Theresa & Joseph II,
Austria (Hapsburgs)
Maria Theresa (Austria)
-est. national army
-limited the power of
the Catholic
Church
-revised the tax
system
-improved ed. system
-limited the power of
the lord over serfs
Joseph II (Austria)
-abolished serfdom
-tolerance of
Calvinists and
Lutherans
-eliminated
restrictions placed on
Jews
-abolished capital
punishment
Maria Theresa & Joseph II
War of Austrian Succession
(1740-1748)
• Frederick II (Great) invaded Austrian controlled Silesia.
– This broke the Pragmatic Sanction of Charles VI allowing
Maria Theresa to rule in peace.
– Maria wanted Silesia back and fought with various
alliances (mainly Britain, and Prussia fought with France).
She lost Silesia to Prussia in 1748 in the Treaty of Aix-laChapelle.
– Maria soon determined that Britain was a bigger enemy to
her than France. She allied herself with France and Prussia
allied with Britain (they switched allies).
– The war that subsequently took place (because Frederick
attacked Austrian ally Saxony) was called the Seven Years
War in Europe (1756-1763), and French and Indian War in
North America.