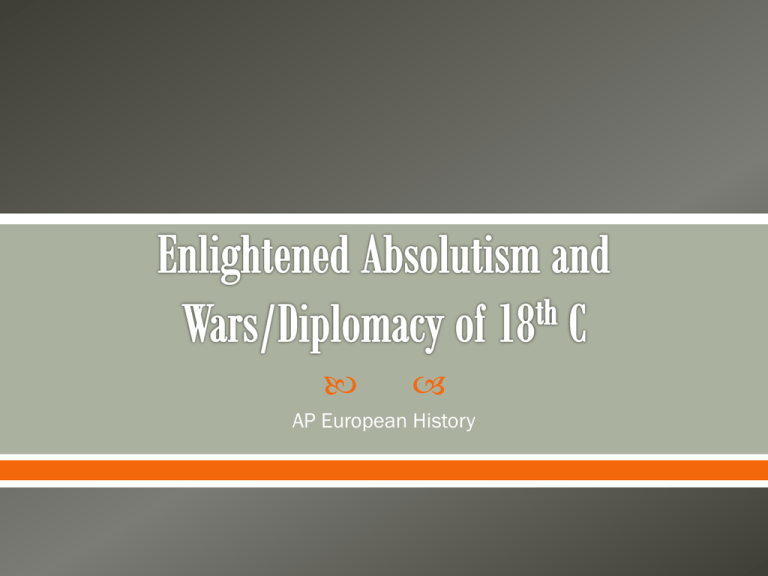 

AP European History




Most philosophes believed that benevolent absolutism was
the best option for improving society
Critical thinking turned the art of good government into an
exact science
Many absolutist rulers attracted to Enlightenment ideas –
tried to govern in an "enlightened" manner
Necessities of state and maintenance too precedence over
reform
1.
Enlightened absolutism in the eighteenth century
a)
b)
c)
d)
e)
Never completely overcame the political and social realities of the
day
Was most successful in strengthening administrative systems in
the nation-states
Was limited to policies that did not undermine the interests of the
nobility
All of the above
None of the above
Son of Frederick William
I (Soldiers' King)
 Invaded German
province of Silesia
 Gradual demonstration
of Enlightenment
thought
 Reformed bureaucracy
and legal system
 No change to social
structure

1.
Prussia's Frederick the Great succeeded in
a)
b)
c)
d)
e)
Imposing his strict Protestantism on a Catholic populace
Crushing the power of the Prussian nobility
Carrying out reforms that pleased the philosophes
Making Prussia's scattered lands more unified and secure
Marrying his sons to the strongest Catholic royal families
Maria Theresa (r. 17401780)
 Strengthened
bureaucracy & military
 Joseph II (r. 1780-1790)
 Changes to feudal
system violently rejected
 Leopold II (r. 1790-1792)
reversed many of
Joseph's reforms

1.
The Austrian emperor Joseph II
a)
b)
c)
d)
e)
Reversed the enlightened reforms of his mother Maria Theresa
Rescinded most of the privileges the Hungarians had enjoyed
Stripped the nobility of all its former powers
Was discouraged by the discontent that greeted his reforms
Abdicated his throne during a peasant uprising
 German
princess 
Married to Peter III
 Determined to rule in
Enlightened manner
 Continued to bring
culture of Western
Europe to Russia
 Domestic Reform
 Pugachev's Rebellion
 Partition of Poland
1.
The partition of Poland in the late eighteenth century
a)
b)
c)
d)
e)
Occurred after decades of warfare with and between its neighbors
Was prevented by the military intervention of Thaddeus
Kosciuszko
Showed that a nation in those days needed a strong king to
survive
None of the above
All of the above
 Pragmatic
Sanction
 Challenges from
Prussia and France
 Worldwide conflict
 Peace Treaty of Aix-laChapelle
 New
rivalries, three
major areas of conflict
 Conflict in Europe
 War in India
 The French and Indian
War

Describe the causes and results of the Seven Years' War.
Explain why and how it was decisive for the colonial
ambitions of Britain and France.