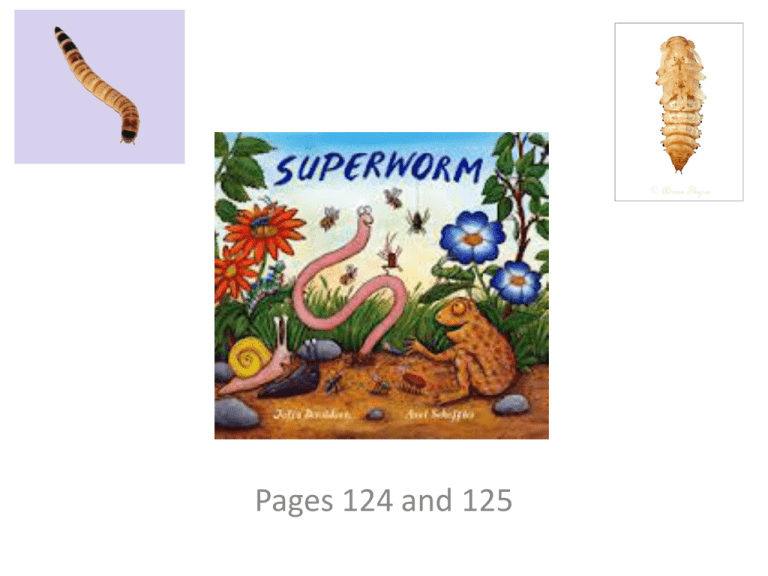 Pages 124 and 125
Life Cycle
• A super worm is actually in it's larval stage
when it is a worm.
• As an adult, the super worm turns into a
beetle.
– Other names are flour or grain beetle.
Life Cycle
• There are 4 parts to each super worm life cycle.
• Egg  Larva  Pupa  Adult
• The first part of the life cycle only lasts from 3 months.
The Egg
• Small and white
• Hard to see
• They hatch in a couple
of days!!!
• Shortest part of the life
cycle.
• http://www.youtube.co
m/watch?v=0Sh9ZnYE3
M0
Larval Cycle
• The longest part of the
cycle.
• This is when it is a
worm.
• The worm sheds it's
exoskeleton lots of
times. This is called
molting.
The last MOLT turns into the
pupae!!!
– This makes it grow one
section each time.
Pupae
• This is the stage when
metamorphosis takes
place!
• The super worms will
begin to curl inwards.
Their head will curl
towards their tail.
• They make a cocoon out
of silk! It will harden and
make a shell.
• This stage takes about 1014 days.
• A beetle will emerge
when it's done!
The last stage- Adult
• First they are
white/yellow and soft.
• Then they harden and
turn from white to black!
• Adult beetles live for 3-15
years.
• During this time the
female beetles need to
lay eggs.
• They lay about 500
eggs!!!
Compare
Finish the following pages
• 116, 121, 122 (molting).
• Page 2 of your Superworm Booklets.
– We are on day 5!