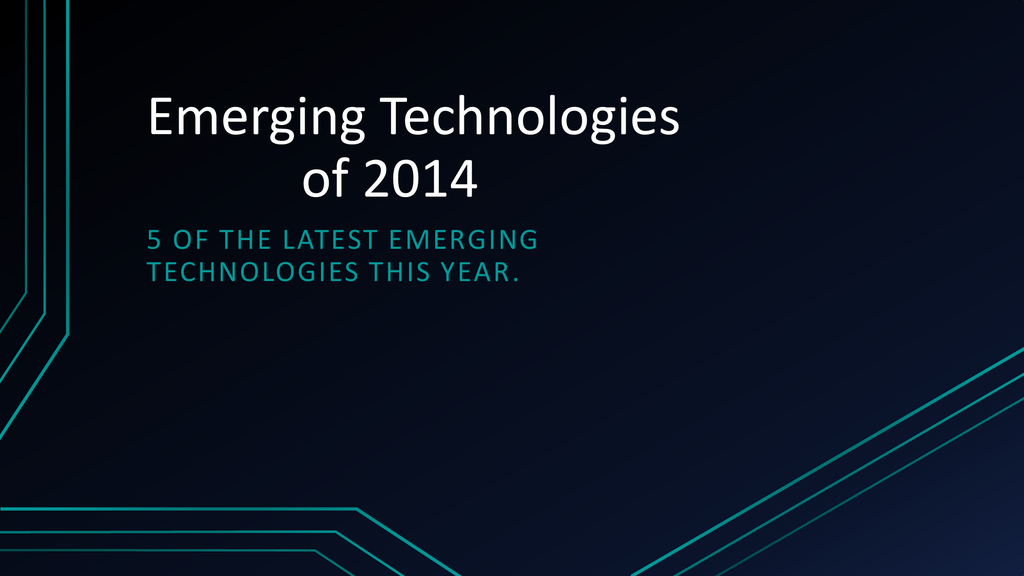 Emerging Technologies
of 2014
5 OF THE LATEST EMERGING
TECHNOLOGIES THIS YEAR.
iBeats Phone
iBeats is an apple product for experiencing music in the best way. It's one
thing to love music and another to LOVE music, to immerse yourself in it
and use all the proper tools to do that. One such too may be created by
the union of Apple and Beats and according to designer Faisal Semari, it
may well be a phone. It is called the iBeats Phone, a concept smartphone
with an unique teardrop design and music features. This is not just a
regular iPhone with Beats acoustics, but much more. It's simply a music
phone for people who love to enjoy quality acoustics and adore music.
Go to itechfuture.com to learn more.
Portal- flexible iPhone strap to arm
Portal is a portable and easy way to use a device while working out or
doing work. This device straps on to your wrist and is flexible so you can
easily move your arm around.
Go to itechfuture.com to learn more.
Projection Keyboard
A projection keyboard is a form of computer input device whereby the
image of a virtual keyboard is projected onto a surface. when a user
touches the surface covered by an image of a key, the device records the
corresponding keystroke.
Go to http://en.wikipedia.org to learn more.
The Leia Display
The Leia Display System is capable of projecting images into midair, and
also allows the user to interact with these images via gesture controls.
the device first emits a thin wall of water vapor into the air. Without light,
this wall is nearly invisible, but when hit with the beam of a projector, it
serves as a semi-transparent canvas for the projected imagery. Then,
with the help of a few motion tracking sensors and some special
software, the system is able to recognize when an image is touched by a
user, which allows the display to be grabbed, pinched, swiped, rotated,
flicked, and manipulated with all sorts of Minority Report-style gestures.
Go to www.engadget.com to learn more.
Baxter(robot)
Baxter robot is a labour robot used to work in different places such as
stores.
Go to wikipedia.com to learn more.