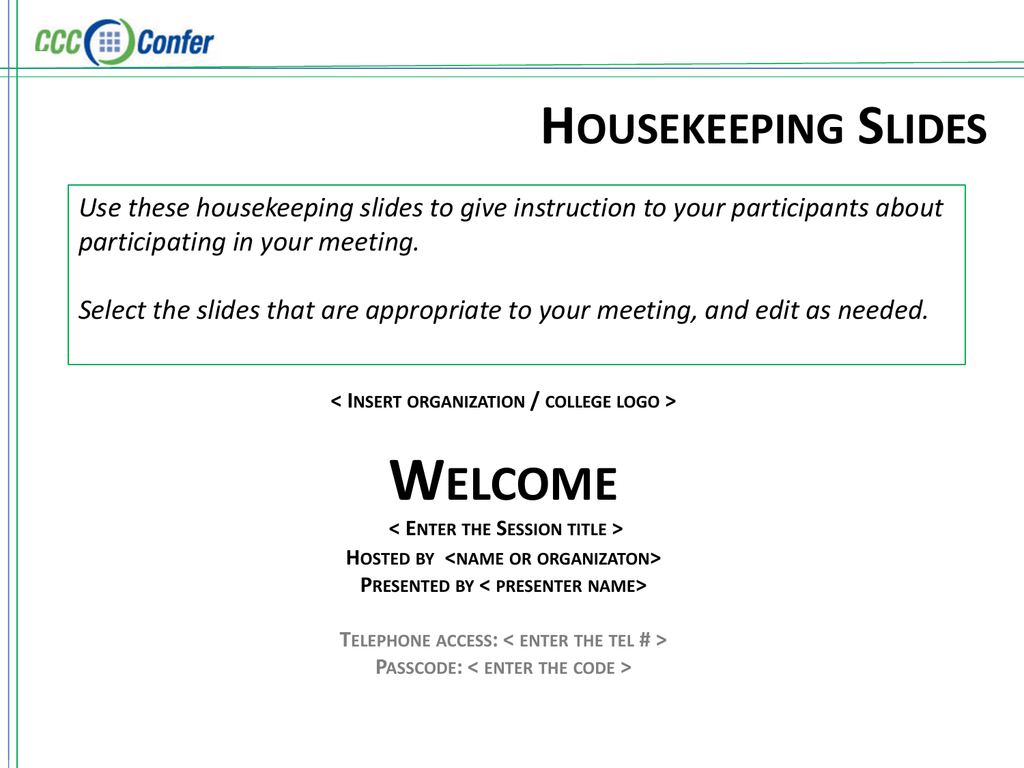 HOUSEKEEPING SLIDES
Use these housekeeping slides to give instruction to your participants about
participating in your meeting.
Select the slides that are appropriate to your meeting, and edit as needed.
< INSERT ORGANIZATION / COLLEGE LOGO >
WELCOME
< ENTER THE SESSION TITLE >
HOSTED BY <NAME OR ORGANIZATON>
PRESENTED BY < PRESENTER NAME>
TELEPHONE ACCESS: < ENTER THE TEL # >
PASSCODE: < ENTER THE CODE >
AUDIO LISTENING
If you are listening over the telephone, click the telephone handset.
If you are listening over your computer, adjust the volume with the sliders.
SEND TEXT CHAT MESSAGES
Type your message in this area, then click
Send to deliver the message to everyone.
RAISE YOUR HAND
EXPRESS YOUR THOUGHTS
RESPOND TO A POLL OR QUESTION
Raise or lower your hand.
Express your thoughts with emoticons!
Respond to a poll or question.
STEP AWAY AND RETURN
If you need to leave the meeting for a moment – let us know you are
not participating at this time.
Step Away and Return
• Click once to "Step Away"
• Click again to "Return"
VIEW CLOSED CAPTIONS
Click to open the Closed-Caption window.
ADJUST THE VIDEO
Adjust the size of the video window.
Change between gray and color view.