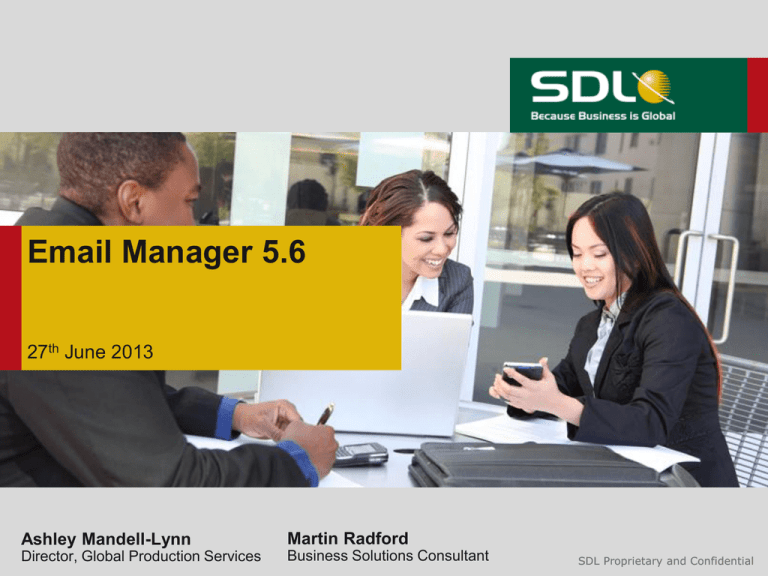 Email Manager 5.6
27th June 2013
Ashley Mandell-Lynn
Martin Radford
Director, Global Production Services
Business Solutions Consultant
SDL Proprietary and Confidential
Agenda
• SDL Email overview
• Overview of Email Manager 5.6 features and functionality
• Email Manager 5.6 Demo
• Response data integration with SDL Customer Analytics
• Compatibility considerations
• Release milestones
2
SDL Email services growing rapidly
• Over 12 billion emails sent out of Email Manager in 2012
• Current average of 43 million emails per day
• Volumes continue to rise…
• …we are projecting over 14 billion emails in 2013
• Email is a key element of the SDL Intelligent Marketing Suite
• Email has received significant investment
– Datacenter and hardware improvements
– Services team supporting email
– Product development
– Development continues with another major release scheduled for Q1 2014
3
Development focused on some key email marketing trends
Change in behaviour
Development need
Marketers multi-task, so we see a higher
volume of 'light' users
Email tool needs to be easier to use, more
intuitive for marketers and accessible to
larger numbers
Continued move towards experience
management, reduces per campaign
volume, increases regularity
User need to manage campaigns rather than
single 'one-off' deployments
Diversity of recipient devices used –
mobile, tablet etc…
Render testing needs to be inherent in the
campaign process
Changing trends in 'what works' and
what parts of email drive traffic
Experimentation need to use heat maps
Greater focus on Email ROI increases
drive for more testing
Ability to manage dynamic content and test
cells across campaigns
(see our Testing Best Practice doc on partner portal,
http://www.sdl.com/community/cmapartnerportal)
Appetite for video in email / landing
pages
Ability to easily manage and incorporate rich
media content
Marketing is changing, email tools needs to reflect that change.
4
New Campaign Builder experience
• Enhanced user interface for easier navigation
Improved
navigation ribbon
Automatic campaign
thumbnails (recent
documents)
Easy access to shared
events, variables &
lookup tables
Multi-document
Support
5
Preview
Pane
Multi-document support allows work on multiple creative
Multiple creative
in a campaign
Multi-document
Support
6
Document explorer Search speeds up
Document
search
Search across
all categories.
7
New 'design view' WYSIWYG editor
Full set of WYSIWYG
editing tools
Easy access to
campaign variables,
shared templates for
insertion to campaign
You can now embed creatives
from any campaign into another
creative
Improved source code editor makes editing easier
Easy to
switch views
Color coded
markup
Search & replace
functionality
Addition of code
line numbers
File Manager & Image Properties Editor
Zip file upload (with autounzip) is now available.
Insert images from
file manager
Image files easily
managed from one
location
EM 2013 Highlights
Integrated inbox render testing with 'Gallery View'
Select category
e.g. Inbox, Mobile
or Tablets
Device selection,
e.g. iPhone 4S
preview
Easy switch to
Gallery view
With over 40 inbox previews
Heat Map – Emails & landing pages
Enable Heat
Map view
Reports clickto-open rate for
creative
Warmer colors,
show higher
click rates
Media Manager Integration - Optional
Media Manager
Panel
Browse audio
and images
stored in SDL
Media Manager
Preview images
or video
Enables content management for
rich media in email
Response data fully integrated into SDL Customer Analytics
High-speed Email Response
Importer allows customers to
easily analyze response data
with Engine!
14
Demonstration
15
Compatibility considerations
• Campaign Manager 2.9 supports EM 5.6
• Campaign Manager 2.8 does NOT support EM 5.6
– CM 2.8 users will be upgraded before moving to Email Manager 5.6
• Alterian Marketing Suite - the following software versions offer
compatibility with Engine 5.2 and Email Manager 5.6
16
Product
Version
Scheduled Release Date
AMS
3.0 SR4
Released
Analytical Dashboard
2.5 SR2
9 July 2013
Selection Planner
4.2 SR4
Released
ADMI
3.0 SR7
Released
KXEN
3.3 SR2
TBC
Release Milestones
• Full details will be communicated to each partner in the coming month
• Releases will be staggered across the customer base
17
Start Date
Completion Date
1 – EMEA phase 1
18 June
19 June
2 – US Phase 1
25 June
26 June
3 – UK 2
30 July
31 July
4 – US 2
13 August
14 August
5 – UK 3
27 August
28 August
6 – UK 4
10 September
11 September
7 – UK 5
17 September
18 September
8 – UK 6
24 September
25 September
9 – US phase 3 clients
26 September
27 September
There will be detailed documentation in support of the release
Document
Description
Parity Analysis Guide
A summary of key changes and a description of
each
Campaign Builder
Guide
A full product manual for the new Campaign
Builder element
API Introduction Guide A 'quick-start' guide detailing the additional API
calls now available
18
API User Guide
A full user guide for Email manager 5.6 web
services
API Migration Guide
Migration guide with code examples to use when
migrating to new calls (migration is not a
requirement for upgrade)
Release Notes
Full release notes as normal
Copyright © 2008-2012 SDL plc. All rights reserved.. All company names, brand names, trademarks,
service marks, images and logos are the property of their respective owners.
This presentation and its content are SDL confidential unless otherwise specified, and may not be
copied, used or distributed except as authorised by SDL.