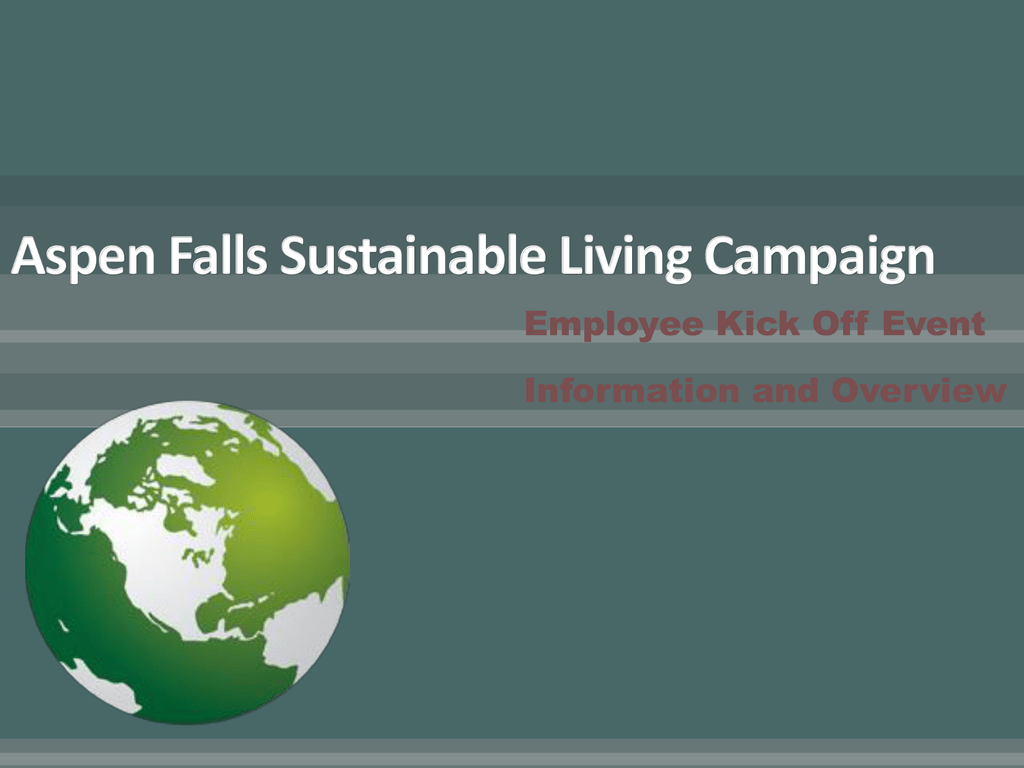 Aspen Falls Sustainable Living Campaign
Employee Kick Off Event
Information and Overview
Sustainable Lifestyle Booths
Winter
Taste
Blues
of
Festival
Aspen
Annual
Starving
Annual
Wine
Cinquo
de
Vintage
Heritage
Harvest
Amateur
Farmer's
Falls
Artists
Sidewalk
Festival
Mayo
Car
Show
Day
Parade
Days
Bike
Races
Market
Aspen
Lake
Aspen
Falls
Nature
Cruises
Triathlon
Sale
Aspen Falls Initiatives
 Citizen wellness
 Recycling and reusing
 Water conservation
 Alternative energy production
 Pedestrian friendly neighborhoods
 Sustainable lifestyle
Sustainability
Contact Information
City Manager
 Maria Martinez
 (805) 555-1005
 [email protected]
Assistant City Manager
 Richard Mack
 (805) 555-1032
 [email protected]
Where we are today…
Population
245,957
Size
254 Sq Miles
Median Age
35.4
Minors
Over 1/3 of
population is
under 18
Aspen Falls in the News
Aspen Falls, Durango County, California
Located in Durango County, California, Aspen Falls
is known for its unique blend of rural atmosphere,
urban amenities, and recreational opportunities. The
Aspen Falls City Hall serves a population of about
75,000 local residents, is one of the area's largest
employers and actively works to obtain input from
citizens. Aspen Falls promotes a healthy, sustainable
lifestyle. These initiatives include citizen wellness,
recycling and reusing, water conservation, and
alternate energy.
Special Thanks
Team Members
Thanks for joining
our campaign
Ann McCoy
Thelma Perkins
Eugene Garner
Deb Davidson
Jack Ruiz
Live Green!
Conclusion
thanks for joining us. please consider becoming
involved our campaign.