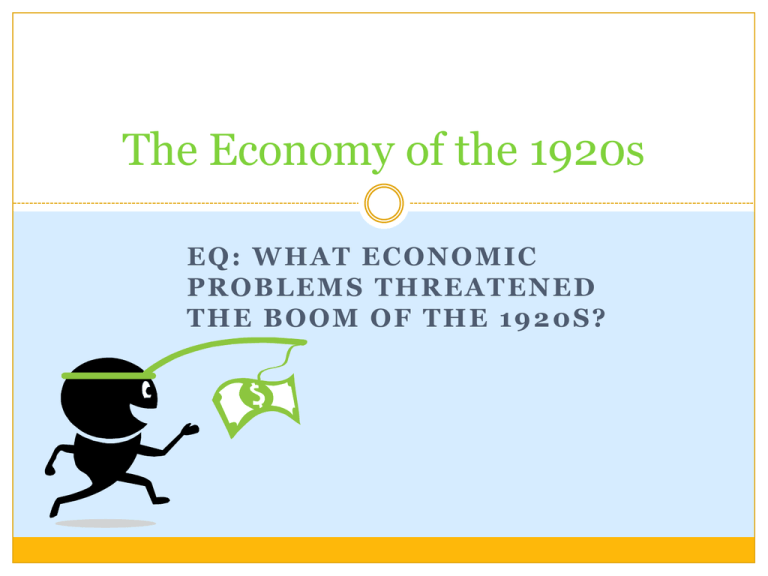 The Economy of the 1920s
EQ: WHAT ECONOMIC
P R O B L E M S T H R E A T E NE D
THE BOOM OF THE 1920S?
Look at the Data
 The 1920's was a time of dramatic change in society
and the economy
 Look at the statistics from the 1920's and notice the
economic trends
 Are these changes positive or negative changes?
Why?
 Is there anything you see that might be a problem in
the future?
AREA OF THE
ECONOMY
Industry
Advertising
Consumer Credit
Economic
Concentration
Workers
Agriculture
Distribution of Wealth
+ OR - CHANGE?
WHY WAS THIS POSITIVE OR NEGATIVE?
The Boom
 The US became a
consumer economy
by buying more
products.
 Higher wages,
advertising, new
products, lower
costs, and "credit"
made it easier for
people to buy more
than what they
needed
Factories make
more products
Workers want more
products because they
have more money
Workers have more
money to buy more
products
Factories make more
money to pay their
workers
The Boom
 Bull Market- Stock prices were continually
rising
 People began buying "on margin"
 Borrowed money to buy stocks
 Installment Plans became popular because
people could buy products on credit or "buy
now, pay later."
The Great Bubble:
Suppose You had $100 to invest in the Stock
Market in July 1926:
• July 1926 $100
•July 1927 $112
• July 1928 $148
•January 1929 $193
• September 1929 $216
• December 1929 $147
•December 1930 $102
•July 1932 $34
The Boom
 New/improved products were created to use
with electricity:
 Refrigerators, washing machines, vacuums,
& radios.
 Toasters, ovens, sewing machines, coffee
pots, irons, telephones, & cosmetics.
The Boom
 Advertising helped
companies sell
their products
The Bust
 Factories were offering vacations and health plans to
stop workers from striking = less people joining
unions for important conditions.
The Bust
 Many people were not "rich" in the 1920's
 Farmers, African Americans, Immigrants, &
Unskilled workers suffered and had to pay back
debt.
 Banks were failing because loans were not being
paid.
 The demand for products left factory workers
working longer hours for less money (56 hours
for $10 a week).
The Bust
 Debt became a problem for many low income
families who bought products on installment plans.
 Many people bought stocks on a "margin": putting
down 10% and paying off the rest when they sold the
stock (making it worth less).
The Bust
 Factories were making products too quickly for
people to buy them.
 October 29th, 1929: Black Tuesday—Stock
Market Crashes!