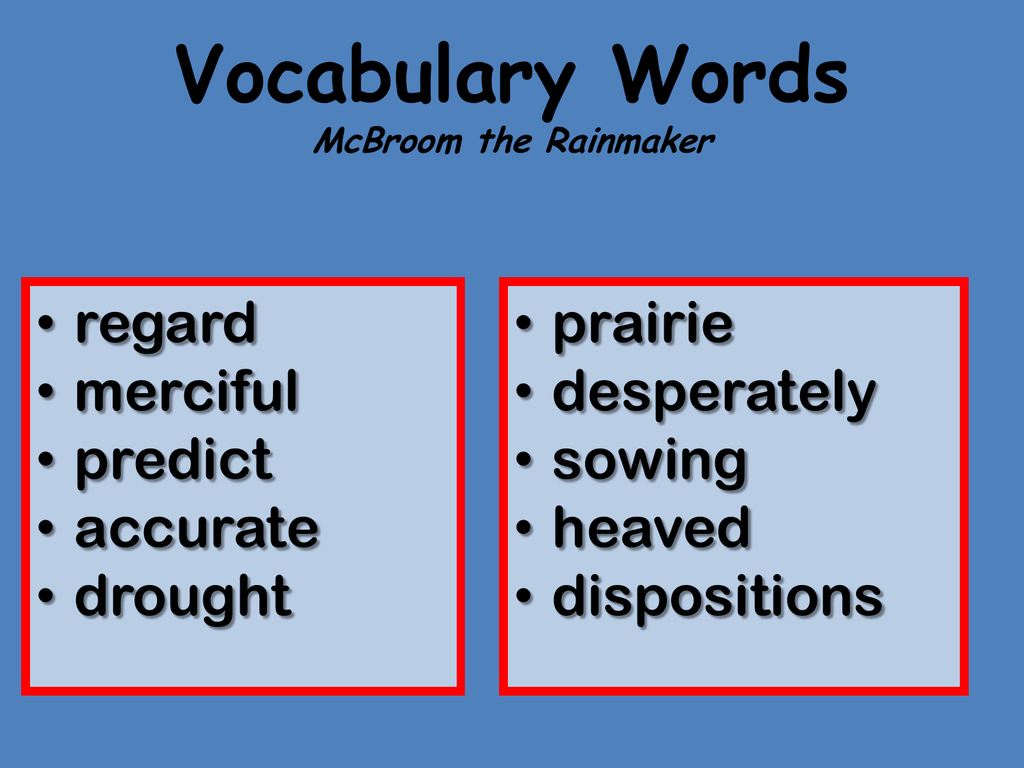 Vocabulary Words
McBroom the Rainmaker
•
•
•
•
•
regard
merciful
predict
accurate
drought
•
•
•
•
•
prairie
desperately
sowing
heaved
dispositions
regard – n. thought or care
merciful – adj. kind or forgiving
predict – v. to tell beforehand
accurate – adj. – correct; exact
drought – n. period of time when
there is very little rain or no rain at
all
prairie – n. a large area of level or
rolling land with grass and few or
no trees
desperately – adv. hopelessly
sowing – v. planting
heaved – v. past tense of heave: to
make a sound with a lot of effort
or strain
dispositions – n. plural of
disposition: a natural way of
acting; mood
Fill in the blank!
• Yesterday morning, I was ______ the carrot
seeds.
• Some people have no ______ for the truth.
• Only dried mud remained in the riverbed as a
result of the long ______.
• In math class, we have to make sure our
answers are ______.
• Some early pioneers crossed the ______,
while others stopped to farm the land.
Fill in the blank!
• My parents were ______ after I apologized for
breaking the rules.
• I wish I could ______ the future and know what I
will be doing in ten years.
• Jen ______ the boxes up three flights of stairs to
her new apartment.
• She ______ wanted to know if her best friend
was accepted into Harvard University.
• I love going to Mr. Smith's class because he is
always in a good ______.