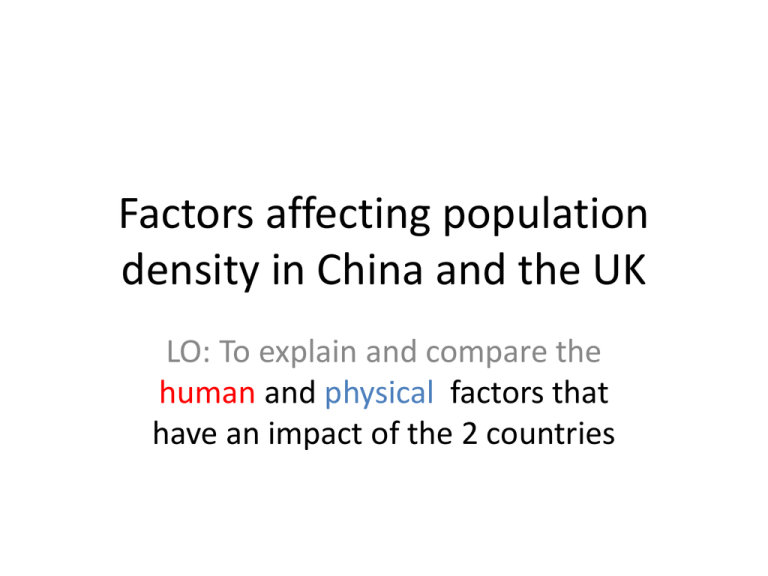 Factors affecting population
density in China and the UK
LO: To explain and compare the
human and physical factors that
have an impact of the 2 countries
Recap… what human and physical
factors affect population density?
What is the population density for
China and the UK?
Find out the figures using the atlas.
UK:
Population=
Area=
China:
Population=
Area=
GDP across China and the UK
• What do the next 2 maps show
• How may the information help us explain
population density?
What do these maps tell us?
Task 1
1. Describe the population density of China (4)
2. Describe the population density of the UK (4)
Task 2
Using human and physical information from the
atlas and textbooks annotate the map of
China and the map of the UK to explain
factors that would encourage a sparse or
dense population
Think of a key to use to help make you
annotations clearer:
sparse, dense, human, physical?
Low Population density of less
than 10 per sq km in Gobi Desert.
Arid desert
Remote so less trade and poor
communications
Physical
factors
Human
factors
Gobi
Desert
Beijin
g
Yangz
te
River
High population density along Yangzte
River
Water supply
Good trade (especially since opening of
3 Gorges Dam between Chongching and
Shanghai
Shanghai
High population
density of more
than 1000 people
per sq km
Do not have
extreme climates,
flat land (good for
building and
farming), better
rainfall
Major ports- good
trade and goods
can easily be
transported
In 1970s
government
introduced a
strategy for
coastal
development drew
in workers,
especially around
Shanghai
Task 3: Homework
Produce a 1 page report comparing and contrasting
China's and the UK's population distribution.
Success criteria:
• Explain what are the main physical and human
factors that impact the population distribution
and density in both China and the UK
• State in your opinion if human or physical factors
are more important in both case studies
• Use appropriate key geographical terminology
• Link to the theory of factors affecting population
density
Outline the human factors that
have affected the distribution of
population in the UK (refer to
specific named places in your
answer) <6 mark>
• The South East of the Uk and London in particular has a very
high population density. Excellent communications inculding a
number of major international airports (e.g. Heathrow) and a
major rail hub (Kings Cross) as well as major motor ways
(M25) has helped attract business and commerce and London
has a fast growing economy with a large range of jobs. The
fact that London is the capital city has also given high status
for many businesses to locate here. Its history and heritage
with major tourist attractions has meant that there are many
jobs in the tertiary sector in particular in tourism. In areas
such as the Highlands of Scotland, where most jobs are in
primary industries and there is an overall lack of employment
there are much fewer people. The isolation of this area, with
poor communications and lack of T, phone and Internet
reception also accounts for the low population density.