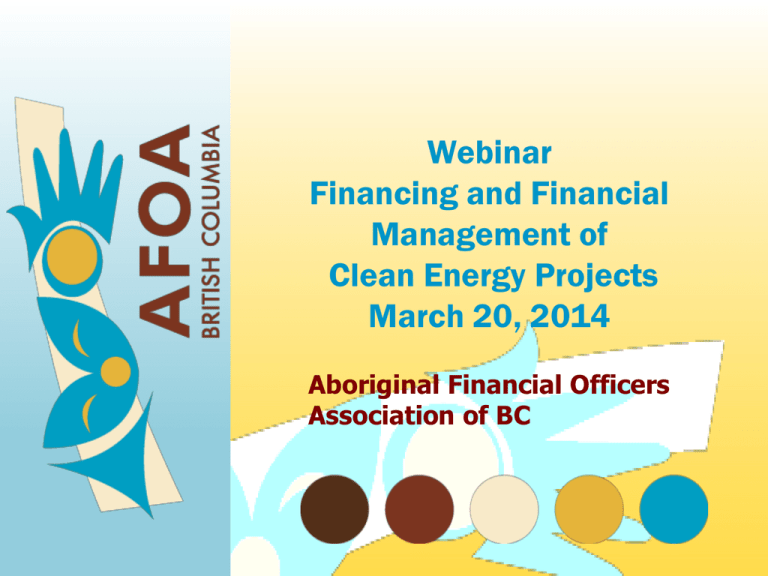 Webinar
Financing and Financial
Management of
Clean Energy Projects
March 20, 2014
Aboriginal Financial Officers
Association of BC
Review – February 20, 2014
1.
Peter Ostergaard, Energy Coordinator in the Fraser
Basin Council's Smart Planning for Communities
Program gave us an overview of how community
energy planning can fit within remote community
sustainable initiatives
Review – February 20, 2014
2.
Scott Coulson, the CAO/Director of Finance at
Uchucklesaht Tribe Government described the
process undertaken by their community to
upgrade their community energy system
through BC Hydro's Remote Community
Electrification program
Review – February 20, 2014
1.
Kevin Pegg, President at EA Energy Alternatives
ltd. Illustrated some different designs and
discussed installation and maintenance of
renewable electrical power systems including
integrated solar, wind and microhydro
technologies.
Review
The February 20 Webinar PowerPoint with
Webinar audio recording is available at:
http://www.fraserbasin.bc.ca/resources_summaries.html
Webinar Sponsors

Aboriginal and Northern Development Canada

Van City Credit Union

BC Ministry of Energy, Mines and Natural Gas
A joint initiative of:

Fraser Basin Council

Aboriginal Financial Officers Association of BC
Today
A very high level overview of the strategic and financial
planning for clean energy projects: AFOABC Vice-President,
Clay Harmon and consultant to First Nations
Financing of Clean Energy: Stewart Anderson Vancity
(Vancouver City Savings Credit Union) – is the Manager,
Community Investment.
Financing of Clean Energy from a First Nations perspective:
Steve Berna, Chief Operating Officer of the responsible for
operating the loan programs of the FNFA,
Clean Energy – Two Broad Approaches

Use of energy
• Consumption in the community - both
residential and commercial
• Education a big part of this

Creation of energy (I know – we don't create it,
we just modify its form)
• A number of different ways as discussed last
month
Some alternative energy sources







Heat pumps
Micro Hydro (run of river)
Solar
Diesel generator
Wind
Biomass alternatives
Integrated – a combination of one or more of
the above
The next few slides are taken from AFOABC's 2
day workshop:
Essentials of First Nations Financial Management
Basics of Sound Financial Management
1.
2.
3.
4.
5.
Sound financial foundation – required to meet need of
members.
All Band Councils are wholly responsible to all its
membership for financial health.
Band Council cannot legally delegate responsibility –
they can assign some duties or activities.
Time and energy spent on management principles of
planning, organizing and controlling financial and other
resources.
#4 only achieved through leadership of Council and
staff involvement.
Characteristics of the…
Strategic Plan
 looks to the future (20
years, 7 generations)
 reflects the values and
vision of the community
 Integrates programs and
resources
 …is general in nature
Review these
plans annually
Business Plan
 Ways and means for
strategic plan
implementation –
performance measures
 Sets specific scheduled
goals and objectives
 3-5 years duration
 Connected to Community
Development Plan (PDP)
 Financial plan integral to
business plan multi year
Planning and Where Finances Fit In
Overall Strategic
Community Plan
(Overall Vision)
Business Plan
(including PDP)
"Ways and means"
Financial Plans
(Budgets, etc.)
Evaluation Plans
(Performance
measures)
Activities
Plans
The next few slides are taken from the Strategic
Planning and Management module of AFOABC's 2
day workshop:
First Nations Band Management and Best Practices
Historical Perspective

First Nations traditional laws and structures for decision
making

A well-organized system of governance enabling longterm and short-term strategic decision making

Short and long term decisions about:





resource management,
division of labour,
trade and inter-relations with other Nations,
seasonal movements, and
generation of wealth.
Key Elements of a Strategic
Management Framework

Strategy Development

Strategy Implementation

Evaluation/Monitoring
Strategy
Development
Strategy
Implementation
Evaluation/
Monitoring
Strategy Management Model
Feedback
Internal
Audit
Establish
Vision,
Mission, &
Values
Establish Goals &
Critical Success
Factors
Generate & Select
Strategies &
Performance
Measures
Establish
Policies,
Action &
Budgets
Allocate
Resources &
Do It!
Measure and
Evaluate
Performance
External
Audit
Strategy
Formulation
Strategy Implementation
Strategy
Evaluation
A Little More Specific to Clean Energy

Environmental Scan - the "As is" situation

Some questions might be:
• Is the community reliant on diesel
generators?
• Is it a windy place?
• Does the sun shine every day?
• Are the streams seasonal?
• etc.
The Vision

Brain Storm what the community would look like
if a clean energy plan has been implemented –
the "Should be" situation:

This might include:
• Reduced diesel generation as a result of an
integrated energy management plan
• Generation of surplus energy for sale into the
grid
• This is a long list and community involvement
is critical
Make SMART goals related to your
clean energy plan, they need to be:

Specific

Meaningful

Achievable

Results focused

Time based
Action

Agree on the action steps required to achieve
the goal

What activities need to happen?
• Engineering study. Feasibility study, etc.

Who is going to do the activities?

When do they need to be done by?
What resources are available?

People – staff or consultants?

Money?

Existing physical assets?
Road blocks

What is going to stand in the way of the
successful implementation of a clean energy
plan?

Can these obstacles be overcome and if so,
what is the plan to overcome them?
Performance Management

Who is driving the process?

Is there an accountability framework?

Who needs to be kept informed of the process?

Should community members be kept aware of
what is happening in terms of timing and
budget?
For More Information

General info on Comprehensive Community
Planning:
• http://www.aincinac.gc.ca/bc/proser/fna/ccp/ccp_e.html

List of Funding Sources:
• http://www.aincinac.gc.ca/bc/proser/fna/ccp/ccphb/res1_e.html

Comprehensive Community Planning Handbook:
• http://www.aincinac.gc.ca/bc/proser/fna/ccp/ccphb/ccphbindx_e.html
Financing the project

Typically, sources of capital for clean energy
projects:
• Grants: examples Funding Guide at
http://www.fraserbasin.bc.ca/ccaq_rci.html
• Own source revenue (where possible)
• Debt or similar forms of financing
Financing the project

Traditional lending from banks, credit unions
and other financial institutions can differ
significantly from lending by First Nations
lending organizations

Stewart Anderson from Vancity will present
options for financing from a traditional lending
source

Steve Berna will present financing of clean
energy from the first Nations Finance Authority
perspective
 Questions?
 Comments?