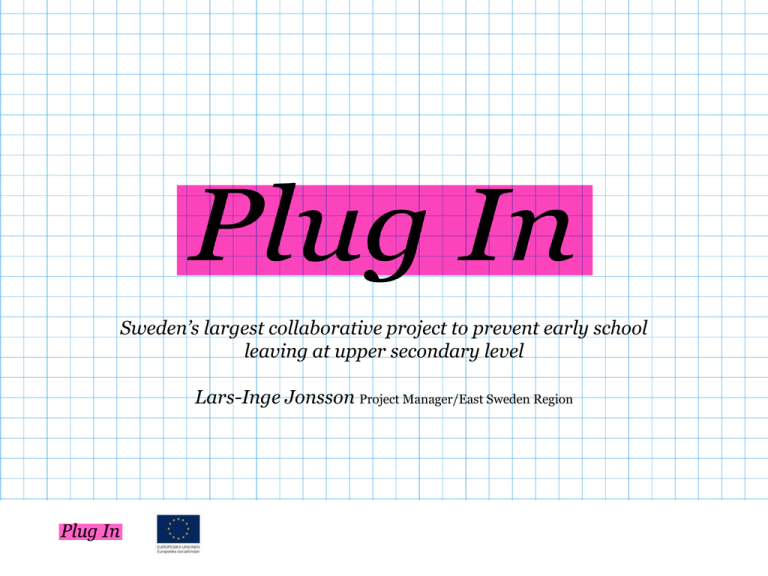 Sweden's largest collaborative project to prevent early school
leaving at upper secondary level
Lars-Inge Jonsson Project Manager/East Sweden Region
Results five years after school start for students who entered upper secondary
school in 2008
• Qualified
• Not qualified
• No final grade
33% of the students in Sweden do
not achieve a diploma with
basic qualifications for
higher education.
Plug In 2012 - 2015
ESFEuropeiska
socialfonden
SKL
Managed and
coordinate
55
municipalities
100
Intervention
methods
Partnership
Gothenburg Region
Association of Local
Authorities, Region
Jämtland, the Regional
Associations of Kalmar
County and Södra Småland,
Region Västerbotten and
Region Östsam
Continuous
assessment
Pluginnovation.se
Here in Östergötland
the municipalities of
Linköping, Norrköping,
Söderköping, Finnspång,
Valdemarsvik, Motala, Kinda
Ydre, Ödeshög, Boxholm and
Tranås have become involved
in the project.
Types of interventions:
Mentorship/coaching.
Identification and surveying of at-risk students.
School transition. (Compulsory/Secondary)
Follow-up young people with high absence
Different methods to increase self-esteem.
Motivational interviewing.
Academic support.
Holistic support models (Academic and socio-emotional)
Purpose and Aims:
Halve the proportion of students who
do not complete their secondary education
within four years in the participating regions.
• A subordinated objective is to
reduce the unemployment rates
among the young people.
"Bank of Intervention Methods"
• Identify and collect a "bank of methods/activities" of
interventions to prevention drop out/recover students
who have dropped out
• Disseminate information and exchange knowledge around
the issue of drop out
• Identify which interventions seem to be effective for whom
(target groups characteristics, context, types of activities
and scope)
Bra bemötande.
Tydliga mål och betoning på resultat.
Rätt elev på rätt plats.
Samarbete och delaktighet
skola/elev/näringsliv.
Förmåga att upptäcka och tillgodose
elevers behov.