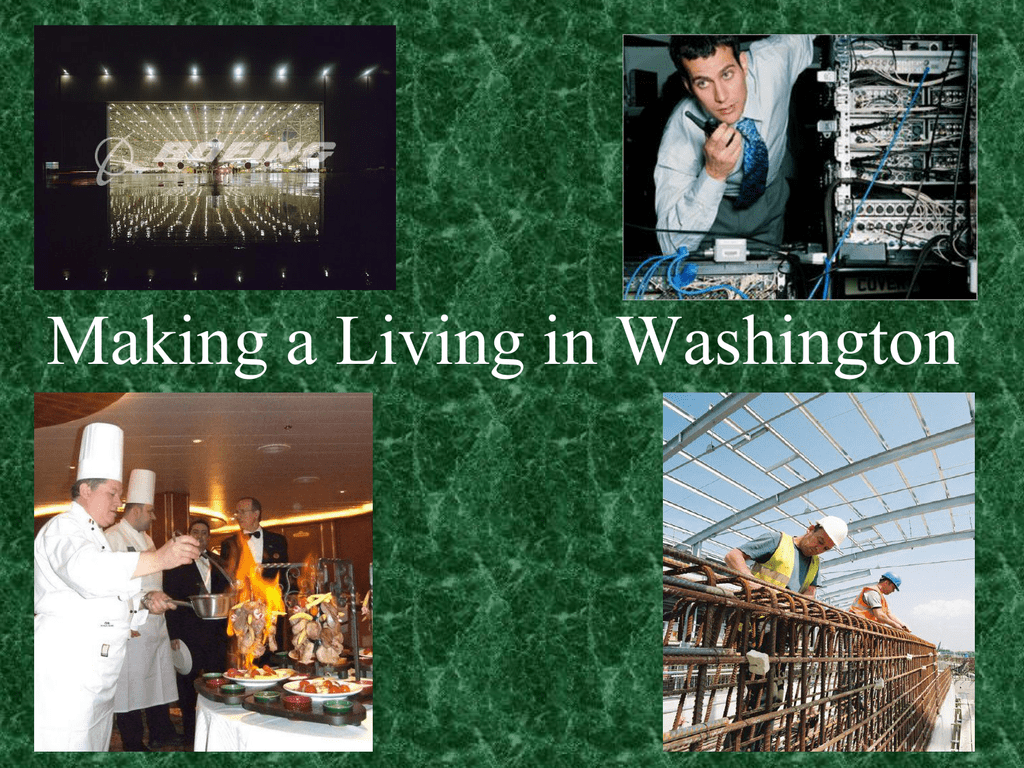 Making a Living in Washington
Economic Systems
• Economics
• The making, selling and buying
of goods and services.
• Anyone is free to start a
• Free
business and make or sell
Enterprise or
goods.
Capitalistic
system
• Owner can keep it or sell it and
chooses whom to hire as well as
what to pay them.
• Must follow government
regulations and pay taxes
Goods and Services
• Needs
• Things necessary for survival
– food
– Clothing
– shelter
• Wants
• Things that make your lifestyle
better
– Brand name clothes
– Books
– Cell phones
Goods and Services
• Goods
• Both needs and wants
• Some are manufactured
– Computer
– Skateboards
• Some are grown and harvested
–
–
–
–
Trees
Apples
Fish
Wheat
Goods and Services
Services
• Skills people have due to
specialized education that people
are willing to pay for.
–
–
–
–
–
–
Pilots
Doctors/Nurses
Plumbers
Computer programmers
Construction workers
Teachers
Mrs. Ross's first
teaching gig!)
Supply and Demand
• Prices of
• Best is when supply = demand
everything
• Supply high X demand low =
are driven by
surplus = lower prices
this
– Apple prices
• Supply low X demand high =
shortage = higher prices
– Price of new hot product
• Wii
• New Nike Jordans
So What??
Like it or not, in a few short years you are
going to NEED a job just to be able to
support your needs…the kind of wants
you get depends on what your job pays!
Employers can hire whomever they want
which makes you part of the supply and
demand of the job market. For most jobs
right now, supply far outweighs demand!
How are you going to stack up to the
competition?
Paying Employees
• Loss
• When a business doesn't make
enough money to meet
expenses, it's the amount of
money under they are ("In the
red").
• What does
• No money = No business. No
this have to
business = No job. No job = no
do with me?
way to pay YOUR expenses!
Paying Employees
• Wages
• Salaries
• Figured by the hour. You work
10 hours you get paid for
10…work 40 hours you get paid
for 40.
• A set amount that is paid each
month, no matter how many
hours you work.
Paying Employees
• Minimum
Wage
• Set by Federal Government
• Applies to 16 yrs and older
• Under 16 must be paid 85% of
minimum wage.
• Federal Minimum wage - $7.25
• WA State Minimum Wage = $9.19 per
hour (highest in U.S.)
• Profit
• The $$ left over after expenses are
paid ("In the black")
– Wages
– Rent
– Taxes
CONGRATULATIONS!
You just graduated from high school! You are tired of all your parents rules and curfews
so you decide to move out so you can be totally independent. You are EXCITED!!!!
Your parents will pay for your upcoming college tuition at Highline Community College,
but you need to take care of all other living expenses, including college texts (which will
cost you $600.00…BUT you have 3 months to save the money, because you have spent
everything you have made in the past).
Luckily, your best friend wants to do the same thing, so you are going to save a lot of
money by being roommates. You have the world by the tail…..or do you?
How Well Will You Live?
•
Statistics Needed
– Wage - $9.19
– Job – 35 hrs/wk
– Taxes -15%
•
•
•
•
•
•
Expenses
– Rent $365.00/400.00
– Utilities - $60.00
– Food = $200.00
– Cell phone $60.00
– Gas - $100.00
– Insurance $200.00
•
•
•
How much money do you make a month?
What do you have left AFTER TAXES??
How much are your expenses each month?
How much money do you have left over after the
expenses?
How long will it take to save for your books by fall
quarter?
How do you have to change (pare back) your lifestyle to
live on 25 hours pay when school starts?
Is this the lifestyle you want to live for the rest of your life?
What do you need to do to make sure this doesn't
happen?
ANSWERS (on $400.00 rent)!
• You make $321.65 and $1286.60 a month
• You pay $192.99 in taxes and have $1093.61 after taxes
• Total expenses = $1020.00.
• You have $73.61 left
• Even if I save everything I can't buy the books I need!!!
– What are your "trade offs?"
Working Around the State
• Major
Industries
• Agriculture
– 1/3+ of WA is used for agriculture
• Fishing
– aquaculture
• Logging
– 2nd in the nation for lumber production
• Manufacturing
– Most important is aircraft, but many others
• Electricity
– Hydroelectric power sold to other states
• Computer
– In 2006, Microsoft sold $2.9 billion in
software.
Who's Hiring the Most People?
•
•
•
•
•
•
•
•
•
•
•
Boeing Production Plants
WSU – WHOO HOO! GO COUGS!
Microsoft
Sea-Tac Airport
Boeing Defense & Space Group
UW – Big Puddle of Doggie Drool!
South Seattle Community College
Virginia Mason Hospital
Mary Bridge Children's Center
Tacoma General Hospital
Fairchild Air Force Base
I want the bling, Man…the
BLING!!
• Sometimes
jobs that
need the
most
workers
don't pay
high
salaries.
• There are a lot of retail jobs, but
retail wages are low.
– Why? Because selling in stores
require little education or training.
• Want the big bucks? Jobs that
require the most education
nearly always pay the highest
salaries!
– Why? Well,
DUH!
Highest-Paying Jobs in WA
•
•
•
•
•
•
•
•
•
•
•
•
•
•
•
•
•
Dentists
Physicians/Surgeons
Optometrists
Lawyers
Engineering Dept. Mgrs.
Mathematics Dept. Mgrs.
Natural Sciences Mgrs.
Chemical Engineers
Dental Hygienists
Pharmacists
Actuaries
Firefighters
School Administrators
Computer Engineers
Electric Power Mgrs.
Factory Mgrs
Real Estate Brokers
What is a Great Job Anyway?
• What Workers Want
– Steady work with out
layoffs
– Fair wages
– Health Insurance
– Paid sick days,
vacations, and
holidays
– Safety in the
workplace
– Appreciation for
good work
• What Employers Want
–
–
–
–
–
On time
Willing to WORK
Careful
Trained to do the Job
Able to get along with
other workers
– Able to keep customers
satisfied
What happens if you can't
make the boss happy?
The Global Market
• Export
• Why is this
important to
WA and me?
• Goods shipped out for sale
• The value of WA exports is higher than
any other state
• One in every 4 jobs in WA depends on
international trade!
– Boeing airplanes lead WA exports
– ½ of wheat exported (mostly to Asia)
– Other exports are: computer
software, electronics, medicines,
aluminum, frozen foods, wines,
lumber fruit, fish.
The Global Market can be brutal!
• Example
• WA red delicious apples once commanded
a high price overseas.
• We were NUMERO UNO in the WORLD!!
• Other tastier varieties became more
popular.
• Labor costs in other countries much lower.
• Apples from those countries could be sold
at lower prices
• Hey! Better tasting AND cheaper? Which
are you going to buy?
• CHINA NOW THE WORLDS LEADING
APPLE PRODUCER AND EXPORTER!
The Mighty Dollar
• A dollar saved…
• How Banks Work
• Before banks there were
mattresses, fruit jars and holes in
your yard
• Banks insure safety of your
savings up to $100,000.00
• Banks pays you interest to use
your money to loan to other
people
• People who get a loan (with your
money the bank is using) get a
higher interest rate than you get
back. The bank makes money as
well as you.
Inflation…duh, duh, duh!
• Inflation
• Blast from the
Past
• The rate at which prices for
everything increase over time.
•
55
68
98
10
Gas .23
.34 1.15 3.73
House
11K 14K 130K 232K
Min Wage 1.00 1.60 5.50 8.55
Car
2K
3K 17K 30K
Av. Inc
4K
7.8K 38K 48K
Hamb
.30
.50 1.82 4.28
They've Got BRING IT!!
• Entrepreneur
• Debbie Mumm
• A person who has a business
idea, finds enough capital ($$),
and takes the risk of entering
the market.
• Company Name = Mumm's
the Word
• Spokane artist who draws
designs used on T-shirts,
cookie jars, dishes, etc.
• 2000 sales =$90 million
Got What it Takes??
• Eddie Bauer
• Began selling sporting goods
in 1920
• Began with tennis and golf
• Business took off when he
included fishing tackle and
hunting gear
• Loved sports and used his
experience to help customers
find the right gear
• Has grown into nation chain of
stores as well other endeavors
Got What it Takes??
• Armen Tertsagean and
Mark Balaban
• Creators of Aplets and
Cotlets in 1918
• Immigrants from Armenia
who started yogurt factory
but no one knew what
yogurt was then.
• So they bought an apple
orchard
• Used surplus apples to
make rabat locoum
(Armenian candy) and
named the product aplets
and cotlets.
Got What it Takes??
• Gary Larson
• Cartoonist.
• Born in Tacoma, lives
in Seattle
• Creator of "The Far
Side"
• In 2000 newspapers
worldwide
• 31 million books have
been sold
Got What it Takes??
• Chester Carlson
• Invented the Xerox machine
• Fun Fact:
– Xerox means "dry writing"
Got What it Takes??
• Bill Gates
• Most famous Washingtonian
• Cofounder of Microsoft
• Started programming when
13 years old
• 2nd richest person in the
World
• A philanthropist!!
Got What it Takes??
• Harry Brown and
J.C. Haley
• Created The Mountain
Bar (Cherry Mountain)
• Produces 592 bars
every minute
• Most famous creation
is Almond Roca
What does it mean to me?
"If you wIll lIve today
lIke most people won't,
you can live in the
future like most
people can't."
Can you Bring it until the future comes?