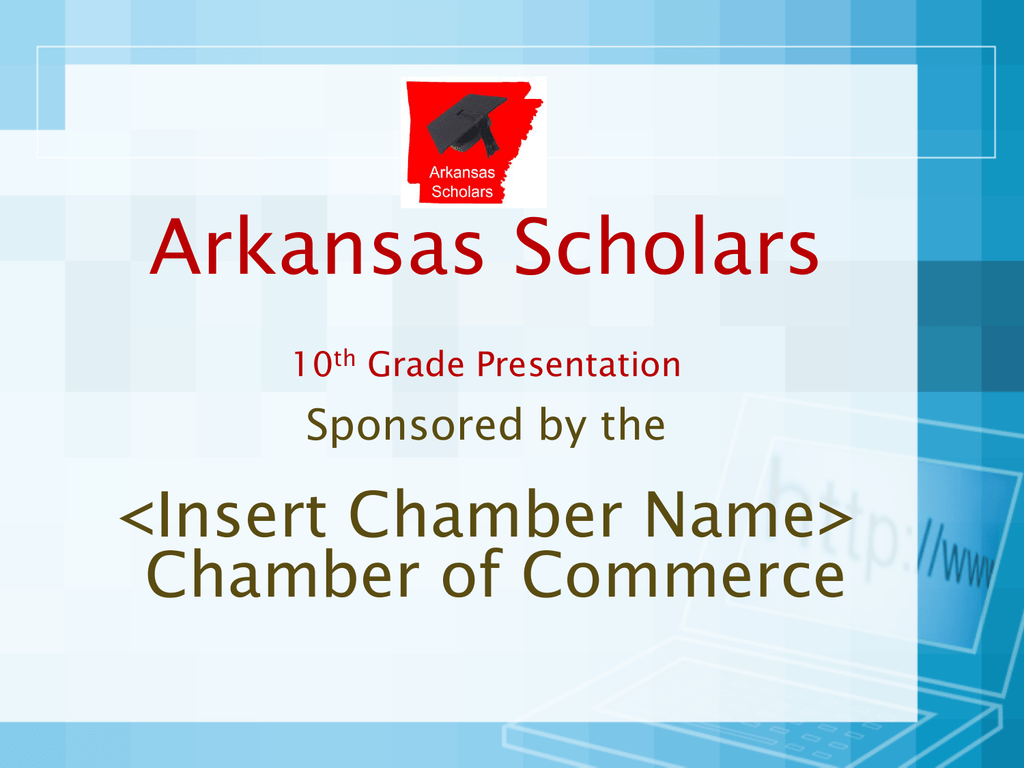 Arkansas Scholars
10th Grade Presentation
Sponsored by the
<Insert Chamber Name>
Chamber of Commerce
Arkansas Scholars
• What is it? It's a program that challenges you to
prepare for success.
• Minimum Requirements:
– Take the Smart Core curriculum…
– Make a grade of "C" or better in all your course
work during high school…
– Attend class 95% of the time or more…
– Graduate from high school in eight (8) consecutive
semesters
What's in it for you?
• More choices for education beyond
high school
• More opportunities for a good job
• More money for greater buying
power
• More control over your future
What's in it for you?
Academic Competitiveness Grants (ACG)
Students who are Pell Grant eligible U.S. Citizens
enrolled full-time and have participated in a rigorous
high school course of study, like the Smart Core,
may qualify for:
– Up to $750 for first year college students
– Up to $1,300 for second year college students
Check "State Scholar Graduate" on your Free
Application for Federal Student Aid (FAFSA) form
to apply.
Global Competition
• U.S. students spend about 180 days a
year in school
• Other nations' students spend up to 240
days a year in school
Are you employable?
We will take a look at some good
work habits.
Good Work Habits
Tips that can help you build a good
work record and a strong résumé.
We encourage you to write these work
habits down and apply them for a
successful future.
Note: This information was taken in part from the video series "Work Habits
for the Beginner" a production of Huby's, Ltd., Copyright 1995.
Good Work Habits are a Key to Success
1.
2.
3.
4.
5.
Be ON TIME
Dress appropriately for the workplace
Get along with others
Have a good attitude
Listen carefully & follow directions
Good Work Habits are a Key to Success
6. Take the job seriously
7. Be dependable &
trustworthy
8. Keep busy on the job
9. Take criticism well
10. Maintain a
professional image
Be On Time
• Showing up for work on time is critical.
• If you are going to arrive late you should
contact your supervisor IMMEDIATELY.
Be On Time
• You should be ready/prepared to work
upon your arrival.
• Being on time shows your supervisor
that you are dedicated to your job.
Dress Appropriately
• What you wear in your home may not be
acceptable for you to wear at your job.
• You should always dress to the expectations
of your customers and your supervisor.
• Inappropriate work attire suggests that you
don't care about your job.
Examples of Appropriate Dress
When Interviewing or in the Workplace
- Clothes should fit well, be clean, and be neatly
pressed…
- Avoid wearing to much cologne or perfume…
- Men – Remove earrings before an interview…
- Women – Avoid showy jewelry and makeup…
Note: The information was taken from NEASHRM Workforce Readiness booklet.
Get Along With Others
• More than likely you will have co-workers
with whom you will interact on a daily
basis. You and your co-workers may
often work together as a team.
• You should treat your co-workers with
respect and be sure to carry your share
of the work load.
Get Along With Others
• Cooperating with your co-workers will
help you achieve your goals at work.
• Getting along with others shows that you
are mature and in return you will gain the
respect of others.
Have a Good Attitude
• A good attitude shows your supervisor
and your co-workers that you care about
your job.
• Have respect for your job regardless of
how long you may be employed there.
Have A Good Attitude
• A good attitude can
benefit the business
that you work for
and leaves a great
impression of your
abilities. This can
lead to favorable
references and help
to advance your
career.
Listen Carefully & Follow Directions
• In order to follow directions correctly you must
listen carefully.
• Listening is an acquired skill.
• Pay attention to the person while they are
speaking and ask questions if you need to
clarify information.
Be Dependable & Trustworthy
• Employers are looking for workers they
can depend on and trust.
– What's in it for you:
• You may receive promotions and roles with greater
responsibility.
• You may receive greater pay increases.
• Try to do your best in everything you do.
This shows your supervisor that he or she
can count on you to get the job done.
Take the Job Seriously
• Show your supervisor that you are ready
and willing to work and do your best.
This will make you a coveted employee.
• While at work you should not be goofing
off or appear to be daydreaming.
Keep Busy on the Job
• Even if you finish tasks quickly, there is
always work to be done.
• Always ask your supervisor or co-workers
if there is anything you can do to help.
• Taking initiative will show that you are
hard working and dependable.
Take Criticism Well
• Criticism should be viewed as a learning
experience. There is a right way to both
give and take advice. This is a
characteristic of a professional attitude.
• When you receive criticism you should
thank the person for calling your
attention to the matter and move on.
Take Criticism Well
• Above all, you should take responsibility
for your mistakes and learn from them.
Maintain a Professional Image
• Have respect for your work, company,
customers, and co-workers.
• Avoid unprofessional behaviors such as:
 Chewing gum
 Talking loudly
 Fidgeting
 Goofing Off
Benefits of Good Work Habits
• Rewards for good work habits
include:





Getting raises and promotions
New opportunities
Strong references
High level of job satisfaction
Respect from others
What do employers look for in an
applicant?
• They want a completed application.
• They desire to see a work history that can
be verified.
• You should always provide a company
name, phone number, person to contact,
dates that you were employed, and your
responsibilities.
Employers want…
• Verification of educational attainment…
• References – always ask before listing
someone as a reference – (name, phone, and
address)…
Note: They will perform background checks.
Arkansas Works can help you pinpoint
your careers direction.
•It will aid you in your career planning.
•It guides you to the education needed
to do what you want to do for the rest
of your life.
•It will assist you in performing job
searches.
http://www.arworkscareer.com/
Key Train & Work Keys
• Helps people train for jobs in today's
economy.
• Increases likelihood that someone will
possess the skills employers seek.
• Provides a focus on math, reading
comprehension, and locating information.
• Is being used by more businesses in their
hiring process to find qualified people.
To find more information Google "Arkansas Key
Train and Work Keys".
Ethics in School / the Workplace
• How can I develop the type of ethics system that
employers desire?
• You make decisions everyday that is helping in the
development of your ethics system.
• Do I study for a test or look to others to carry me?
• Do I repeat gossip that could hurt someone's
feelings or reputation or do I refuse to participate?
• Do I consistently do the right thing even if other
people aren't watching?
• Do I make derogatory or negative comments to or
about someone in order to make myself look good?
• I want to be respected, but do I treat other that with
respect? (Disrespect is habit forming and hazardous
to your health).
Character Matters
- at home
- in school
- in the workplace
- It matters everywhere.
What do you do now?
What do you do now?
• Choose to continue working hard to meet the
Arkansas Scholars criteria.
• Begin developing your work habits by
following the "10 important tips" that you have
received.
• Make good decisions and develop the
"character" that will lead to a life of success
for both you and your family.
This program is supported by the
<Insert Chamber Name>
Chamber of Commerce.