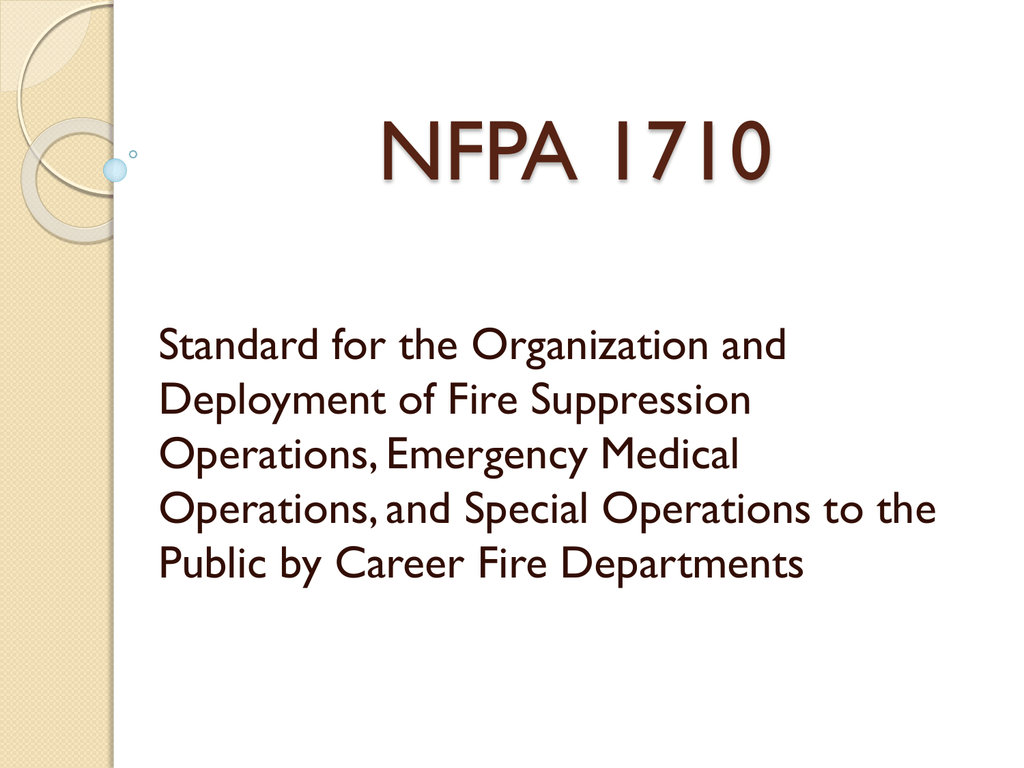 NFPA 1710
Standard for the Organization and
Deployment of Fire Suppression
Operations, Emergency Medical
Operations, and Special Operations to the
Public by Career Fire Departments
The Technical Committee

30 members
◦
◦
◦
◦
◦
10 Enforcers
7 Labor
6 Users
5 Special Experts
2 Consumers
Revision Schedule
Current Standard is the 2010 Edition
 Cycle 2015 (requested to change cycle)
 First Draft completed

◦ Public Input, and First Ballot

Second Ballot
◦ Public Input closed 5/16/14
Significant Proposals
Note: Added clarifying language to the Equivalency section.
Significant Proposals
Note: NFPA requires a specific number. The Technical Committee made it a
minimum of five (5) and struck "or six" in 5.2.3.2.2 and made it a minimum
of six (6) in new 5.2.3.2.2.1
Significant Proposals
Note: Adds a descriptive title and an EMS component to this section.
Significant Proposals
Note: New Section and occupancy - Approximately 26 personnel
on the Initial Full Alarm this occupancy.
Significant Proposals
Note: New Section – Apartments. Initial Full Alarm will be approximately 26
members.
Significant Proposals
Note – New Section (based on the NIST High-Rise Fireground Field
Experiments). The Initial Full Alarm Assignments will be approximately 37/38
members
Significant Proposals
Note: New language addressing the level of Training, adoption of
Standards required and inclusion of such in the Annual Report.
Other Information
Second Draft meeting will be held August
6-7, 2014.
 Notice of Intent to make a Motion
Closing Date will be 3/6/15.
 Posting of Second Draft will be 1/16/15
 Issuance Date (at latest) will be 8/20/15

nfpa.org
To review specific language and updates.