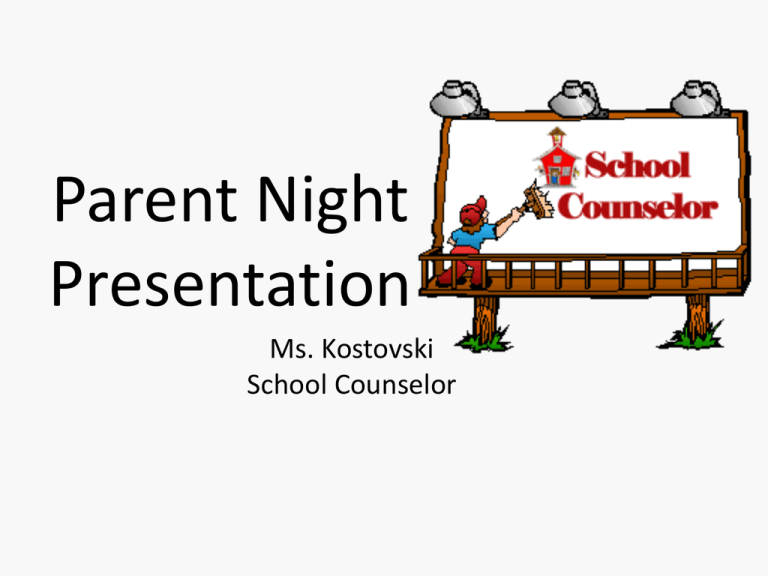 Parent Night
Presentation
Ms. Kostovski
School Counselor
What Do I Need to Graduate High
School?
Current 9-12 Graduation Requirements
What Does That Look Like in 9th and 10th
Grade?
th
• 9 Grade:
–
–
–
–
–
English 1
Algebra 1 (EOC) (or another math)
World History
Physical Science
Electives/Intensive Reading
• 10th Grade
–
–
–
–
–
English 2 (ELA FSA)
Geometry (EOC)
P.E.
Biology (EOC)
Electives/Intensive Reading
What Does That Look Like in 11th and 12th
Grade?
th
• 11 Grade
–
–
–
–
–
English 3 (FSA)
Algebra 2 (EOC)
Chemistry
U.S. History (EOC)
Electives/Intensive Reading
• 12th Grade
–
–
–
–
–
English 4
Advanced Math (required)
Advanced Science (optional)
U.S. Government/Economics
Electives/Intensive Reading
What Else is Needed?
• 2.0 Unweighted GPA
• 100 hours of community service
• A total of 24 Credits
Forgiveness Policy
• Students receiving a grade of D or F in senior high
courses may repeat the course to improve the grade.
The lower grade will be replaced with a grade of A, B,
or C, which will be used to complete the GPA. The
lower grade WILL continue to appear on the student's
transcript. A student may not repeat a lower course of
a clearly established sequence of courses after a
higher course of the sequence has been successfully
completed. For example, a student may not repeat
Algebra I after receiving credit for Algebra II.
High School Classes
At YCPS we offer the following:
• Regular classes – 1 HS credit
• Honors Classes – 1 HS credit & receives
1 point extra
• Advanced Placement classes (AP) – 1 HS
credit and if you pass the AP test, you
might get college credit – gives you 2
points above the grade you get
• Dual Enrollment Classes at the College
Campus
• Weighted GPA vs. Unweighted GPA
Which one would you take? Talk to your
counselor about what classes would be best
for you!
Dual Enrollment
•
•
•
•
•
•
•
•
•
•
•
•
We have a contract with MDC – Hialeah Campus
College credit and high school credit
Requires a 3.00 unweighted Grade Point Average (GPA) to participate.
To participate, you must be a rising Middle School Student.
Requires approval from parent/guardian, counselor and principal. The
school is under no obligation to accept credit without it.
Grades for the courses will be posted on high school transcript
independently of student's choice.
Requires completion of all college or university admission requirements,
including passing the FCAT/FSA and/or PERT.
The Dual Enrollment course requested must meet a high school
requirement and must fit into the overall postsecondary plan.
The course fee is waived by the college/university, and YCPS pays for the
required books/materials.
Transportation to and from the college/university is the student's
responsibility.
Required return for all textbooks issued or else will be financially
responsible to the high school.
Check out the DE page on the YCPS Student Services site!
Current 9-12th Grade Testing Requirements
What are the state assessment requirements?
Students must PASS the following statewide assessments:
• Grade 10 FCAT/ELA (or ACT/SAT concordant score)
• Algebra I end-of-course (EOC) or a comparative score
on the Postsecondary Education Readiness Test
(P.E.R.T.)
Students must participate in the EOC assessments and
the results constitute 30 percent of the final course
grade. These assessments are in the following
subjects:
• Algebra I (9th Grade)
• Biology I (9th or 10th Grade)
• Geometry (10th Grade)
• U.S. History (11th Grade)
• Algebra II (11th Grade)
What Does 30% Mean?
Biology
U.S History
Algebra 1
Algebra 2
Geometry
What Happens if the Student Doesn't Pass
the FCAT/FSA? Or the EOCs?
• As a Junior and/or Senior you can take the ACT or SAT and try to
get concordant scores for the FCAT/FSA Reading.
• A PERT score of 97 can be used to replace the Algebra 1 EOC.
Year Student Entered 9th Grade
2011-2012
2012-2013 & Beyond
Assessment
FCAT 2.0 Reading
245
245
FCAT Math
N/A
N/A
Algebra 1 EOC
399 or above
399 or above
Biology EOC
N/A
395 or above
Geometry EOC
N/A
396 or above
Reading
2010-2011 & Beyond
Assessment
Algebra 1
2011 and Beyond
FCAT 2.0
245
NA
SAT
430
NA
ACT
19
NA
PERT
NA
97
ACT and SAT
• 4-year Universities require a score for SAT an/or ACT
• If you the student has free or reduced lunch, they can
get up to 2 waivers for each assessment (ACT & SAT)
• Concordant scores are scores used to replace FCAT or
EOCs (you can graduate)
• Take both – Sometimes students do better in one
than the other – Everyone's different.
Questions?
•
You can contact me through e-mail
[email protected]
You can always visit the ycps.org student services page!