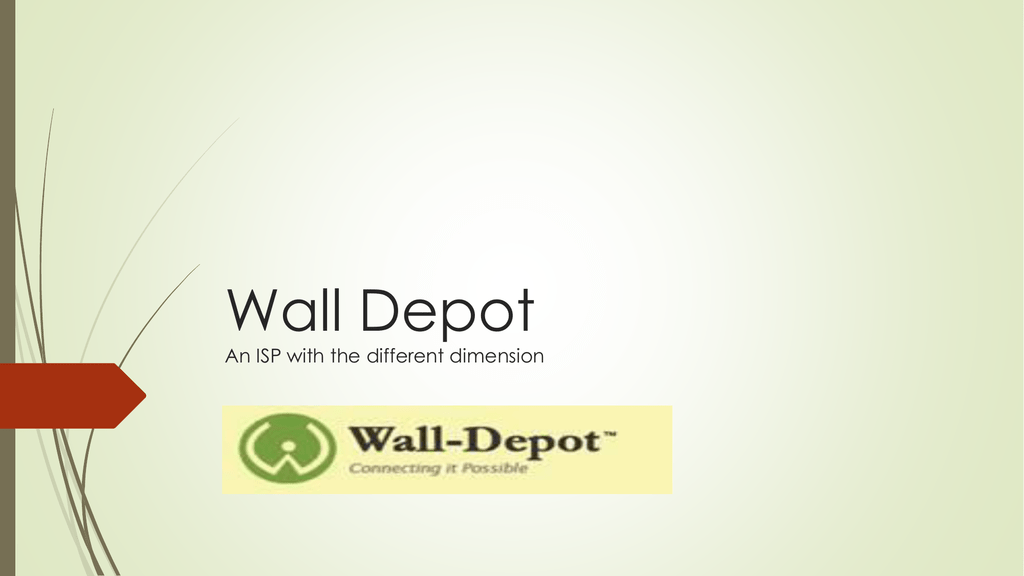 Wall Depot
An ISP with the different dimension
Who we are ?
 We are a team with dedication to improvise the delivery of Internet and
broadband in West Bengal. In our team, following persons are in the core
team.
 Ashok : The person is having 14 years of experience in delivery of Internet
since 2000, Understand well with the technology and the human phycology
, on which the person or the organisation took decision for taking the
services from the Company or its associates.
 Sanker : An expert for sales and marketing since 25 years who knows the
pulse of the consumer of any retail industry, and create the strategy for
marketing the product accordingly.
 Arindam : A CCIE (Cisco Certified Internetwork Expert), The topmost degree
from "Cisco" whose Network related planning and execution is highly stable
and robust in Network.
 Suresh : A Software integration guy. Who understand the process for
integrating Voice, Data from one application to another application to
improvise Customer Care ,Authentication server and other important
applications.
Our Vision ?
WHY PEOPLE HATE THEIR EXISTING ISPS?
 They leave customers dissatisfied. The highest satisfaction score for any isp
in India 61%for Bharti Telecom.
 They treat people very badly.
 They offer very poor services. In an Ascii score of 100 performance score of
all the isps in India is less than 60%
 They rip you off. The ratio of price at which the isps buy bandwidth and the
price at which they sell it to you, will leave you spell bound
 They are a monopoly. According to the world economic forum report, India
stands in 78th in terms of the bandwidth usage and Korea comes at
number1.
WHAT SHOULD PEOPLE LOOK AT WHILE
CHOOSING AN ISP?
.
 SERVICE RELAIBILITY
 SECURITY OF DATA
 NETWORK REDUNDANCY
 ISP'S REPUTATION IN THE FIELD
 ROBUST S.L.A.S
 COST EFFECTIVE
 ROUTABLE STATIC IP OPTIONS
 SCALABILTY OPTIONS SHOULD BE THERE. ( MOVING INTO IPV6)
INTERNET IN INDIA(A GENERAL SCENARIO).
The rise of the internet in India can be seen below-
The internet users according to their age group are as follows-
WHAT DOES A END USER GAIN FROM INTERNET
Internet usage trend across EU and U.S.A
THE FUTURE OF INTERNET IN A SIMPLE DIAGRAM
Feature of our broadband.
 Parental Controlled Broadband (Optional)
 Discounted Broadband for students up to Class XII.
 Special Discounted package for students of Govt. schools.
 Proper speed of each package plan.
 SMS / email Alert to user while package is getting expired based on time or
data.
 Self Recharge option to customers my account.
 PPoE / Web portal login.
 Automated Customer Care
Our Package of Service Includes...
(Internet Broadband)
 Broadband with Parental Control : Most of the user does not take the connection of
Internet broadband due to the access of the internet on Porn, games, gambling and other
website where a parent thinks that the child will be diverted from his studies and which is
not suitable to logon to the Internet. looking to that we have introduced the parental
controlled broadband for this kind of user to increase connectivity.
 4 mbps plan @ Rs 500.00 onwards : We offer 4 mbps Internet FUP plan @ Rs 500.00 onwards,
where most of the people's requirement will be fulfilled on their wired broadband.
 1 GB plan @ Rs 125.00 on wireless broadband : We also deliver the lowest wi-fi plan for your
user in mobility within your area, who is looking for wireless high speed broadband for their
mobile phones, tablets and laptops.
 Unlimited kbps speed vs Rs. : Those who need unlimited data usage out from any FUP can
enjoy a plan of 512kbps @ Rs 512.00 and 1024 kbps @ Rs 1024.00 and 2048 kbps @ Rs
2048.00 (taxes extra).
 Self Recharge : Customer can recharge their subscription at any given time by themselves.
Our Package of Service Includes...
(Other Services)
 IP PBX : Create your Personal IP Telephone Exchange and earn like a
Telephone company.
 VoIP : Voice over Internet Protocol from where a user can dial International
Call at very low price. The unit can be existing mobile phone, an ATA
Device or a IP Phone.
 Internet to Mobile : Advertisement Panel to provide text, images, video to
send from Internet to Mobile to generate and Tap the new generation.
 IP Surveillance : To create the IP Surveillance service for customer like
Jewelry shop, multistoried building, Individual House, Shop, Godown,
Nursing home, Mall, Petrol Pump, Restaurant, Mishti shop etc on Rental.
 Customer Care : Customer care for all above services.
What we are offering in sharing mode
(For Cable Operators/ Franchisee ) ?
 Unlimited Live IP's (For Broadband users in your network)- Free
of cost
 Revenue from Login Page Advertisement*
 Stationed Engineer Support (Free after 300 active users, and
chargeable before that @ Rs 7000/- Per Person.
 Sharing @ upto 50% on Broadband Network user + taxes.
 Sharing @ Flat 15% on Leased Line user in sharing mode +
taxes.
 Sharing @ upto 20% on VoIP Panel for VoIP Service.
 Sharing @ upto 30% on Mobile Advertisement thru text and
Images.
 Sharing @ Flat 80% on IP Surveillance Camera Network.
What we are offering in Direct Drop
Mode?
 Billing and authentication server @ 1000.00 per month for 1- 100 active user,
2000 for 101 - 200 active user and so on. Initially cost Rs 15000 for the
hardware and the quarterly monthly rental of the authentication and billing
software.
 20% discount in bandwidth price in case of no Live IP support, in this case
only 8 IP will be provided.
 ISP License support
*
A PICTORIAL ABOUT THE PROFITS THAT YOU
WILL EARN BY PARTENERING WITH US-
Who are our preferred parteners?
 Cable Operators with "Vision"
 An Operators who understand the technology and future of Technology.
 A Broadband Internet Operator.
 A Facility Manager of a Residential township.
 A Manager of a commercial Mall or Market etc
Charges
 Rs 100000 As Refundable Security Deposit against Bandwidth to be release
50% after 18th month, and rest once the business is over with the partener.
 Rs 15000 for Hardware to work as NAS.
 Quarterly Amount of Authentication System for 100, 200, 300, 400, 500 or so
user.
 One month Bandwidth charges in case of Drop case, no charges in case of
sharing case.
 Rs 5000 Agreement amount to sign up the agreement.
Contact us
Mobile no : 9830041529
Email : [email protected]
web: www.walldepot.in
Thank you
Learn from Past, Plan today and Secure your Future ..!!