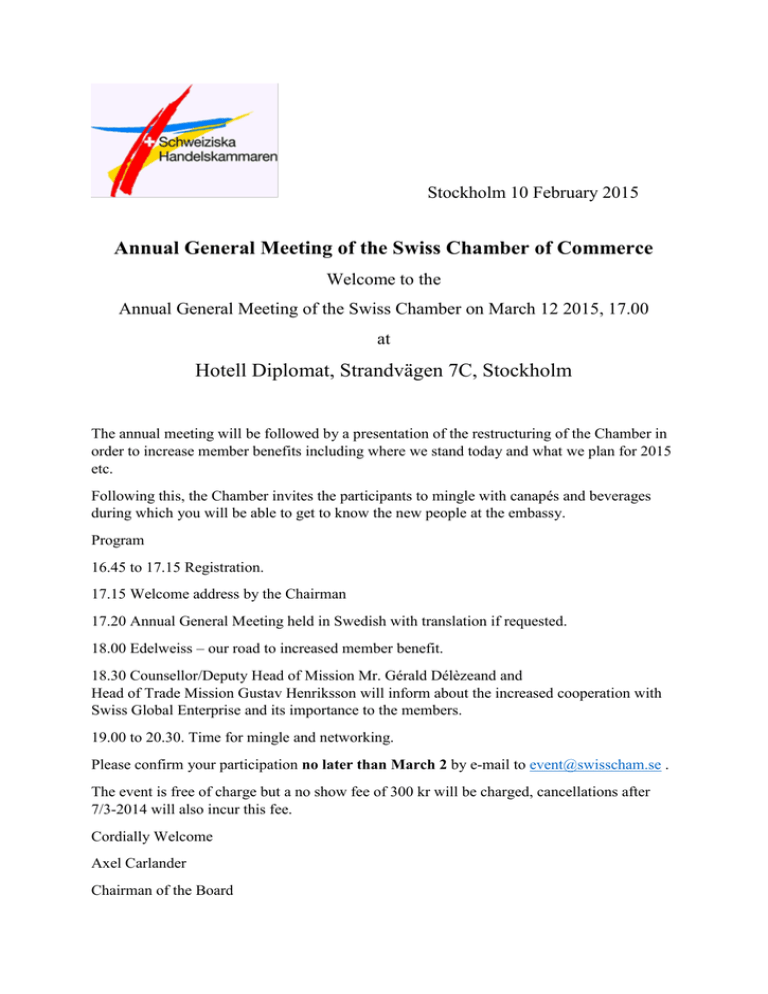 Stockholm 10 February 2015
Annual General Meeting of the Swiss Chamber of Commerce
Welcome to the
Annual General Meeting of the Swiss Chamber on March 12 2015, 17.00
at
Hotell Diplomat, Strandvägen 7C, Stockholm
The annual meeting will be followed by a presentation of the restructuring of the Chamber in
order to increase member benefits including where we stand today and what we plan for 2015
etc.
Following this, the Chamber invites the participants to mingle with canapés and beverages
during which you will be able to get to know the new people at the embassy.
Program
16.45 to 17.15 Registration.
17.15 Welcome address by the Chairman
17.20 Annual General Meeting held in Swedish with translation if requested.
18.00 Edelweiss – our road to increased member benefit.
18.30 Counsellor/Deputy Head of Mission Mr. Gérald Délèzeand and
Head of Trade Mission Gustav Henriksson will inform about the increased cooperation with
Swiss Global Enterprise and its importance to the members.
19.00 to 20.30. Time for mingle and networking.
Please confirm your participation no later than March 2 by e-mail to event@swisscham.se .
The event is free of charge but a no show fee of 300 kr will be charged, cancellations after
7/3-2014 will also incur this fee.
Cordially Welcome
Axel Carlander
Chairman of the Board
Note! The Annual General Meeting will be held in Swedish with translation to English if
requested.
Preliminär Dagordning för årsmötet
1. Val av ordförande och sekreterare för årsmötet
2. Val av två justeringsmän
3. Fråga om årsmötets behöriga sammankallande.
4. Styrelsens årsberättelse för 2014 Bil. 1
5. Redovisning av föreningens ekonomi Bil. 2
6. Revisionsberättelse för 2014 Bil. 2
7. Medlemsavgifter
8. Fråga om ansvarsfrihet för styrelsen
9. Val av ordförande, styrelsemedlemmar och suppleanter
10. Val av revisor och revisorssuppleant
11. Val av nomineringskommitté
12. Hedersmedlem/ar
13. Övriga frågor
Bilagor kommer att skickas ut separat.
Should you wish the meeting to be translated in to English or if you have any question to be
discussed at the annual meeting we ask you kindly report this to Axel Carlander via e-mail
(axel.carlander@swisscham.se) or via mail to Frodevägen 8, 182 55 Djursholm no later than
March 4.
Questions outside the agenda cannot be decided by the annual meeting.
Should you want to be guided through the enclosed reports, please call Mr. Axel Carlander
+46 70 853 07 30.