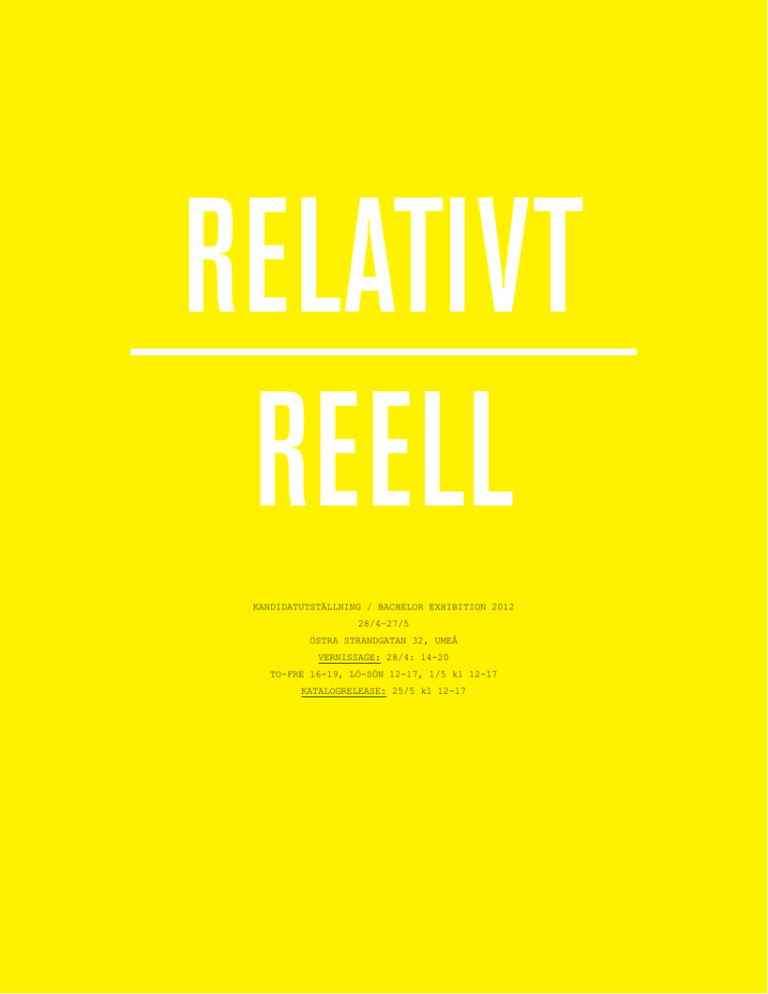 RELATIVT
REELL
KANDIDATUTSTÄLLNING / BACHELOR EXHIBITION 2012
28/4–27/5
ÖSTRA STRANDGATAN 32, UMEÅ
VERNISSAGE: 28/4: 14-20
TO-FRE 16-19, LÖ-SÖN 12-17, 1/5 kl 12-17
KATALOGRELEASE: 25/5 kl 12-17
LASSE BRINK
LOLA CARLANDER
MARK FRYGELL
JONAS GAZELL
ANNA JOHANSSON
INGRID KLINTSKOG
WENCHE CRUSELL
ALEXANDRA LARSSON
JENS LINDQVIST
CAMILLA LUNDQUIST
MAGNUSSON CHRIS
OSCAR MÄNNIKKÖ
IDA PERSSON
MARTHA PERSSON
JAQUELINE SHABO
MADELAINE SILLFORS
FABIAN THOLIN
_Vi har glädjen att presentera RELATIVT REELL, den
första examensutställningen på KONSTNÄRLIGT CAMPUS.
Under en månads tid, med start den 28 APRIL visas
en utställning av 17 STUDENTER handledd av Magnus
Wallin. Med video, skulptur, ljud, installationer, teck­
ning och måleri intar vi vårt nya galleri som ligger i
Konsthögskolans gamla lokaler. I samband med invig­
ningen av konstnärligt campus den 25 MAJ släpper vi
vår utställningskatalog.
_We are pleased to present the ARTISTIC CAMPUS' first
ever Bachelor graduation exhibition entitled RELATI­
VELY REAL. The opening of the exhibition is to take place
on the 28TH OF APRIL, exhibiting work by 17 BACHELOR
STUDENTS for a period of one month. The exhibition is
supervised by Magnus Wallin and will display a variety
of different work such as sculptures, sound art, installations, drawings and paintings. A catalog documentation of
the exhibition as well as the individual students and their
work will be released on the 25TH OF MAY in relation to the
official opening of the Artistic Campus.
VÄLKOMNA!
LASSE BRINK F. 1982 I STOCKHOLM
WWW.LARSBRINK.COM / BRINKLASSE@GMAIL.COM
En mjuk pulserande hoppborg i fjärran. Jag vältrar mig i dess ångor. Det doftar leksa­
ker och svavel, rökmaskin och laser. Jag tittar in. Jag ser ingenting. Det knastrar från
de varma kristallerna och runt flyger små hagel av neon.
Med ett jättekliv tar du avstamp i en verklighet du tar sats och flyger studsande på
dina assosiationer och du svävar in i en annan.
LOLA CARLANDER, F. 1982 I STOCKHOLM
LOLA_CARLANDER@HOTMAIL.COM / WWW.RAKETA.NU
Arbetar konceptuellt med bild, text, ljud och video. Medlem i raketa sedan 2006.
I mitt konstnärskap intresserar jag mig för psykologiska mekanismer och det sociala
samspelets odefinierade gränser. Jag fängslas av hur vi hanterar frihet eller avsaknad av
denna och frågor kring integritet, kommunikation och rollspel.
UTAN TITEL, FOTOGRAFI, 2008
MARK FRYGELL
MARKFRYGELL@GMAIL.COM / WWW.MARKFRYGELL.SE
Jag sågar till mina MDF-skivor i beställda format från Hornbach byggvaruhus. Dit tar
jag femmans spårvagn. Jag målar. Använder upp panelerna jag tidigare köpt och åker
ut till Hornbach igen för att handla mer virke. Använder lack, dränker det i aceton så
det skrynklar sig och fräts sönder. Men bara ibland.
JONAS GAZELL
I have a prepossession to industrially produced material that has been discarded even
though it has not lost its original function. Machines that overstayed their welcome and
appliances with visual imperfections. Collecting and reusing these becomes an optimiza­
tion of overflow where I strive to show value in what is commonly considered worthless.
FUCKING TELEVISIONS
ANNA JOHANSSON
Traces and footprints from individuals appear in different ways. They can be physical
or virtual. Some of them shows only a portion of its total amount, like the remaining
water from a washing machine.
The relationship we have with our waste products is a lifelong relationship that
doesn´t stop even if they disappear in our surroundings.
INGRID KLINTSKOG,
INGRID.KLINTSKOG@HOTMAIL.COM
En stillhet som ruvar. En tryckt känsla av hudlandskap. En fixerad ordning som på
avstånd ser enkel ut. Gå närmare och ana arbete, outtalade meningar och lager av
viljor. En sammansatt natur.
Ord som feber, blåmärke och tryck följer mig.
TJÄRN
WENCHE CRUSELL
WENCHECRUSELL@YAHOO.SE
Enl. SAOL: "Arkeologi - vetenskap, baserad på fornfynd, om äldre tiders kultur".
Skelettet, det döda, det som finns kvar efter. Tanken på att grävas upp av framtida
arkeologer, hur dom skulle anstränga sig för att utröna min identitet utifrån de spår
som finns på och runt mitt skelett.
ALEXANDRA LARSSON
ALEXANDRASOFIELARSSON@GMAIL.COM
The room is dark
Lightning
Everything appears Okay
Shape of the Head, Features,
Length, Gaze, Presence, Body
Exposed
Still something´s not right
Painting
Face clean
I turn towards Her
Does the Act begin
AN IMAGE
JENS LINDQVIST, 81 06 09, LUND
JENSAUGUSTLINDQVIST@GMAIL.COM
Six temporary placements and a comfy hole
Is a sculptural performance about revelations. Not in its religious meaning but deal­
ing with an individuals complete knowledge of its temporary placement , that hits us
when we least expect it. How is it remembered in imagery and what languages that
we carry brought it to life?
CAMILLA LUNDQUIST
CAMILLA.TM.LUNDQUIST@GMAIL.COM
My name is Camilla Lundquist and I was born in 1991 in Räng, Sweden, but raised
up in Hanoi, Vietnam. As an artist my main source of inspiration derives from the
questions surrounding my cultural heritage. I am constantly looking for links between
Swedish and Vietnamese traditions; cutting them up and sewing them together in my
work. You can contact me at my email address:
MAGNUSSON CHRIS
Get Drunk
Always be drunk.
That's it!
The great imperative!
In order not to feel
Time's horrid fardel
bruise your shoulders,
grinding you into the earth,
Get drunk and stay that way.
On what?
On wine, poetry, virtue, whatever.
But get drunk.
/ Charles Baudelaire
OSKAR MÄNNIKKÖ.
BORN 1986 IN VITTANGI, SWEDEN.
När jag sitter framför tvn. Bilden suddas ut och förvrängs. Då driver mina tankar mot
idéer om identitet, om varande. Om det som varit och om metamorfos. Om objekt
som förlängning av egot och om objekt som produkt. Objekt som produkt som fetisch.
MEDESIINI, VIDEOSTILL
IDA PERSSON
IDAPATRICIA@HOTMAIL.COM
Mitt namn är Ida Persson. Jag är född 1985 och uppvuxen utanför Ystad.
Jag målar stora påhittade apparater i akryl med små modeller som förlaga.
MARTHA PERSSON, F. 1983 GÖTEBORG
WWW.MARTHAPERSSON.COM / DEERMARTHA@GMAIL.COM
Beröring. Närhet. Respekt.
Givna normer suddas ut.
Kontrollen släpps för spontana infall.
Fokuserar närgånget på delar som är intressanta. Skalar av.
Identitet, tillhörighet och samspel transformeras till en kommunikation mellan
kroppar. Stereotypa poser tillåts krocka med traditionellt måleri.
ANHÄNGAREN, AKVARELL, 209*115CM
JAQUELINE SHABO
WWW.JAQUELINESHABO.COM
Some would agree with certain questions of morality, but in general it isn't the same
for everyone. A Subject constructs its own values. I believe it to be important.
We influence each other in our encounters. That makes me reflect on me versus
other people. What happens when the I encounter its surrounding of other subjects?
MADELAINE SILLFORS (F.1982, KIRUNA)
MADELAINE@KIRUNA.CC / MADELAINESILLFORS.WORDPRESS.COM
Tecknar med oljepastellkrita på papper. Tecknandet som ett sätt att erfara världen
och påminnas om sin existens. Tecknandet som ett sätt att våga se lite mer, även sånt
vi inte kan kontrollera.
GRÖNT STOLSYSTEM (2011)
FABIAN THOLIN
A Site Specific. I'm trying to create a place of its own. I don't work from source material,
and I usually don't know what the painting's going to look like. Instead I try to make
things appear that I couldn't have come up with. I want the painting to surprise me.