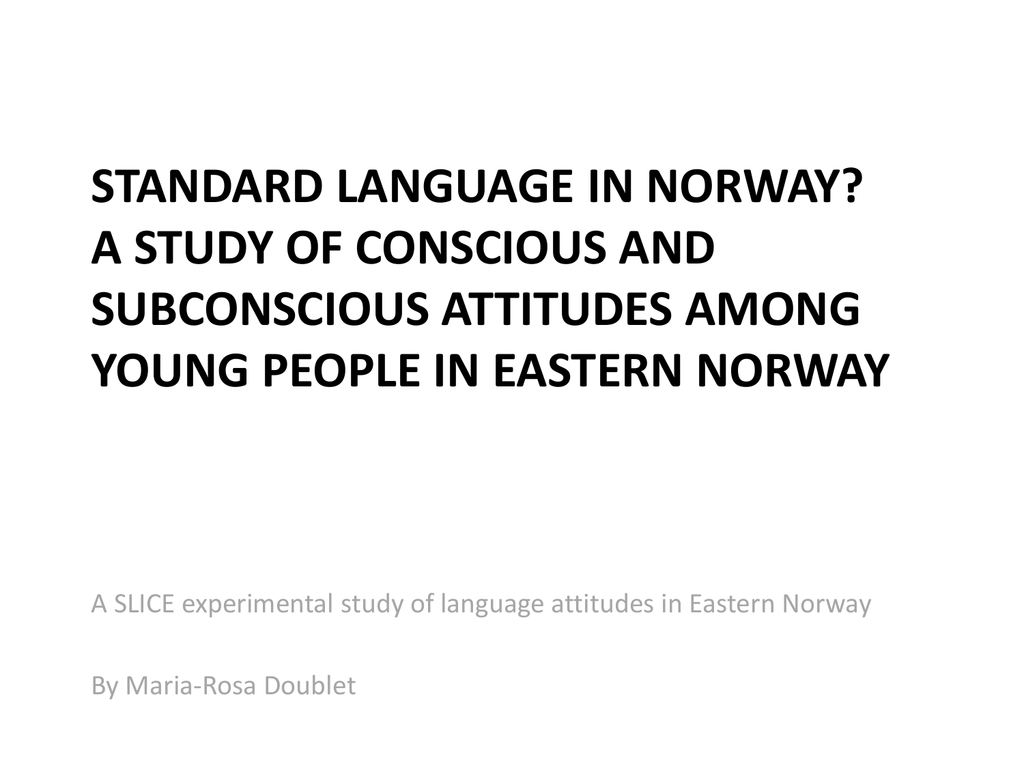 STANDARD LANGUAGE IN NORWAY?
A STUDY OF CONSCIOUS AND
SUBCONSCIOUS ATTITUDES AMONG
YOUNG PEOPLE IN EASTERN NORWAY
A SLICE experimental study of language attitudes in Eastern Norway
By Maria-Rosa Doublet
The goal of the project
• To do an empirical study of young people's attitudes to language in
Eastern Norway
• To analyze patterns of these attitudes and to search for a common
factor in these attitudinal patterns across the speech communities
• It is interesting to analyze attitudes towards east vs. west-variety
not only in Oslo, but in Eastern Norway as well
– The question of interest is focused on what role the attitudes play in
the spread of the Oslo-dialect
• My research questions are:
"In what degree is it reasonable to say that we have a standard
language ideology in Norway? And is there an eastern variety that
plays the role as this ideology?"
Historical background
Why Norway is a different speech
community
• With a past as a Danish colony and Danish being the only written language
after the abolition of the colony, --- the Norwegian language became a
symbol of Norwegian identity
• After the Norwegian independence, the dialects were supported in a
bigger extent than in other countries in Europe
– In 1887 it was constituted by law that schoolchildren had the right to speak
their own dialects in the classroom
• In contrast to other European societies, the Norwegian society has never
had an official language ideology
– In Norway you can only speak of written standard languages: bokmål and
nynorsk
• I believe that the historical factors have, amongst other things, had an
important explanatory factor on why Norwegians today can use their
dialect in all private and public spheres
Signs of standardization processes in
eastern Norway
•
Several qualitative and quantitative studies on language changing processes and
usage show that we are facing some standardization processes in different places
in eastern Norway (see Røsstad, Hårstad, Ims, Hilton and Molde)
•
Young people from rural parts of eastern Norway favour dialect features from Oslo
instead of their own local dialect (see the analysis of the Tynset-dialect by
Røyneland 2005)
•
In "Oslo-testen", a study on reported language usage in Oslo, Karine Stjernholm
(2013) finds a correlation between reported language use and actual usage in the
traditional division of the eastern and western-varieties in Oslo (see Stjernholm
2013)
– This can mean that the population of Oslo has a common belief that you speak in certain ways
depending on whether you grew up in the eastern or western part of Oslo
•
On the basis of Stjernholm's results we can still speak of two varieties of the Oslodialect: Oslo-west and Oslo-east, a division which I will use in this project
The hypothesis of the subconscious
language attitude study
• The Oslo-west variety will score higher in the
subconscious test
• The rural varieties will score low on the
subconscious test
• The youngsters will show 'local patriotism'
and like their own 'local dialect name' better
than any alternative in the conscious test
The methodical background
Collecting attitudes
• Language attitudes as a psychological construction, is a mental and
emotional unity that both characterizes and is an integral part of
the individual
• Language attitudes are not something we are born with, but
something we acquire during the socialisation processes into
society
• Attitudes can therefore not be observed directly, they must be
observed indirectly and we have to make them visible through
actions (Perloff 2008)
• By exposing informants in my study to different eastern-speechvarieties and asking them to evaluate the varieties in a survey, we
can measure language attitudes
•
In the study of conscious language attitudes towards language varieties I will
measure the cognitive attitudes, while in the subconscious language attitudes I will
capture the immediate response
•
In the language attitude survey I will use verbal-guise technique (Masketest),
which make subconscious language attitudes more measurable (see Lambert
1960)
•
I will use school classes with pupils aged 15-16 as an informant base
•
The informants will evaluate personality traits after two dimensions derived from
the Speech Evaluation Instrument (SEI), which also are used in the studies by
Kristiansen in Denmark and Sandøy in western Norway
•
The speech varieties will be evaluated on the basis of superiority qualities that are
intellectual traits and dynamic qualities that are traits of compassion. The division
represents two different value systems in language attitudes (Zahn & Hopper
1985)
The speech varieties in the verbalguise technique
• In the test-design I wish to include as many marked dialect words as
possible into the stimuli-voices for the "masketest"
• I will base my understanding of the two Oslo-varieties on
Stjernholm's (2013) description of a western- and eastern-variety,
which are built on the TAUS-research from the 1970's and the NoTaresearch from 2000
• For the different rural varieties it will be important to include as
many marked words, for example: monophthongization,
morphological and lexical variables and stressed first or second
syllable in foreign imported words
EAST
WEST
Translation
Description
åssen
vordan
how
lexical variation
sjøl
sel
self
reflexive pronoun
mora di/ mor
di
din mor/moren
din
your mother
syntactic/morphological
finni
funnet
found
perf.part. regular verb
driti
dritet/dritt
Regular expression:
"make a fool out of
myself"
perf.part. regular verb
håppa
håppet
Jumped
paste tense irregular verb
døra
døren
door
definite singular noun
fingra
fingrene
fingers
definite plural noun
veit
vet
know
diphthong/monophthong
gammal
gammel
old
not reduced/reduced vowel
trur
tror
believe
root vowel u/o
The stimuli-voices
Stimuli-voices
EAST-Oslovariety
WEST-Oslovariety
Different varieties for
the rural Centres
Four voices
Four voices
Four voices
• The test-design in the municipality of Oslo will consist of only eight
stimuli-voices
• Outside the municipality of Oslo the survey will consist of 12
stimuli-voices
• The stimuli-voices will talk about the same topic for around 30
seconds. There will be a fixed interval between each of the stimulivoices to give the informants time to complete the evaluation forms
• The stimuli-voice speech should be spontaneous so that the
evaluations of them are solely made on the basis of the different
varieties (Garett, Coupland, Williams 2003)
The evaluative scales
•
The informants will evaluate the stimuli-voices on personality
traits after assessment scales with measuring points
•
The measuring points are the seven-step scale consisting of
adjectives: intelligent to stupid, conscientious to happy-go-lucky,
goal-directed to dull, trustworthy to untrustworthy, self-assured to
insecure, fascinating to boring, cool to uncool, nice to repulsive
(Grondelaers & Kristiansen 2013: 17)
•
In the survey I will use an extended Likert scale with a seven-step
rating possibility from "agree" to "disagree" response option
between the adjectives (see Likert 1932)
The conscious part of the survey
• The conscious part of the survey will deal with the term 'standard
language' and geographical location of the stimuli-voices
• The evaluation of in which degree the stimuli-voices are a standard
language or not, will also happen on a seven-point scale and the stimulivoice will at the same time be placed geographically
• This data can provide information on whether or not the attitude patterns
from the subconscious survey reflects the subconscious language attitudes
• If it turns out that the informants from rural eastern Norway are unable to
distinguish between the stimuli-voices from Oslo and the stimuli-voices
from their own local centre on a conscious level, it is unlikely that they
have been able to distinguish between them on a subconscious level
• As an additional question in the subconscious test, I will ask
for an evaluative comment on each stimuli-voice
• This can give additional information on the evaluations
after the Likert scale (Kristiansen 2009: 176, Zahn &
Hopper)
• At the end of the conscious survey the informants will do a
'label ranking task'. They will rank different dialects labels
– These data will be compared with the subconscious data results
The project's geographical area
of eastern Norway
The 16 parts of the municipality of Oslo
From Stjernholm 2013: 8
Possible measuring points in Oslo-West
Town district
Inhabitant
s
Schools Name
Number of pupils
Vestre Aker
45.186
3
Ris, Hovseter,
Midtstuen
?, 600, 450
Nordre Aker
48.432
4
Nordre Aker, Nordberg, ?, 580, 720, 420
Engebråten,
Morellbakken
St.Hanshaugen
34.109
2
Marienlyst, Ila
?, ?
Ullern
31.275
2
Øraker, Bjørnsletta
?, ?
Frogner
52.531
3
Majorstuen,
Uranienborg,
Ruseløkka
?, ?, ?
Nordstrad
47.696
5
Brannfjell, Kastellet,
Karlsrud, Nordseter,
Lambertseter
500, ?, ?, ?, 130
Possible measuring points in Oslo-East
Town district
Inhabitants
Schools
Name
Number of pupils
Sagene
35.990
3
Bjølsen, Nordpolen,
Sagene,
?, ?, ?,
Grünerløkka
49.307
3
Sofienberg,
Frydenberg
?, ?
Gamle Oslo
44.958
3
Fyrstikkalleen, Jordal
?, 550
Bjerke
29.090
3
Årvoll, Linderud,
Veitvet
?, ?, ?
Grorud
26.777
3
Apaløkka, Grorudalen, ?, 350, ?
Bjøråsen
Possible measuring points in Oslo-East
Town district
Inhabitants
Schools
Name
Number of pupils
Stovner
30.554
5
Rommen, Tokerud,
Haugenstua,
Stasjonsfjellet,
Haugen
?, 300, 398, 269, ?
Alna
47.786
4
Gran, Ellingsrud,
540, ?, ?, 380
Lindeberg, Haugerud,
Østensjø
47.164
5
Høyenhall, Oppsal,
Skøyenåsen, Abildsø,
Bøler,
?, ?, ?, ?,?
Søndre
Nordstrand
36.304
4
Lofsrud, Hauketo,
Bjørnholt, Holmlia
?, ?, 400, 340
Southern Norway
© Kartverket
From www.norgeskart.no
Eastern Norway and suggestions of places to conduct my
studies
© Kartverket
From www.norgeskart.no
Possible geographical measuring points
Municipality,
County
Inhabitants
Schools
Names of
schools
Number of pupils
Raufoss i VestreToten, Oppland
6000
2
Raufoss,
Reinsvoll
?
Kongsvinger,
Hedmark
11.000
2
Holt, Tråstad,
Roverud
257, 250,?
Lillestrøm,
Akershus
12.000
1
Kjellervolla
400
Askim, Østfold
13.000
1
Askim
550
Possible geographical measuring points
Municipality, County
Inhabitants
Schools
Names of schools
Number of pupils
Sarpsborg, Østfold
50.000
5
Grålum, Hafslund,
Kruseløkka,
Sandbakken, Varteig
350, 380, 520,
600, ?
Fredriksstad, Østfold
80.000
9
Begby, Borge,
Cicignon, Gressvik,
Gudeberg,
Haugeåsen,
Kråkerøy,
Kvernhuset,
Vestbygda
145, 489,?, 400,
?, ?, ?, 500, 182
Moss, Østfold
30.000
5
Bytårnet, Hoppern,
Jeløy, Nøkkeland,
Verket
?
Possible geographical measuring points
Municipality, County
Inhabitants
Schools Names of schools
Number of
pupils
Tønsberg, Vestfold
40.000
4
Byskogen, Kongseik,
Presterø, Ringshaug
?, 246, 448,
221
Drøbak in Frogn,
Akershus
14.000
1?
Seiersten
377
Drammen, Buskerud
65.000
6
Børresen, Galterud,
?, 300, 315,
Kjøsterud,
537, 560, 530
Svensedammen,
Marienlyst, Gulskogen
Hønefoss in Ringerike,
Buskerud
14.000
3
Haugsbygd, Hov,
Veienmarka
225, 240, 300
Kongsberg, Buskerud
27.000
3
Skrim, Tislegård,
Vestsiden
190, ?, 300
Bibliography:
•
•
•
•
•
•
•
•
•
•
•
•
•
•
•
•
•
•
•
•
•
•
•
•
•
•
http://www.norgeskart.no (20.02.14)
http://www.utviklings-og-kompetanseetaten.oslo.kommune.no/oslostatistikken/folkemengde/ (20.02.14)
http://www.kongsvinger.kommune.no (20.02.14)
http://www.kongsvinger.kommune.no/no/Artikler/Grunnskoleopplaring/ (20.02.14)
http://www.vestre-toten.kommune.no (20.02.14)
http://www.vestre-toten.kommune.no/grunnskolene-oversikt (20.02.14)
http://www.askim.kommune.no (20.02.14)
http://www.askim.kommune.no/grunnskole.241381.no.html (20.02.14)
http://www.sarpsborg.com (20.02.14)
https://www.sarpsborg.com/Servicetorget/Tjenester-alfabetisk/Skole-ogutdanning/Grunnskoleopplaring/Grunnskole/Grunnskolene-i-Sarpsborg/ (20.02.14)
http://www.fredrikstad.kommune.no (20.02.14)
http://webfronter.com/fredrikstadgs/Testside/menu/mnu2.shtml (20.02.14)
http://moss.kommune.no (20.02.14)
http://www.moss.kommune.no/artikkel.aspx?AId=1274&back=1&MId1=4730 (20.02.14)
http://www.tonsberg.kommune.no (20.02.14)
http://www.tonsberg.kommune.no/cms/cms.nsf/pages/skoler-kommunale (20.02.14)
http://www.frogn.kommune.no (20.02.14)
https://www.frogn.kommune.no/info/oppvekst-familie/info/skole/ (20.02.14)
http://www.drammen.kommune.no (20.02.14)
http://www.drammen.kommune.no/no/Tjenester/Skole/ (20.02.14)
http://www.ringerike.kommune.no (20.02.14)
http://www.ringerike.kommune.no/Tjenester/Skole-og-utdanning/Skoler/ (20.02.14)
http://www.kongsberg.kommune.no (20.02.14)
http://www.kongsberg.kommune.no/Tjenester/Oppvekst/Grunnskoler/ (20.02.14)
http://www.utdanningsetaten.oslo.kommune.no (20.02.14)
http://od2.pbe.oslo.kommune.no/xkart/skoler/ (20.02.14)
•
Anderson, Ragnhild (2011): Medvitne og umedvitne haldningar til bergensk, austlandsk og strilemål hjå ungdomar i Åsane. Danske Talespråk 10: 80107.
•
Garret, Peter, Nikolas Coupland & Angie Williams (2003): Investigating language attitudes social meanings of dialect, ethnisity and performance.
Cardiff: University of Wales press.
•
Grondelaers, Stefan & Tore Kristiansen (2013): On the need to access deep evaluations when searching for the motor of standard language change. I:
Stefan Grondelaers & Tore Kristiansen (eds.) Language (De)standardisation in Late Modern Europe: Experimental Studies. Oslo:Novus. 9-52.
•
Hilton, Nanna H. (2010): Regional Dialect Levelling and Language Standards: Change in the Hønefoss Dialect. Doktorgradsavhandling. The University
of York.
•
Hårstad, Stian (2010): Unge språkbrukere i gammel by. En sosiolingvistisk studie av ungdoms talemål i Trondheim. Doktorgradsavhandling. NTNU.
•
Kristiansen, Tore (2009): The macro-level social meanings of late-modern Danish accents. Acta Linguistica Hafniensia 41: 167–192.
•
Lambert, Wallace (1960): Evaluational Reactions to spoken languages. Journal of Abnormal and Social Psychology vol.60(1): 44-51.
•
Likert, Rensis (1932): A technique for the measurement of attitudes. Archives of psychology Volume 140: 1-55.
•
Milroy, James & Lesley Milroy (1985): Authority in Language. Investigating Language Prescription and Standardisation. London:Routhledge&Keagen
Paul.
•
Molde, Ann-Kristin (upublisert): Utflyttede østlandsbarn. Upublisert doktoravhandling. Universitetet i Bergen.
•
Perloff, Richard M. (2008): The dynamics of persuasion. Communications and Attitudes in the 21 st Century. New York: Taylor & Francis Group, LLC.
Tredje opplag.
•
Røsstad, Rune (2006): Den språklege røynda. Om oppfatta og realisert talemål i austre Vest-Agder. Doktorgradsavhandling. Høgskolen i Agder.
•
Røyneland, Unn (2005): Dialektnivellering, ungdom og identitet. Ein komparativ studie av språkleg variasjon og endring i to tilgrensande
dialektområde, Røros og Tynset. Doktorgradsavhandling. Universitetet i Oslo
•
Stjernholm, Karine (2013): Stedet velger ikke lenger deg, du velger et sted. Tre artikler om språk i Oslo. Doktorgradsavhandling som er under
bearbeidelse. Doktorgradsavhandling. Universitetet i Oslo.
•
Zahn, Christopher J. og Robert Hopper (1985): Measuring Language Attitudes: The Speech Evaluation Instrument. Journal of Language and Social
Psychology 4/2: 113-123.