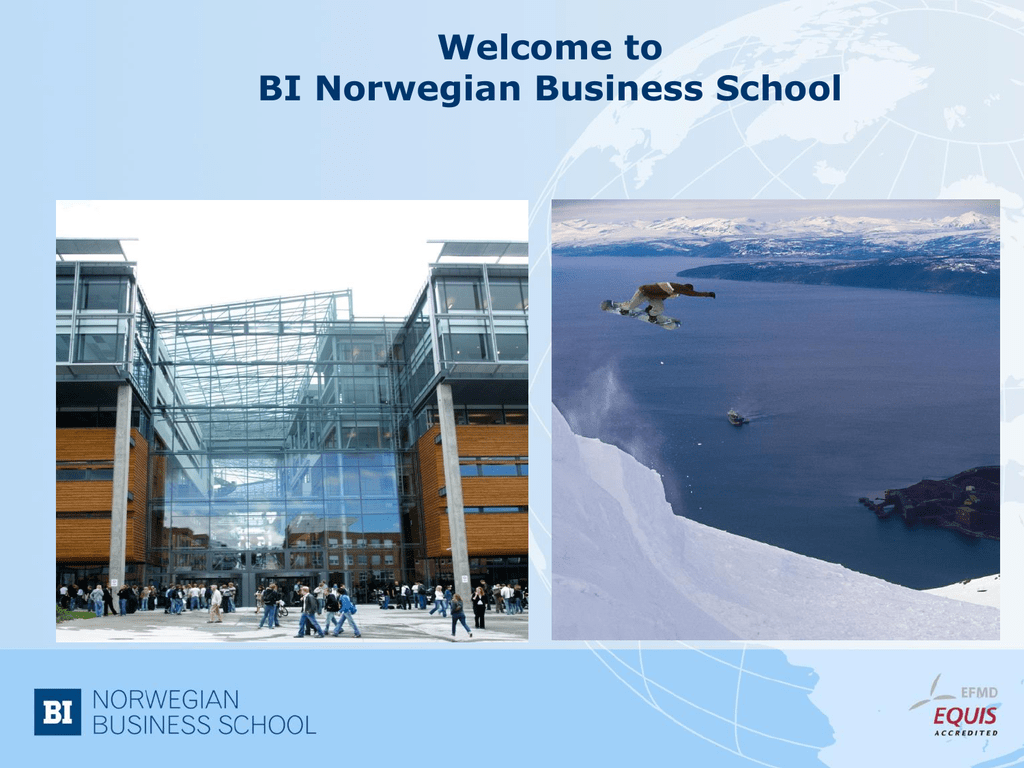 Welcome to
BI Norwegian Business School
Norway is one of the
Scandinavian
countries in the North
of the European
continent
Oslo
Oslo - Scandinavia's Sunniest Capital
• Wide variety of cafes and bars,
music scenes, restaurants, night
clubs, museums, art galleries,
theatres and cinemas
• A fast-developing and popular city
for national and international
activities
• Surrounded by forest and fjord
• Normally snow 2 - 4 months in the
winter and good skiing conditions
around Oslo
• 600 000 inhabitants
Norway
•
•
•
•
•
•
•
•
•
Breathtaking nature
Exciting outdoor activities
Peaceful, clean and safe
High standard of living
The best country to live in
according to the UN
Cold snowy winters
Surprisingly warm and sunny
summers
5 Million inhabitants
High proficiency in English
Norwegian Economy
• Per capita income ranks amongst
the highest in the world
• Low unemployment rate (<3%)
• One of the world's leading:
•
•
oil and gas exporters
shipping nation (Wilhelmsen)
• Other major industries: fishery,
pulp and paper, forestry and
telecommunication (Telenor)
BI Norwegian Business School
•
Founded in 1943 by a private
entrepreneur
•
A private non-profit organisation
•
A leading research-based
business school in Europe
focusing on life-long learning
•
EQUIS accredited in 1999 and
reaccredited in 2004 and 2010,
and currently in the final steps
of the AACSB and AMBA
accreditation
•
The largest provider of
education to the business and
industry sector in Norway
BI Quick Facts
• National and international
network of campuses
• Approx. 20.000 students
(10.000 part-time)
• 1200 international students
representing 63 different
countries
• 180 international exchange
partners in 45 countries
• Main campus in Oslo
• 3 regional campuses in
Norway
Reasons to study at BI
•Excellent quality of teaching and learning
•Learn from the experts
•Study in Norway – several times ranked the best
country in the world to live by the UN Reports
•Scholarship provision for excellent students
•Strong Alumni network for pre and post course advice
•BI is linked to more than 80 of Norway's major
enterprises, both Norwegian and international
•Norway maintains a healthy economic growth with
around just 2% unemployment
International Programmes in English
• Bachelor of Business Administration
• Focus areas are International Business, Shipping, Finance and Marketing
4 Master of Science programmes
•
•
•
•
MSc
MSc
MSc
MSc
in
in
in
in
Business (with 8 different Majors)
Strategic Marketing Management
Leadership & Organisational Psychology
Financial Economics
• Executive MBA programmes
• International Summer Programme
BI's Student Exchange Programme
• 180 partners in Europe, Asia,
America, Oceania and Africa
• Around 450 students from all over
the world come to take one or two
semesters at BI every year
• See: www.bi.edu/incoming
What can BI offer International
Students?
• Housing in student dormitories
• Arrival Service
• Introduction week:
• Orientation meeting
• Intercultural workshop
• Buddy groups
• Sightseeing and social events
• The International Students Association (INSA) arranges
events throughout the year for international students
• International office
• Norwegian Language Course (non-credit)
On Campus Facilities
•
•
•
•
•
•
•
•
•
•
•
•
Student Service Centre
Wireless network and workstations
Library
Bookshop
Student canteen and coffee bars
Bank and ATM
Nydalen Athletica
Student Health Services
Social Counselling
Career Services
Student's café and mingling area
University chaplain/Room for reflection
Housing
BI Norwegian Business
School guarantees housing
to all international
students
Part-time work during your studies
• There are good opportunities for part-time work
for international students in Norway,
e.g. Newspaper delivery, conducting surveys
• Students are allowed to work up to 20 hours per
week
• Average hourly pay is around 15-17 EUR or
20-23 USD
Further information
• www.bi.edu
• www.bi.edu/exchange
• [email protected]
• Picture Gallery on Facebook
• YouTube – BI Norwegian Business School
• YouTube - Norway
Looking forward to seeing you at BI!