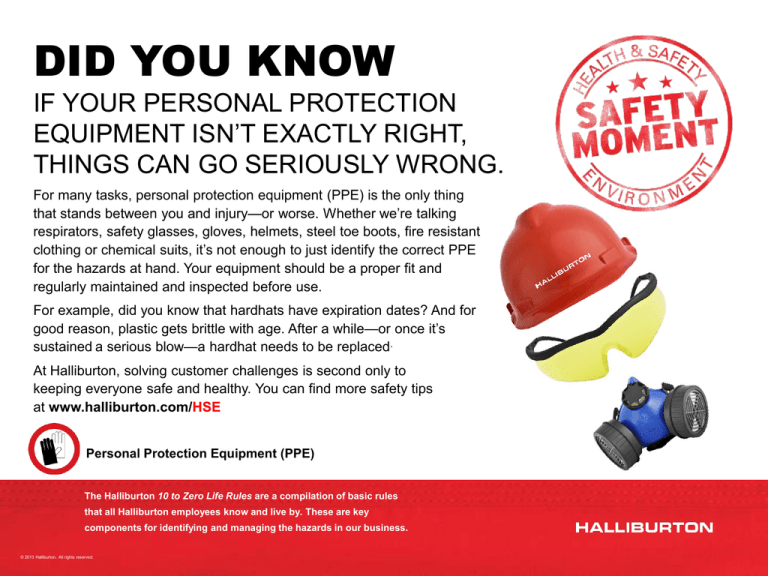 DID YOU KNOW
IF YOUR PERSONAL PROTECTION
EQUIPMENT ISN'T EXACTLY RIGHT,
THINGS CAN GO SERIOUSLY WRONG.
For many tasks, personal protection equipment (PPE) is the only thing
that stands between you and injury—or worse. Whether we're talking
respirators, safety glasses, gloves, helmets, steel toe boots, fire resistant
clothing or chemical suits, it's not enough to just identify the correct PPE
for the hazards at hand. Your equipment should be a proper fit and
regularly maintained and inspected before use.
For example, did you know that hardhats have expiration dates? And for
good reason, plastic gets brittle with age. After a while—or once it's
sustained a serious blow—a hardhat needs to be replaced.
At Halliburton, solving customer challenges is second only to
keeping everyone safe and healthy. You can find more safety tips
at www.halliburton.com/HSE
Personal Protection Equipment (PPE)
The Halliburton 10 to Zero Life Rules are a compilation of basic rules
that all Halliburton employees know and live by. These are key
components for identifying and managing the hazards in our business.
© 2013 Halliburton. All rights reserved.