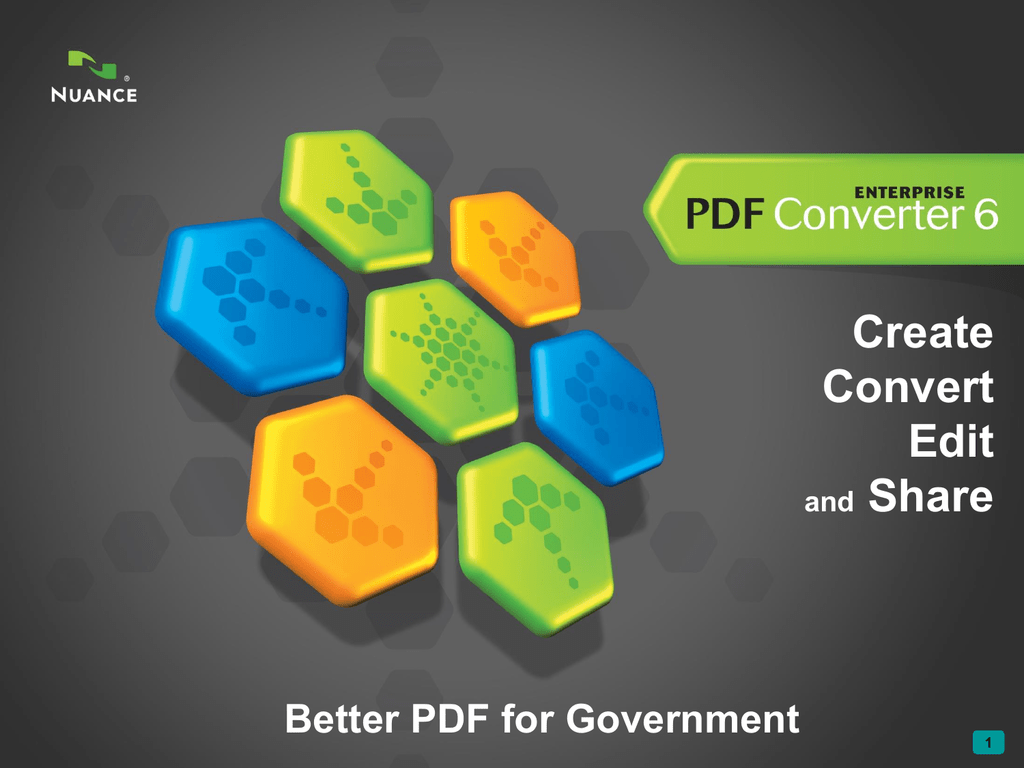 Create
Convert
Edit
and Share
Better PDF for Government
1
Nuance Overview
Headquartered in Burlington, Massachusetts with more than
4,200 employees in 35 offices worldwide
Leading provider of solutions for
Enterprise speech and customer care
Mobile devices and networks
Healthcare dictation and transcription
PDF and document conversion
Approximately 1,000 issued and pending patents
Current market capitalization of approximately $4.0 billion
Publicly traded on NASDAQ (NUAN)
page 2
Nuance – The Productivity Experts
page 3
8,000 healthcare
institutions
Mobile solutions in over
3 billion phones, cars and
navigation systems
Unlocking
the potential
of systems,
services
and devices
More than 8 billion
customer care
interactions in over
3,000 call centers
Over 21
million
registered
imaging
application
users
Introducing…Better PDF for Government
PDF Converter Enterprise 6
●
●
●
●
Compatible – A true replacement for Adobe Acrobat
that offers enterprise-class PDF functionality at a price
that is up to 66% less.
Collaboration – An easy way to work with PDF, XPS
and Office file formats. Save time with paper-to-PDF,
PDF editing, document assembly, and PDF to Office
conversion.
Complete – Valuable for the enterprise and the Green
Office – with PDF portfolios, ECM connectivity, XFA
support, true paper-to-digital conversion, and
enterprise-level support.
Better PDF for Government – A better Product for
Government, better pricing and licensing for
Government, a better company to do business with.
Confidential
Better PDF for Government
A complete PDF solution offers:
Fast and simple creation
Conversion from PDF to a variety of other useful formats
All of the comment mark-ups you need to effectively share your thoughts
And other powerful features that will allow you to truly collaborate while
dramatically increasing your productivity.
Better PDF for Government delivers a complete PDF solution that is:
Powerful without being bloated
Affordable without being cheap
And backed by an established company that understands the value of
productivity
PDF Usage within an Organization
The Challenge
Cost Issues


Complete Solutions are often costly and therefore too expensive for a
corporate-wide rollout
Companies adopt a piece-meal approach, giving various levels of
functionality to only certain employees, to stay within budget
Problems Created by Piece-meal Approach




How to effectively track who has what application in order to stay within
licensing agreement and maintain predictable budgeting?
Who gets what functionality?
How to handle users who that need to upgrade functionality?
How to effectively manage multiple PDF applications and different desktop
images?
Typical PDF Investment
Limited Deployment of "Complete Solutions"
In order to maintain cost-efficiency, a small number of employees are
given complete PDF solutions enabling them to:



Create PDF
Convert PDF to other formats
Edit and annotate PDF
Mix of PDF Products Deployed Company-wide


Some employees using Standard product, such as Adobe Acrobat, others
using Professional version
Majority of remaining employees using a PDF reader such as Adobe
Acrobat Reader
This solution creates as many problems as it solves!
The Resulting PDF Problem
Pockets of PDF users with different capabilities

Slows down users with complete solution, forcing them to address needs
of coworkers with basic solution

Slows those without complete solution capabilities by forcing them to hunt
down co-workers that can help

Creates a productivity bottleneck, hindering workflow
Right Sizing Your PDF Investment
What does "Right Sizing your PDF Investment" mean?

Finding a PDF solution that fits the size of your organization – one size
does NOT fit all

Only paying for features which your company needs

Avoiding the management trap of enabling only pockets of users

Predictable budgeting, not worrying about unexpected overages or seat
counting
Solutions for Requirements: Publishing
Adobe Acrobat
Originally designed for Document exchange
Took a major step early on towards Publishing
Focus on Professional printing tools
Pre-flighting, Ink Mgmt, Color bleeding, Printer Marks, etc.
Complex User Interface
Usability: Emphasis on Constant Users (primary app)
Other Factors:
Adobe trying to "re-level" their customers
- Migrate customer base to higher price products
- Push for LiveCycle workflows
- Add complication to current business process
Solutions for Requirements: Better PDF for Government
Nuance PDF Converter Enterprise
Originally designed for Government Users
Focus on the most commonly used tools
Creation, Conversion, Editing, Annotating, etc.
Simple User Interface
Most commonly used tools at your fingertips
Usability: Emphasis on Frequent Users
We Don't Try to Change Your Business
Concentrate on PDF Capability Government Users Need
PDF Converter Enterprise is answering pain points
Adobe pricing and
practices
SLP removes auditing &
unpredictability
Productivity
bottlenecks
Price allows for enabling
more users with complete
capabilities
IT Rollout and
License Mgmt
Single application and
desktop image to manage
Document re-creation/
Document Editing
Superior conversion to a
variety of formats
Working with Forms
FormTyper functionality
Business Demands an Alternative
Nuance PDF Converter Enterprise 6


The Enterprise solution that's both affordable and provides
complete PDF functionality
The World's leading replacement for Adobe® for PDF desktop
applications

Clear #1 in PDF conversion-to-office

Delivers savings of up to 66%
off Adobe Acrobat

1 page site license contract –
no seat counting, no auditing
A Proven Solution for Government
Over 3 million "Better PDF" seats worldwide
A simple to use application designed for the
Government user
Most commonly used functionality at your
fingertips
Smaller footprint (500MB vs 2.13 GB)
The flexibility to be "format independent"…
Incredible Time-savings
With our licensing programs… A better
company to do PDF business with:
1 page Site License contract
No auditing, No seat counting
A Proven Solution for Government
Nuance PDF is already being used by your
peers in Government…
VA Medical Center
DCMA
Lockheed Martin
GSA
National Park Service
Department of
Justice Enterprise
Human Services Agency
Bureau of Census
FBI
US Signal Activity
National Cancer Institute
Sheppard Air Force Base
US Army
National Science
Foundation
Department of US
Treasury
National Simulation
Center
Department of Veteran
Affairs
US Air Marshals
Naval Oceanic Command
USDA
Product
Overview
17
Better PDF for Government
The only complete PDF solution designed
specifically for Government users

CREATE and share PDF files with any
PDF application

CONVERT PDF files into editable, fullyformatted Microsoft Office and Corel
WordPerfect files.

EDIT directly within a PDF file, adding
copy, rearranging words and even
changing graphics
Everything
You Need to
Create,
Convert and
Edit PDF files
The mission for PDF 6 is to deliver
significant time savings back to the users
A note about Microsoft and Nuance - Conversion
Through a collaboration with Microsoft, Nuance
invented the PDF conversion category in 2003
Broke new ground by turning PDF into fullyformatted and editable Microsoft Office documents
Close Microsoft-Nuance collaboration continues …
PDF Converter Professional 6 expands Microsoft
functionality:
Creation and Conversion from within Office
SharePoint integration
Improved archiving to PDF from Outlook
Convert attachments to PDF before sending in Outlook
Beyond Creation, Conversion, and Editing…
One click and any PDF form is fillable
Letting you fill, save and share forms
electronically.
Secure your documents
Digital signatures, password security, or
certificate security with 256-bit encryption
Full 508-compliant tagging solution
Auto-tag your PDF files and manually touchup
reading order and alt-text tags to ensure your
PDF files are 508-compliant
What's New in PDF Converter Enterprise 6?
Scan directly to PDF
Rearrange pages with Document Assembly
Create PDF Portfolios
Convert page areas to editable text
Create searchable PDF files on the fly
Compare a PDF file with a Word document
Batch process PDF files
Write anywhere in your PDF with Typewriter
Fill out XML-based dynamic forms (XFA)
NEW – Document Assembly
Build Your PDF Document Faster & Easier Than Ever
Just like shuffling/reordering pages on your desk
Drag &Drop Assembly for PDF, Microsoft Office, XPS and other file types
Insert, Delete, Replace, Split, Renumber, Header/Footer management
Splitting now includes "Split by File Size" option
As easy as working with
paper.
NEW – Support for PDF Portfolios
PDF Portfolios are a collection of files of various file types (PDF, Office
files, images, videos, etc.) and folders presented in a "virtual" document set
Open, use and modify existing PDF Portfolios
Supports Flash cover pages embedded in PDF Portfolios
Compatible with Adobe implementation
How will you use PDF Portfolios?
Business – collect various file types into a Portfolio, with
guides on how the document set can be viewed/used
Government – Provide multimedia instructions on how to
work on a set of documents
Marketing – Use multimedia PDF to present new
products and information
Legal – Create "closing binders" with all necessary
documents and signatory instructions
NEW – Compare PDF to Word Copy
Matching a PDF version to Word version is made easy
Save hours and be more precise in comparing content across PDF
and Microsoft Word formats
Ideal for contract reviews and finding lost source documents
NEW – Direct Connection to Microsoft SharePoint
Complete Integration into the leading ECM solutions – including
SharePoint, Open Text, Interwoven, and Hummingbird
Both Create and Converter Assistants
offer "Open from" and "Save to"
Document Management Systems
Pro offers complete integration into all 4
ECM solutions
Integration with IBM Lotus Notes
Archiving Mail and Attachments - Easier than Ever
Archiving
Archive select mail messages or entire folders
of mail from with Outlook or Lotus Notes
Create PDF
Choose to save file attachments as PDF
directly from received mail
Convert PDF to other formats
Convert PDF attachments into editable
documents directly from the source mail
PDF Converter Enterprise 6
Critical Enterprise Features
Redaction and Bates stamping
Permanently remove sensitive information or add Bates numbering and other headers
and footer schemes to your PDF files.
Licensing Options
Site License Program
Single up-front purchase A defined site.
Delivers the greatest cost savings per seat
Eliminates the expenses associated with auditing, tracking or compliance.
Offered in Corporate, Government and academic versions.
Open License Program
A set number of seats
Delivers modest discount based on
the volume purchased.
Advantage Program
Delivers moderate discounts that improve
based upon volume of products that are planned
to be purchased over 2 year period.
Is Even Better - Better PDF for Government
●
●
●
●
Even Better Compatibility – A true
alternative that is up to 66% less than
Adobe®
Even Better Office Productivity – Save
hours of effort with paper-to-PDF, PDF
editing and document assembly, and PDF
to Office conversion
Even Better Ease-of-use – We've made
it easier to work with PDF, XPS, Office
and other important file types
Even Better Enterprise Features – Adds
value to existing enterprise investments –
at a lower price
The Price, Features & Performance
Needed to put PDF on Every Desktop!