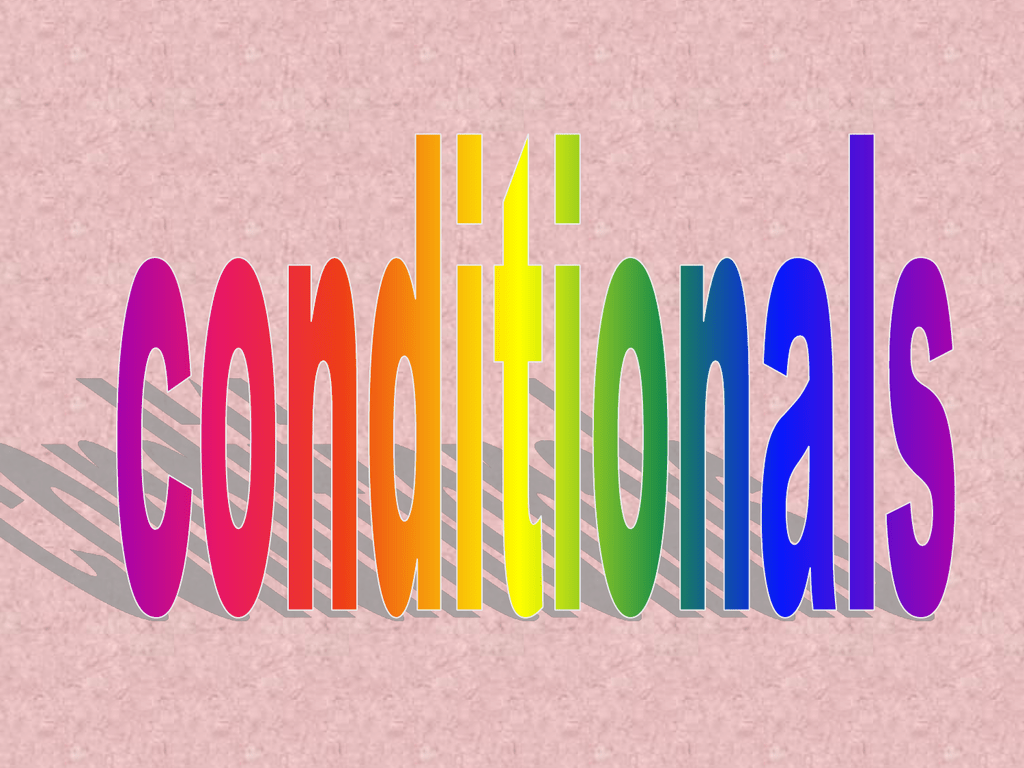 There are three basic conditionals that we use very
often. There are some more conditionals that we do not
use so often.
First Conditional
Second Conditional
Third Conditional
The structure of conditional
• First Conditional
If
future simple (will + vb-base form)
+ subj + present simple, subj
Unless
may/might + base form imperative
• Second Conditional
If
would
+ subj + past simple, subj
+ vb- base form
Unless
could/might
• Third Conditional
If
would have
+ subj + past perfect, subj
+ participle
Unless
could/might have
First conditional
• This expresses what will happen if the condition
indicated.
EJ: If I finish the project soon, I will go to the cinema with you.
• We can use modal May and Might or the verb in
the imperative.
EJ: If the library is open, I may / might borrow a book
If the
senteces
are
negative
To deny the verb of the condition
To use it in conjunction with
affirmative unless (if not)
EJ: He won´t believe anything unless we prove it is true
Second conditional
• The conditional concernes the present but it's
hypothetical, in other words, it's almost
impossible to occur.
EJ: If you told him, he would understand the situation.
• If the verb TO BE appears, in all persons we must
use WERE.
EJ: If that camera weren´t so expensive, I would buy it.
• When we give an advice, we must use the pronoun
WERE, instead of I.
EJ: If I were you, I would ask my parents for permission
Third conditional
• In this case the sentences also express a condition
in the past and the hypothesis can't be possible.
EJ: You would have learnt to play the guitar sooner If
you had taken classes
• The variants to form the third condiconal are
perfect manners.
Could have + participle
Might have + participle
EJ: If we had bought the tickets on time, we could / might have gone to the cinema
Prayer time
The same structure as the first conditional
conjunctions change
EJ: When I get home, I´ll call you
EJ: I will buy a car as soon as I pass my driving test
The structure of Wishful
Wish / if only + past simple
Wish / if only +past perfect
Wish + could / would + base form
wishful prayers expressed a desire, can be formed in two ways:
Past simple
• In this tense situations we refer a present situatio
that we would change.
EJ: I wish / If only I were more responsible
• If the verb TO BE appears, in all persons we must
use WERE.
EJ: I wish / If only it were that simple!
Past perfect
• In this situation we refer to a past situation that we
had wanted to change.
EJ: I wish / If onlyearlier!
Could or Would
• In this time we refer to a future situation
expressing the hope that this situations will
happen.
EJ: I wish / I could pass the literature test
• If the subject of "whish" and the verb in base form
are different, we use "would"
EJ: I wish / If only the weather would improve
Match the beginning of each sentence in I to a suitable ending in II.
1.
2.
3.
4.
5.
6.
7.
Jim wishes
I'd be delighted
If he hadn't been poor,
If he finishes his homework,
Let us know
If he goes to Scotoland,
She would have been pleased
...... a.
...... b.
...... c.
...... d.
...... e.
...... f.
...... g.
if you had apologised.
he may visit a castle.
life would have been easier.
he had more free time.
if you lived nearer.
he can watch television.
if you want to come.
Rewrite the sentences using the words in brackets.
1.-She should have listened to the doctor. (if only)
If only she had listened to the doctor.
……………………………………….
2.-We didn't meet you because we didn't know the
train time. (if)
If we
had known the train time, we would have
…………………………………………………
met
you.
…………
3.-Sam always has to rush because he gets up late.
(earlier)
If…………………………………………………
Sam got up earlier, he wouldn't have to rush.