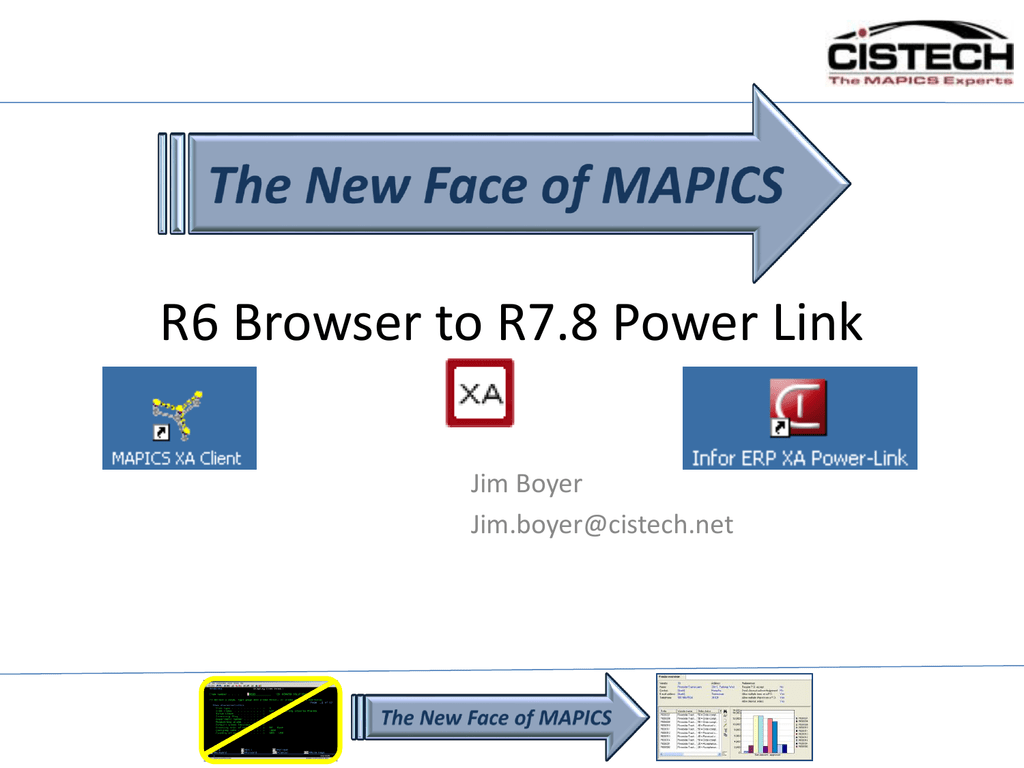 R6 Browser to R7.8 Power Link
Jim Boyer
[email protected]
CISTECH PowerLink Update Training Courses
Tailored to your requirements
PowerLink

PowerLink for Beginners

PowerLink Enhancements
Customer Service Management

Review of core capabilities

End Order Processing

Split Commissions

Comments Reporting

Invoicing

Price Book unit of measure

Holds

Additional maintenance
Materials Management

Review of core capabilities

Shipping

Receiving

Shipment notices

Inventory Transactions

Inventory Transfer item

Inventory Status and Nonnetting locations
Procurement Management

Review of core capabilities

Electronic Communication
with Suppliers

Entity Maintenance

Enhanced Vendor
Maintenance

Purchase Requests

PO Variance

PO History
EPDM

Review of core capabilities

Recost affected assemblies

Cost Simulation

Costed indented BOM inquiry

Kits
Order Based Production Mgmt

Review of core capabilities

Enhanced History

Change MO Quantity
IFM













Entity maintenance
Bank Account Number Changes
Separation of Duties
Totals and Balances
Automatic Credit Updating
Security Changes
Usability Enhancements
End Order Processing
Comments
Invoicing
Price Books
Holds
Additional Maintenance
AM Plus

Inquiry Maintenance for Cash
Receipts

Print AR Month-end host job
Release 7 Overview
• Takes a great application (Browser) and makes
it exceptional (PowerLink)
• Release 7 is written in Java (Browser was
written in Small Talk)
• Brings all of the Java functionality with it
– Select multiple records by holding Control + click
– Select range of records by clicking on the first
record then Shift + click on the last record
PowerLink Improvements for Information Access
•
Quick change
• User definition favorites
•
Graph cards
• Express customization
•
Compound cards
• Logical field tip text
•
Presentation schemes
•
Subset tip text
• Change AND copy templates
•
Cascading subsets
•
Power expand
•
URL & e-Mail buttons
• Auto key generation
•
Column statistics
• Open action
•
Application settings
• Workspaces
•
'Locate' Button
• Improved workbenches
• Code file maintenance
• Auto logoff
Quick Change
• The 'Quick Change' action (pencil with lines
following) builds a card with the fields used in
the view
• Used when you need to change multiple
records but cannot use Mass Change
• 'Auto Advance' allows you to go through all
the records in the subset
• 'Bypass' allows you to skip a record
Locate Button
• A new button has been added to the Toolbar
to 'locate' a record on a list
• Key Sequence CTRL + L
• Alternate to using 'Customize' then 'Locate'
Graph Cards
Compound Cards
Presentation Schemes
• Can add color, bold, italics, etc. to lists based
on conditions specified when creating the
scheme
– Past Due PO's
– Item Class
• Can color a single field or the entire line
• Can apply the scheme to the foreground
(numbers/letters) or background
Column Customization
• Can right click on any column and customize
the view/column
– Set column width
– Change title
– Block from Quick Change
– Create presentation scheme
• Allows for a quick change to the view without
having to go through the all the 'Customize' –
'View' steps
Column Statistics
Subset Improvements
• Tip Text
– Move the cursor over the subset, view, calculated
column and the criteria for the subset will be
displayed without going to 'Customize – Subset'
• Cascading Subsets
– After applying the first subset, you can then use a
secondary subset against the list being displayed
Favorites (subsets & views)
• Subsets, Views & Sorts can be flagged as a
favorites
• When you pull down the list of available
subsets, only the favorites will be displayed
• Reduces the number of public options
displayed to only those that apply to
Workspaces
• Multiple objects for the same file can be
created on the PowerLink card
– For example, if there are multiple sites being used,
a subset for a specific site can be used to create an
additional object for Item Revisions that will only
bring up records from the site
– Can create separate preferences for the
workspace
E-mail Capabilities
• Host Job and Host Print functions have the
capability to e-mail
• E-mail functionality on the iSeries must be
activated
• Can select format:
– HTML
– PDF
– Text
Power Expand
• When using an overview card, Power Expand
will open all levels instead of having to 'click'
on each plus button
• Default setting for Power Expand is set in
system preferences – Miscellaneous Card
– Need to sign off PowerLink and sign back on for
this Preference to become functional
Multiple Open Actions
• When you double click on an item/order in a
list you can specify what opens
– Open (double click)
– Alt + Open
– Ctl + Open
• For example, on the Item Revision file, Open
could bring up the card file in the change
mode, Alt + Open would display the bill of
material and Ctl + Open would display Item
Warehouses
Templates for Change & Copy
• Separate templates for Create, Change and
Copy
• Becomes more powerful when a Change
template is used with Quick Change on a file
that does not have Mass Change capabilities
Auto Logoff
• Can set time outs for auto logoff of PowerLink,
Net Link and/or System Link
• From the 'Enterprise' card, Cross Application
change can enable and set idle times for each
application
Now with R7.8 Power-Link!
• Card enhancements
–
–
–
–
List cards – presentation schemes, restricted data
Graph cards – stacked bars available
Overview cards – favorites available
Compound cards – data/graph link
• Subset enhancements
– Additional date range options (last week, last qtr, etc.)
• Public preferences
• Customizable menus and toolbars in workspaces
Now with R7.8 Power-Link!
• Suppress nuisance information messages – a "Do
not show again" box lets you eliminate.
• Host process confirmation shows all jobs being
submitted at the same time; i.e., multiple EPDM
reports you are running together and includes
"tip text."
• Specify landscape or portrait when exporting
data to PDF—instead of having to change printer
settings.
• User Definitions and User Preferences are now
available outside of Integrator.
Now with R7.8 Power-Link!
• "Auto-content security" has moved from
Integrator to base Power-Link.
• Users can now see transactions for other users
instead of being restricted to their own PowerLink actions.
R7.8 Expanded Process Functionality
• Customer Service Management
–
–
–
–
–
–
–
–
–
–
End order enhancement
Split commissions
Price books
Reports
Invoicing from orders or shipments
Holds – list view gives visibility
Comments maintenance
Customer/industry item maintenance
Contracts/promotions maintenance
IFM customer maintenance
New End Order
Better Hold
Management
CSM
Reports
Invoicing
Invoices can now be generated from orders or
shipments.
As a standard host job, the invoices can be
e-mailed or stored as text, HTML, and/or PDF
documents.
R7.8 Expanded Process Functionality
• Enterprise Product Data Management (non-EPDM
environments still the same)
– Maintain kits and kit components
• Procurement Management
– Purchase Requests, Online PO Variances
– Enhanced security for SOX requirements (federal tax ID/Social Security #
has it's own security and pre-set security for separation of duties)
• Cameleon
– De-couples engineering data from line-item entry, speeding up data entry
process.
– Configured item descriptions are saved in both CSM and EPDM.
– MO's can be generated automatically from configured customer orders.
R7.8 Expanded Process Functionality
• Materials Management
– New inventory transactions (IS, RC, TW, SA) and reversing
transactions
– Reason codes for all IM transactions
– Receiving now has receipt by shipping notice, shipment
containers and shipped items
– Visibility and receipt functionality for "in-transit" stock being
transferred to another XA warehouse
– Inventory Status and Non-netting Locations
• New field, Inventory Status, added to the Warehouse Location object to
classify items to be withheld from certain activities.
– Customer order pick lists – regular & stock pick combined
– Customer order shipments (complete only for now)
Release 9 is Here
Release 9 is Here
New Inventory Transactions
(Renamed but same designator.
Note Reverse action.)
Issue Item (IS) – formerly
Miscellaneous issue.
Receive Item (RC) –
formerly Miscellaneous receipt.
Issue Sales Item (SA) – formerly
Sales Shipment.
Transfer Item (TW) – formerly
Interwarehouse Transfer, and the
related generated
Interwarehouse Issue (IW) and
Interwarehouse Receipt (RW).
SHIPPING FUNCTIONALITY
R7.8 Expanded Process Functionality
• IFM
– Maintenance of:
• Entities
• Customer
• Vendors
– New summary levels and analytical functions
– Credit information updated in real time
– Increased length of bank account number to 60
characters to handle bank ID codes and international
bank ID codes.
Add/maintain customers with IFM
Add/maintain vendors
with IFM
New IFM Summaries
R7.8 Expanded Process Functionality
• Order-Based Production Management
– Application setting controls how users are notified when
changing MO quantities with discrete allocations.
• Net-Link
– Supports multiple internet browsers
• Environment Management
– Includes Product Update feature to analyze and apply PTF's,
PCM's and migrations from R6 to R7.
R7.8 Expanded Process Functionality
• Integrator
– Imports and exports user code within user exits.
– Publish and subscribe supports notification subsets, including
all fields on regular subsets.
– The User Definition and User Preference Administration
functions have moved from Integrator to base Power-Link
product.
• Translation enhancements
– Add language to user profile and eliminate need for multiple
MMLIST records and multiple database copies.
– Install new applications and apply code fixes once without
regard to individual languages.
R7.8 Expanded Process Functionality
• Link Manager
– Provides enhancements for managing machines, processes and
environments.
• System-Link
– Calls to host jobs and reports
– Define transactions groups
– Supports conditional blocks in System-Link requests
• Performance
– Extra caching of customization data
– Use of System i SQL query engine
Summary
• Release 7.8 functionality takes a good thing
(Browser) and takes it to then next level to
make it an exceptional tool
• PowerLink works in conjunction with the other
'Link' applications
– System Link
– Net Link
– Link Manager
Summary
• Taking the time to create custom cards,
preferences, workspaces, etc. will allow you to
be much more efficient and productive
Thank you for
attending!