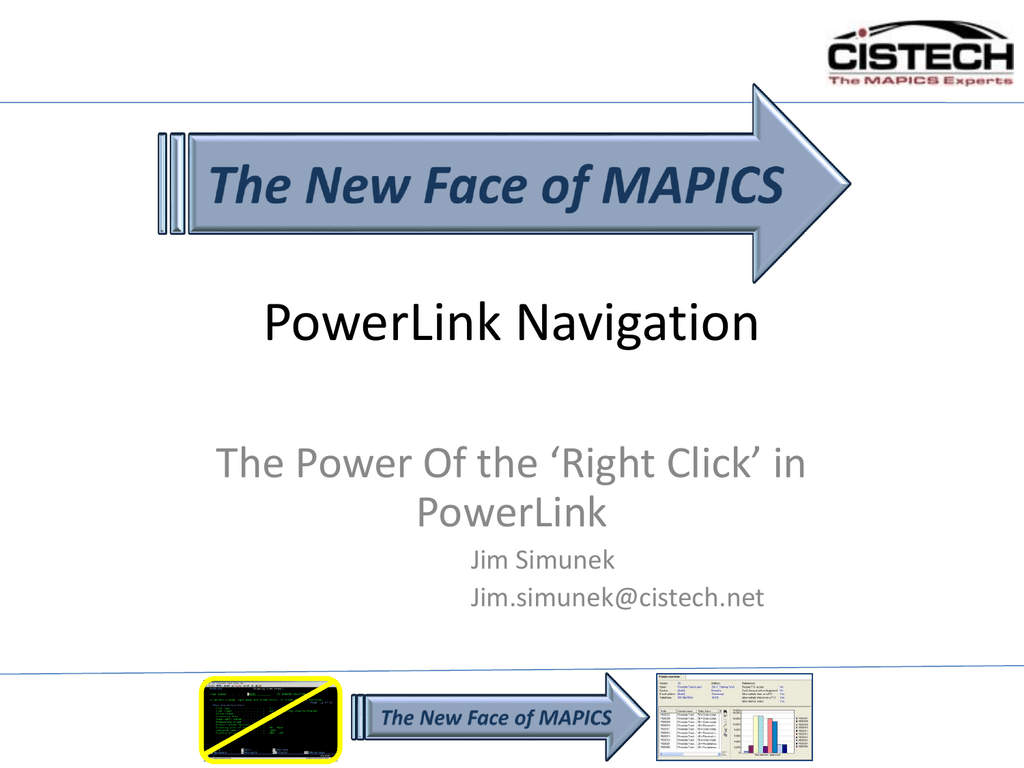 PowerLink Navigation
The Power Of the 'Right Click' in
PowerLink
Jim Simunek
[email protected]
Introduction
• Throughout PowerLink (and Browser) right
clicking on a record will allow you to:
– Retrieve information without having to open another
object
– Maintain a record or associated record
– Format a view or subset
– List Statistics
– Set Preferences
• Utilizing the right click to 'mine' for data can be a
real time saver and get you to the information
you need
Introduction
• This session will explore:
– The relationships between Mapics files
– Some of the records/files where the right click can
be used to retrieve data
– Maintenance functions available for the record
– Customizing the column in the view
– Records where the right click can be used to
invoke PowerLink settings
– Compare function between 2 records/orders
Application Cards
• Each object on an application card allows you to
right click to set preferences
• Preferences include:
–
–
–
–
Default view and subset for a list
Default card file and active card
Default templates for create, change and copy
Files to broadcast
• Setting a default subset on large files (i.e.
transaction history) will open the file quicker
• Future Tuesday session on Setting Preferences
Main Browser
Main Browser
Mining for Data
• Files where the right click/Display can be used:
– Customers to display customer orders or CO
history
– Vendors to display PO's
– Planners to display MRP recommendations
– Item Warehouses to display locations, MO's, PO's
and CO's
– Item Revision to display bills of material and
routings
Menu Layout
• When bringing up a Display or Maintain menu,
it is typically divided into sections
– Information about the highlighted record
• Details/Card file showing all information
• Maintenance History
– Associated information about highlighted record
• Transaction History
• Items
– Associated files
– Compare option
Display Menu
Manufacturing Orders
Manufacturing Orders
• 'MO Details' opens the card file for the MO
• MO Transaction History opens transaction
history for just the transactions that are
associated with the MO
• Component MO's shows the manufacturing
orders for sub-assemblies that are allocated to
this MO
• If using the display repeated, set up either a
Workbench or Compound Card containing
transaction history
• Future Tuesday sessions will discuss both
– Workbenches
– Compound Cards
Associated Files
• Where you see an arrowhead to the right of a
file name ( ) you can drag your mouse over
the file then to the right to select information
about that file
• You may or may not be able to use
broadcast/receive to these associated files
Associated Files
Planner
• Right click on a Planner Number/Display to
see
– Manufacturing Orders
– Purchase Orders
– MRP recommendations
– Planner Item Warehouses
– Transaction History
Vendor
• Right click on Vendor/Display to see:
– Purchase Orders
– Purchase Order History
– Scheduled receipts
– Vendor Item Records
– MRP Recommendations
Production Facilities
• Right click on a Facility to see:
– Routing operations
– MO Operations
– Repetitive Schedule operations
Item Revision
•
•
•
•
•
Single level or indented BOM
Single level or indented Where Used
Routing operations
Item Processes
Item Warehouses
List Card Right Click
• When in a list card, you can right click on a
record in the list to display or maintain
information about the record
• List cards include:
– Customer Order Items
– Purchase Order Items
– Manufacturing Order components
– Manufacturing Order operations
Within a List Card
Questions?
Format a List Column (view)
• Whether in a list from an object on the Main
Browser or in a list card, you can right click at
the column heading to format the view
– Alias, value or both for pre-defined fields
– Scheme criteria's to add color, bold, italics, etc.
– Change the width of the column
– Modify Quick Change options
– Column statistics (total, count, average, etc.)
• Use 'Customize' 'Column' to bring up the card
file
Format a Column in a View
Create a Temporary Subset
• Right click on a Column Heading
• Select 'Customize' then 'Subset Criteria'
• Using this feature allows you to create a
temporary subset for a single selection field:
– Item
– Order
– Status
– Vendor
– Customer
Create a Temporary Subset
Create a Temporary Subset
• All subset options are available for the field
– Equality
– Inequality
– Containment
– Lists
– Range
Create a Temporary Subset
Statistics
• Right click on any column heading and choose
'Statistics':
– Record Count
• no more copying to Excel to see number of records
• Available on any column
– *Total
– *Average
– *Minimum
– *Maximum
– *Only available on numeric columns
Column Statistics
Compare
Summary
• Use the right click throughout PowerLink to:
– Display information
– Maintain records
– Set preferences
– Compare records
– Customize a column
– Create a temporary subset
Summary
• Save time by right clicking instead of exiting
the file and opening another object
• Drill down to associated information quickly
• Improve efficiency/save time
Thank You for Attending!
• Questions?