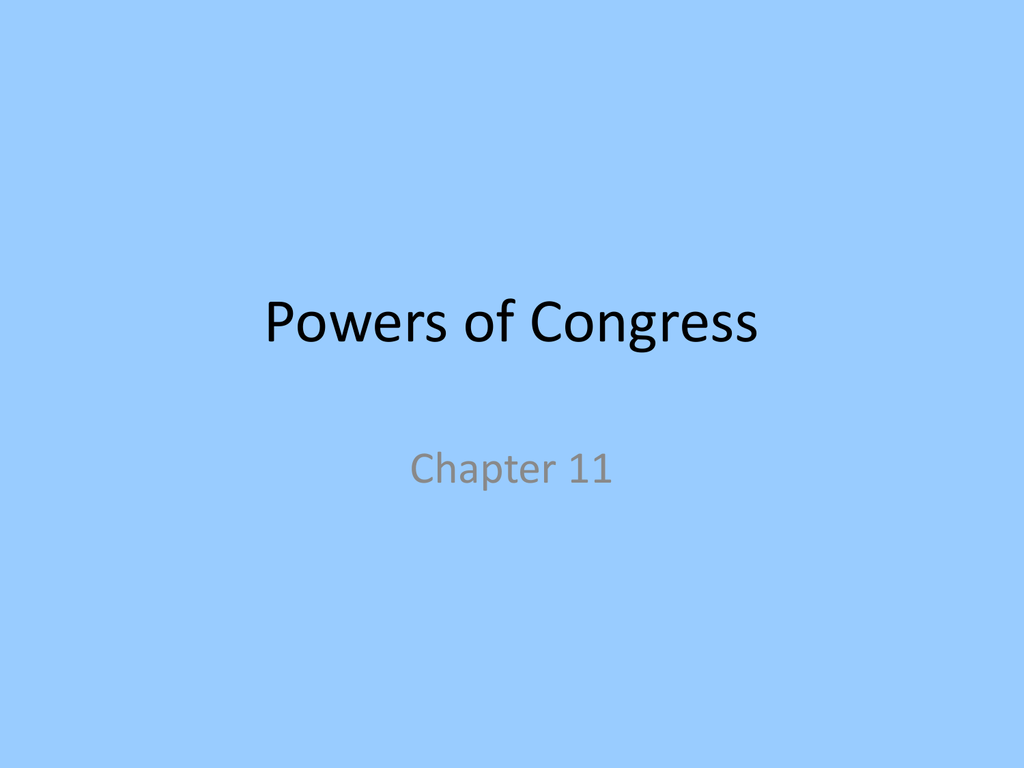 Powers of Congress
Chapter 11
Chapter 11 Section 1
THE SCOPE OF CONGRESSIONAL
POWERS
Congressional Power
• Only has powers delegated to it by the
Constitution
– Expressed: in specific wording
– Implied: reasonable deduction from expressed
powers
– Inherent: powers held by all national governments
Strict Versus Liberal Construction
• Strict Constructionist: those who insisted that
Congress should only be able to exercise its
expressed powers and only a few implied
powers
Strict Versus Liberal Construction
• Liberal Constructionists: favored a broad
construction of the powers given to Congress.
Chapter 11 Section 2
THE EXPRESSED POWERS OF
MONEY AND COMMERCE
Article I, Section 8
• This is where the majority of Congress' powers
come from.
– 18 separate clauses
– 27 different powers explicitly given
The Power to Tax
• Tax: a charge levied by
government on persons or
property to meet public needs.
• Power is limited
–
–
–
–
–
No church taxes
Poll taxes
Only for public purposes
No taxes on exports
Direct taxes must be
apportioned among the states
according to their populations
– All indirect taxes must be levied
at the same rate in all parts of
the country (tobacco)
The Borrowing Power
• The power to borrow money on the credit of
the United States
– Deficit financing: the US spends more than it
makes
– Public Debt: all money borrowed not yet repaid,
plus interest.
• http://www.brillig.com/debt_clock/
The Commerce Power
• Congress' power to regulate interstate and
foreign trade
• Gibbons v. Ogden, 1824
– New York v. Federal Gov't with regulation of
steamboats
– Court's ruling ends shipping monopolies based on
commerce
The Currency Power
• The power to coin money and regulate it's
value
• The Bankruptcy Power
– Congress may establish uniform laws for
bankruptcy across the U.S.
• The distributing of assets to those who one owes debts
Chapter 11 Section 3
OTHER EXPRESSED POWERS
Foreign Relations Powers
• Many powers expressed
• Matters affecting security of nation or
immigration are inherent powers
• War Powers
– 8 of the listed powers deal with war and national
defense
Other Expressed Powers
• Naturalization: process by which citizens of
another country become citizens of the U.S.
• Postal Power: establish post offices, and routes.
• Copyrights and Patents:
• The exclusive right of an author to reproduce, publish, and
sell his or her creative work.
– Life of author, plus 70 years
• The sole right to manufacture, use, or sell "any new and
useful art, machine, manufacture, or composition of matter,
or any new and useful improvement thereof."
– 20 years, may be extended by act of Congress
Other Expressed Powers
• Weights and Measures: "fix the standard of
weights and measures."
– 1838 established pound, ounce, mile, foot, gallon,
quart, etc…
– 1866 legalized use of metric
– 1901 National Bureau of Standards in
Commerce Department
Power Over Territories and Other
Areas
• Eminent Domain: the inherent power to take
private property for public use.
• May also acquire property through purchase
or gift.
• Manage territories
– District of Columbia,
– Puerto Rico,
– Guam,
– Virgin Islands
Judicial Powers
• They create all federal courts below the
Supreme Court
• Define federal crimes and establish their
punishments
Chapter 11 Section 4
THE IMPLIED POWERS
Necessary and Proper Clause
• Article I, Section 8, Clause
18
– Where it draws its implied
powers
• McCulloch v. Maryland,
1819
– Supreme Court ruled for
McCulloch under the
Necessary and Proper Clause
– Decision written by Chief
Justice John Marshall
The Doctrine in Practice
• Doctrine: is a principle or fundamental policy.
The doctrine of implied powers has been
applied in instances too numerous to count.
Chapter 11 Section 5
THE NON-LEGISLATIVE POWERS
Electoral Duties
• The House of Representatives may be called to
elect a President if no candidate receives a
majority of the electoral votes.
– 12th Amendment, each state gets 1 vote, must win
majority
– Also chose VP, but by individual vote of Senate
• Thomas Jefferson 1801, John Quincy Adams 1825
• VP Richard M. Johnson 1837
Impeachment
• All civil officers of the U.S. may "be removed from
office on impeachment for conviction of, treason,
bribery, or other high crimes and misdemeanors."
– Military officers are not considered "civil officers", nor
are members of Congress.
• House has sole power to impeach
• Senate has the sole power to try, to judge.
• Requires majority vote in House, 2/3 vote in
Senate
Impeachment
• Andrew Johnson 1868
• Senate acquit
• Based on his breaking a
law that was passed
after he vetoed it
• Bill Clinton 1998
• Senate acquit
• "inappropriate
relationship" with a
White House intern
Executive Powers
• Two executive powers given to the Senate
– Appointments: all made by President must be
confirmed by Senate
• 12 of 600 appointments have been rejected
– Treaties: made "by president with advice and
consent of the Senate,….provided two thirds of
the Senators present concur."
Investigatory Power
• May investigate any matter that falls within
the scope of its legislative powers.