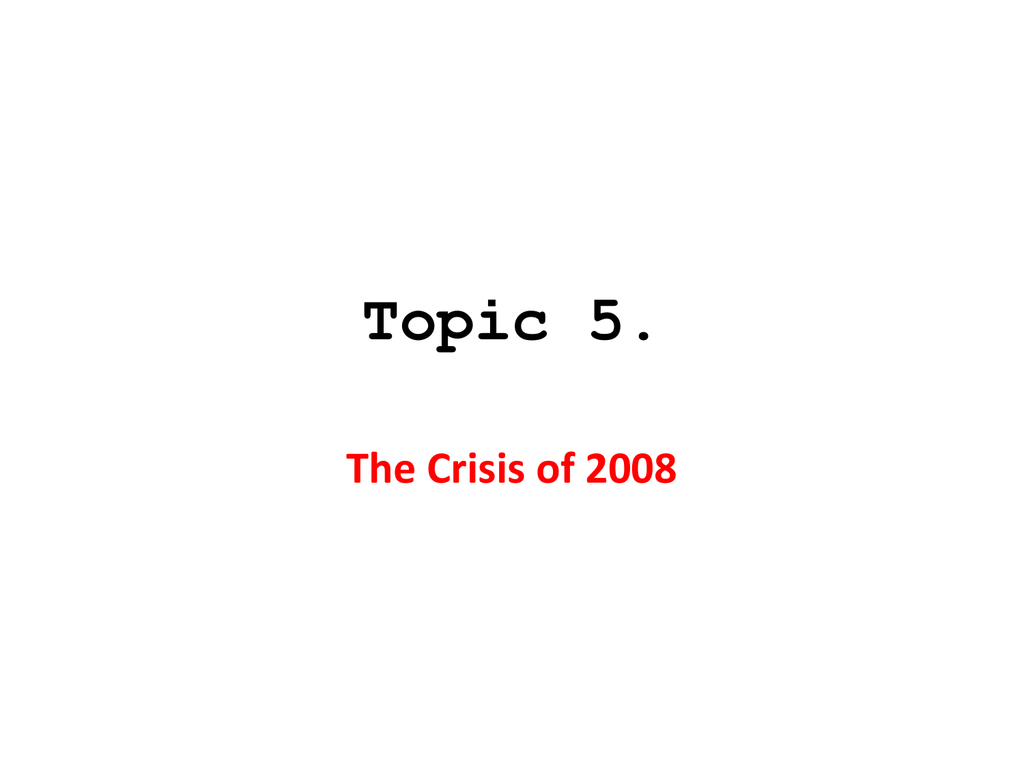 Topic 5.
The Crisis of 2008
1. Securitization, plus …
2. Huge World Capital Surplus
produced …
The Shadow Banking System
When the Housing Bubble Popped
it triggered a classic Bank Run.
Only it was a Run on the Shadow
Banking System.
This Brought the Economy Down.
THE BUBBLE POPS
A "Tipping Point" was inevitable.
Lower and Lower quality
securitized products – SUB-PRIME MORTGAGES – were being
drawn into the system.
IF YOU DO NOT THINK THE COLLATERAL
IS AS GOOD AS GOLD YOU GO TO THE BANK AND GET YOUR MONEY
BACK.
IF ENOUGH OTHER FIRMS DO THE SAME THING YOU HAVE A
BANK RUN!!!
NO FDIC.
The First Wall Street Firm to fail was Bear Stearns. It
collapses 16 March 2008. Bear Stearns signed a merger
agreement with JP Morgan Chase and went out of existence.
Bear Stearns signed a merger agreement with JP
Morgan Chase in a stock swap worth $2 a share or
less than 7 percent of Bear Stearns' market value
just two days before. This sale price represented
a staggering loss as its stock had traded at $172
a share as late as January 2007, and $93 a share
as late as February 2008.
Fannie Mae and Freddie Mac seized by
the government 8 September 2008.
Merrill Lynch purchased by Bank of America
on 15 September 2008.
On September 14 and 15, two of the four largest investment
banks failed. One, Lehman Brothers, declared bankruptcy.
Lehman failed to find a buyer, and the government decided
not to guarantee some of its underperforming assets in
order to facilitate a sale. The other, Merrill Lynch, the
country's largest brokerage firm, was sold to Bank of
America at a rock bottom price.
Lehman Brothers Declares Bankruptcy 15 September 2008.
The Largest Bankruptcy in American History with
$613,000,000,000.00 in Debt.
American International Group Begins to Fail in September,
2008. It is the World's Largest Insurer.
AIG suffered from a liquidity crisis when its credit
ratings were downgraded below "AA" levels in September
2008. The United States Federal Reserve Bank on 16
September 2008 created an $85 billion credit facility to
enable the company to meet increased collateral
obligations consequent to the credit rating downgrade, in
exchange for the issuance of a stock warrant to the
Federal Reserve Bank for 79.9% of the equity of AIG.
The Federal Reserve Bank and the United States Treasury by
May 2009 had increased the potential financial support to
AIG, with the support of an investment of as much as $70
billion, a $60 billion credit line and $52.5 billion to
buy mortgage-based assets owned or guaranteed by AIG,
increasing the total amount available to as much as $182.5
billion. AIG subsequently sold a number of its
subsidiaries and other assets to pay down loans received.
Washington Mutual seized by the United States Office of
Thrift Supervision (OTS) on 25 September 2008. Later sold
to JP Morgan Chase.
Wachovia purchased by Wells Fargo 31 December 2008.