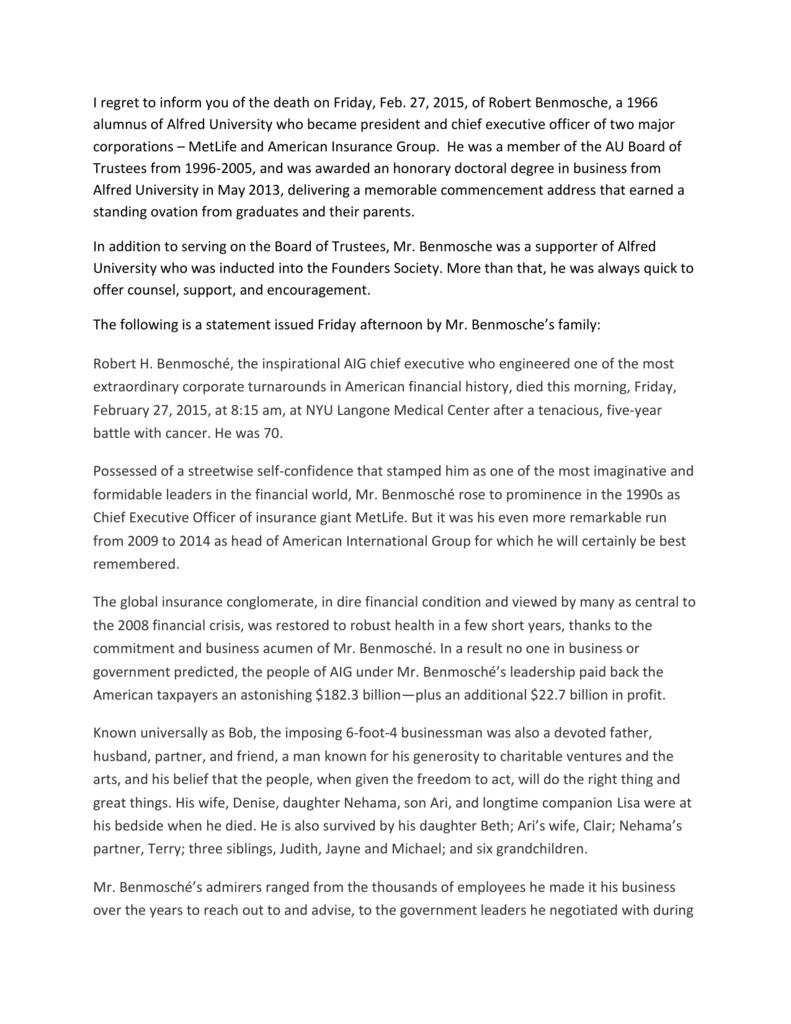 I regret to inform you of the death on Friday, Feb. 27, 2015, of Robert Benmosche, a 1966
alumnus of Alfred University who became president and chief executive officer of two major
corporations – MetLife and American Insurance Group. He was a member of the AU Board of
Trustees from 1996-2005, and was awarded an honorary doctoral degree in business from
Alfred University in May 2013, delivering a memorable commencement address that earned a
standing ovation from graduates and their parents.
In addition to serving on the Board of Trustees, Mr. Benmosche was a supporter of Alfred
University who was inducted into the Founders Society. More than that, he was always quick to
offer counsel, support, and encouragement.
The following is a statement issued Friday afternoon by Mr. Benmosche's family:
Robert H. Benmosché, the inspirational AIG chief executive who engineered one of the most
extraordinary corporate turnarounds in American financial history, died this morning, Friday,
February 27, 2015, at 8:15 am, at NYU Langone Medical Center after a tenacious, five-year
battle with cancer. He was 70.
Possessed of a streetwise self-confidence that stamped him as one of the most imaginative and
formidable leaders in the financial world, Mr. Benmosché rose to prominence in the 1990s as
Chief Executive Officer of insurance giant MetLife. But it was his even more remarkable run
from 2009 to 2014 as head of American International Group for which he will certainly be best
remembered.
The global insurance conglomerate, in dire financial condition and viewed by many as central to
the 2008 financial crisis, was restored to robust health in a few short years, thanks to the
commitment and business acumen of Mr. Benmosché. In a result no one in business or
government predicted, the people of AIG under Mr. Benmosché's leadership paid back the
American taxpayers an astonishing $182.3 billion—plus an additional $22.7 billion in profit.
Known universally as Bob, the imposing 6-foot-4 businessman was also a devoted father,
husband, partner, and friend, a man known for his generosity to charitable ventures and the
arts, and his belief that the people, when given the freedom to act, will do the right thing and
great things. His wife, Denise, daughter Nehama, son Ari, and longtime companion Lisa were at
his bedside when he died. He is also survived by his daughter Beth; Ari's wife, Clair; Nehama's
partner, Terry; three siblings, Judith, Jayne and Michael; and six grandchildren.
Mr. Benmosché's admirers ranged from the thousands of employees he made it his business
over the years to reach out to and advise, to the government leaders he negotiated with during
AIG's tumultuous recovery. He was "the definition of leadership," according to Kenneth
Feinberg, the special master of the 9/11 Victims Compensation Fund, tapped by the U.S.
Treasury Department to oversee executive pay at AIG and other stricken companies during the
financial crisis. Andrew Ross Sorkin, author of the best-selling "Too Big To Fail," a book about
the 2008 Wall Street meltdown, put it succinctly: Mr. Benmosché, he said, is "an American
hero."
Born in Brooklyn, N.Y., on May 29, 1944, Robert Herman Benmosché moved when he was five
to upstate Monticello, N.Y. with his parents, Lillian and Daniel, who ran a restaurant and rented
out cabins along old Route 17. He received his first understanding of what dire financial straits
looked like when he was 10: his father died suddenly in 1954, leaving his mother $250,000 in
debt. The trauma of this event no doubt informed his work ethic: as a teenager, he worked in
his parents' motel business and then drove delivery trucks for Coca-Cola. The memory of those
hard times steeled him in his fight to have AIG repay the bailout money, a task completed in
2012.
Mr. Benmosché graduated from Alfred University in upstate New York in 1966, with a
bachelor's degree in mathematics, and entered the U.S. Army as a 2nd lieutenant as a result of
his participation in the Reserve Officers' Training Corps. He led a communications unit in South
Korea, attaining the rank of first lieutenant. After his military service ended, Mr. Benmosché
began a 46-year career in business. He first worked as a consultant in technology and
information processing in the human-resources sector before joining Chase Manhattan Bank in
1975 as vice president of the technology group.
From there, he was lured in 1982 to the investment firm PaineWebber by its president and
chief executive, Don Nickelson, who would become a mentor and lifelong friend. His deep
knowledge of the operations side would be a huge asset over the course of his entire career.
He was instrumental over his 14 years with PaineWebber in implementing many innovations,
including the development of its cash management account program. His mastery of logistics
was a major reason the brokerage house's internal systems ran smoothly, enabling the firm to
emerge healthy after the stock market crash in October 1987.
At PaineWebber, Mr. Benmosché honed his leadership abilities. Among the positions he held
there were chief financial officer of its retail group, and executive vice president and director of
operations, administration, and technology. Those skills would be tested further after he
moved in 1995 to MetLife, where three years later he was named its chairman and CEO. His
crowning achievement was the successful transformation in 2000 of the then-132-year old firm
from a mutual to a publicly-traded corporation.
In 2006, Mr. Benmosché retired, seeking to spend more time at Villa Splendid, his seaside home
outside Dubrovnik, Croatia, that he had bought and lovingly restored several years earlier. A
wine lover, he also purchased a pair of vineyards a two hour drive away on the Peljesac
peninsula, and arranged to import Zinfandel vines from California to grow alongside a local
varietal. Three years later, in the summer of 2009, he and his local winemakers celebrated the
first harvest of those grapes, which were used in the first vintage of his private-label
Benmosché Family.
That same summer, Bob was recruited out of retirement by top officials in the Obama
Administration for the high-stakes job that would thrust him into the international spotlight:
CEO of AIG. He was the fifth leader in five years at the company, which was reeling from
declines in value of certain investments. Ultimately, the Federal Reserve Board of New York and
the Department of the Treasury committed a total of $182.3 billion to support the company as
part of their larger goal to protect the stability of global financial system.
Mr. Benmosché saw his job as paying the taxpayers back as quickly as possible, while somehow
finding a way to hold the company together as a going, prospering concern for its employees
and policyholders around the world. When he came aboard, however, he was deeply offended
by the way the company was being demonized – by some of the very officials in Congress and
elsewhere who had a stake in seeing it recover and repay its government loans. He spoke
publicly — and in his trademark style, bluntly — about the injustice he felt was being done to
his employees. Mr. Benmosché's defense of his employees energized AIG employees and was
later seen as having laid the groundwork for other successes.
The patient deliberation he devoted to selling off some strategic AIG assets, in fact, allowed the
company to accelerate its government repayments. When he'd accomplished the payback
mission, the expressions of thanks came even from such figures as Treasury Secretary Timothy
Geithner, who told Mr. Benmosché he never thought such a day would come.
At the same time, however, Mr. Benmosché was engaged in a more private and anguishing
struggle: a little more than a year after he came to the company, in October 2010, he was
diagnosed with stage four lung cancer. Advising the company that he was ill, he embarked on
an aggressive treatment regimen, and continued to conduct business even on the days when he
was undergoing chemotherapy.
His stamina and powers of recovery defied the prognoses of his doctors, who had given him a
year to live. Four years later, he was still actively engaged in running the company. Even after
his retirement on September 1, 2014, he continued to conduct a seminar around the country of
his own devising that he called "Leading Leaders," a program to ground AIG's 3,000 top officers
in his management style. It could be summed up in the instruction he gave again and again: "It's
time for you not to be the heroes, but to make the people who work for you heroes."
Mr. Benmosché was known for his public-spirited largess: he supported a variety of endeavors,
including arts and other groups in Rockland County, where he maintained a home for more
than 40 years. In 2000, he delighted film and historic preservation buffs in Suffern, N.Y., by
purchasing the decaying Lafayette Theater, a 1,000-seat art deco treasure threatened with
demolition. Today, following a major restoration, it is a community asset showing movies year
round and staging special holiday events drawing families from as far as New England and the
Middle Atlantic states. He was a great supporter of advancements in medical treatment by
providing direct support to NYU Langone Medical Center, its ambulatory services, and its Joan
H. Tisch Center for Women's Health. For his myriad contributions, Mr. Benmosché was himself
rewarded, by his alma mater, Alfred, which in 2013 bestowed on him an honorary doctorate of
business. Mr. Benmosche was inducted into the Insurance Hall of Fame in 2013, and was
named Insurance Leader of the Year by St. John's University School of Risk Management in
2014.
For all his renown and achievements, however, Mr. Benmosché adhered always to his own
rigorous code of ethics. He remained steadfastly true to himself, a man of resolute self-belief as
well as compassion, a leader who had a powerful instinct for the value of a person as well as an
entire corporation.
"My mom taught me in life, don't take yourself too seriously. And I don't," he said in a
commencement address to Alfred's class of 2013. "What she said was in life, people will kiss
your buns on the way up, and they'll step on your throat on the way down. Don't forget who
you are. Don't forget who you are at your core."
Mr. Benmosché never did.
Note: A funeral service will be held for Mr. Benmosché at The Riverside Memorial Chapel,
located at 180 W. 76th Street in Manhattan, at 10:00 a.m. on Sunday, March 1, 2015.