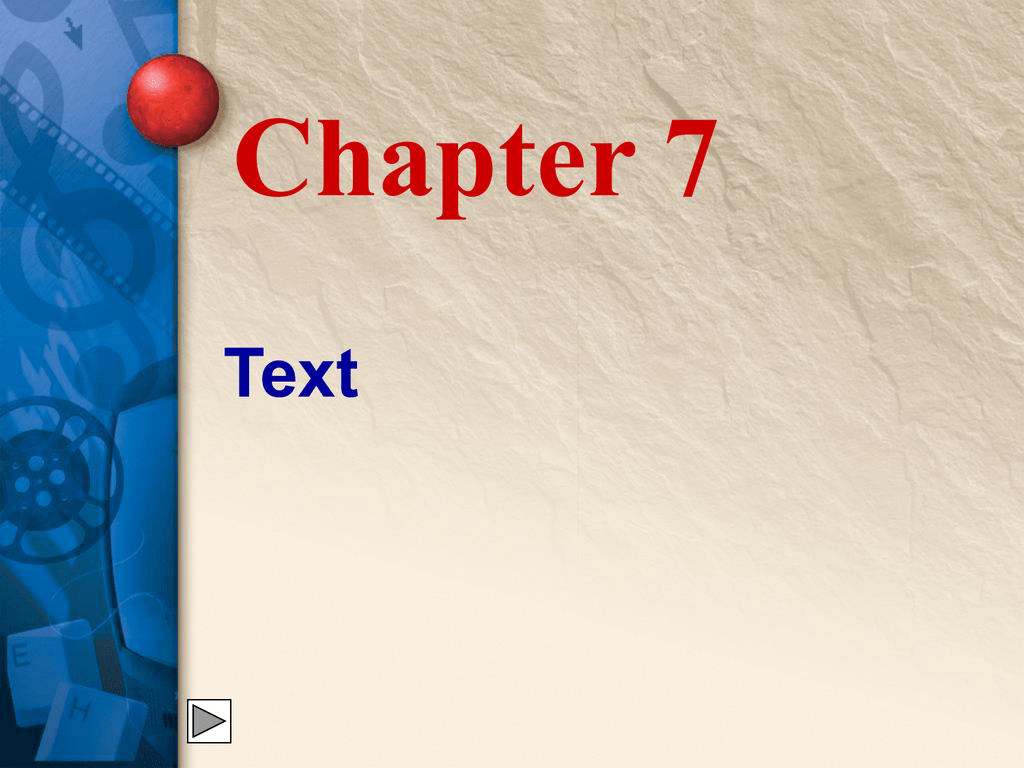 Chapter 7
Text
7
Text in Multimedia
Text is used in
multimedia projects
in many ways:
Web pages
Video
Computer-based
training
Presentations
7
More Uses for Text in Multimedia
Text is also used in multimedia
projects in these ways.
Games rely on text for rules, "chat,"
character descriptions, dialog, background
story, and many more elements.
Educational games rely on text for content,
directions, feedback, and information.
Kiosks use text to display information,
directions, and descriptions.
7
Formatting Text
Formatting text controls the way the text
looks. You can choose:
Fonts
Text sizes and colors
Text alignment
Text spacing: line spacing or spacing between
individual characters
Advanced formatting: outlining, shadow,
superscript, subscript, watermarks, embossing,
engraving, or animation
Text wraps
7
Font Technologies
Understanding font technologies can be
important when creating multimedia
projects. The most popular font
technologies are:
Scalable fonts: Postscript, TrueType, and
OpenType
Bitmap fonts which are not scalable but
provide more control over the appearance of
text.
7
Guidelines for Using Fonts
Avoid using many varying font
styles in the same project.
When possible, use fonts that come
with both Windows and Mac OS.
Use bitmap fonts on critical areas
such as buttons, titles, or headlines.
7
More Tips for Using Fonts
Use fancy or whimsical fonts
sparingly for special effects or
emphasis.
Keep paragraphs and line lengths
short.
Use bold, italic, and underlining
options sparingly for emphasis.
7
More Guidelines for Using Fonts
Avoid using text in all uppercase
letters.
Use font, style options, size, and
color consistently.
Provide adequate contrast between
text and background when choosing
colors.
Always check spelling and grammar.
7
Formatting for Screen Display
Apply these guidelines to multimedia
applications for display rather than to
printed documents.
Test your presentation on monitors in several sizes.
Avoid patterned backgrounds.
Use small amounts of text on each screen display.
Text for a presentation that will be viewed by a large group
of people must be visible from the back of the room.
For interactive displays, use consistent placement of
hypertext links.