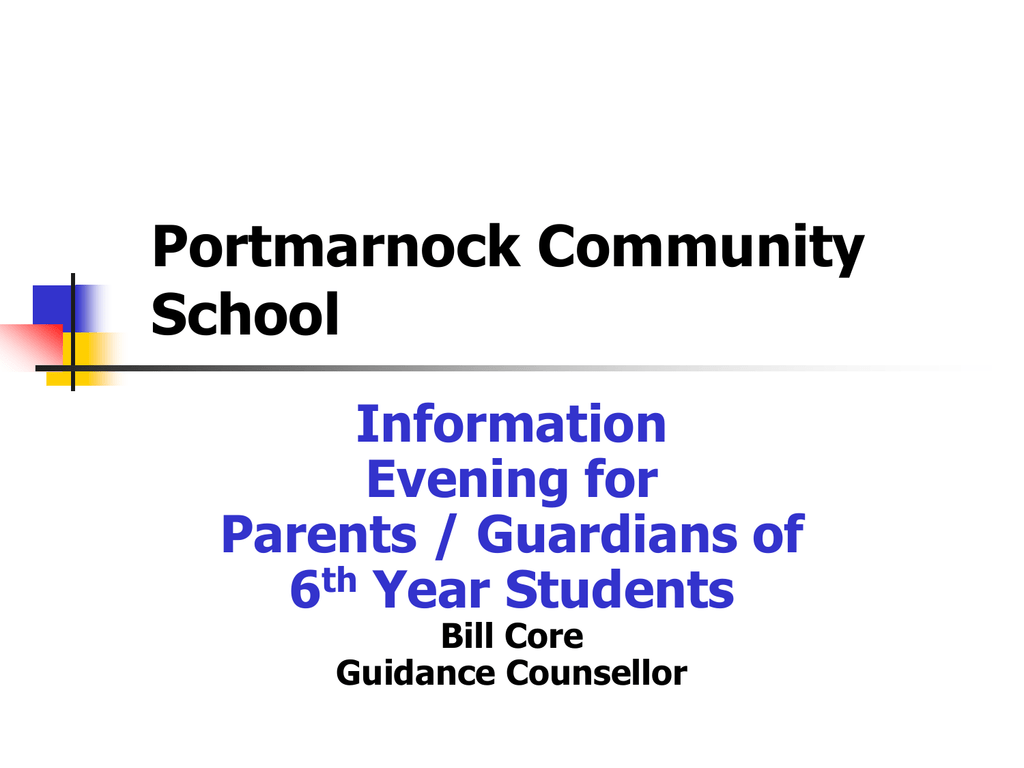 Portmarnock Community
School
Information
Evening for
Parents / Guardians of
6th Year Students
Bill Core
Guidance Counsellor
Outline of Presentation
Welcome
Introductory Points


1.
2.
3.
4.
5.
6.
Understanding the NFQ
Further Education Sector
Higher Education
U.C.A.S. Option
H.E.A.R. & D.A.R.E.
Other Options
Introductory Points



Caution against entering Direct Fulltime Employment
During periods of economic downtime
Education can act as a safety net /
buffer
There is a course out there for
everyone they just have to find it!
National Framework Of
Qualifications
The National
Framework of
Qualifications
(NFQ)
Education & Training Levels
10
HETAC
Doctorate
9
HETAC
Masters
8
HETAC
Degree (Hons)
7
HETAC
Degree (Ord.)
6
FETAC L6
5
FETAC / SEC
Leaving Cert
4
FETAC / SEC
Leaving Cert
3
SEC
Junior Cert
2
1
HND
Higher Certificate
Options After School
2nd Level
Further Education Sector
Level 5 & 6 (FETAC)
Higher Education Sector
Level 6, 7 , 8 HETAC/Other
Other e.g.
Apprenticeships
Post Leaving Certificate
Courses – What are they?




Post Leaving Certificate Courses are one and two
year courses that lead to a F.E.T.A.C. Award
Awards which can offer direct entry into employment
or an alternative route into higher level education
Allow students to study a programme in which they
have expressed an interest in while also providing
links to higher/further education.
Programmes have a strong vocational element and all
have a work experience component.
Benefits of Post Leaving
Certificate Courses






Small classes and support services
Generally Free
Cheaper option than doing wrong university
course for a year
Wide diversity of course choices
Only one or two years long with certification
on completion
Gain confidence and maturity
Colleges of Further Education
(Levels 5 & 6)





















Ballsbridge College of Further Education *
Ballyfermot College of Further Education *
Colaiste Dhulaigh *
Dundrum College of Further Education *
Crumlin College of Further Education *
Dun Laoire College of Further Education *
Grange Community College
Greenhills College of Further Education
Inchicore College of Further Education *
Killester College of Further Education *
Kylemore College of Further Education
Pearse College of Further Education *
Plunket College of Further Education *
Rathmines College of Further Education *
Ringsend College of Further Education
Sallynoggin College of Further Education *
Senior College Dun Laoire
St Tiernan's Community School
St Kevin's College
Stillorgan College of Further Education *
Whitehall College of Further Education *
Post Leaving Certificate
Course Application






No centralised system
Apply directly to each college
Application Form online
PPS No & School Roll No 91324P
Apply in early January
Interviews in March
The CAO Progression Route
Within the CAO System PLC students can
gain entry to third level courses if they
do very well in their FETAC Qualification
What are the progression routes
available to PLC students?
PLC students can apply through CAO using FETAC
level 5/6 award as an entry requirement or with
Leaving Certificate
OR
Students who hold a FETAC Level 6 or BTEC Higher
National Diploma award, can make an application
to universities and colleges in Ireland and UK, for
Advanced Entry into related courses. That is, entry
into a year other than first year.
Two Routes same Destination
PLC College
/ FETAC
Leaving
Certificate
Employment
Degrees
University /
I. of T.
CAO
A Ladder of Progression
Postgraduate
Level 9
Honours Degree
Level 8
Ordinary Degree
Level 7
Higher Certificate
Level 6
Accredited
Modules on PLC
Leaving Cert/
FETAC
C.A.O.




Entry Requirements and the Points
System.
How to Make an Application.
How places are allocated by C.A.O.
What happens after an application is
submitted.
It is the applicants
responsibility to:

Research thoroughly all the courses for
which he/she is making application:


Course code, content, requirements, fees,
restrictions, duration, award, options, etc.
Be au fait with all aspects of the
application system used (CAO) for these
courses:

Procedures, instructions, dates, fees, etc.
Useful Resources
To assist with course research / application
Publications


College Prospectuses – 2012 Entry
CAO Handbook 2012
Newspapers


The Irish Times
 Tuesdays
Education Section
 January
Special CAO College
Supplement Series of daily articles-Brian
Mooney
The Independent
 CAO Articles - Mary O'Donnell – Every
Wednesday
People



Relatives
Past pupils
Admissions/Academic staff of colleges
(email anytime)
Guidance Counsellor

Access to information & advice
Websites










www.portmarnockcommunityschool.ie (Under School
Resources)
www.qualifax.ie
www.careersportal.ie
www.careerdirections.ie
www.accesscollege.ie
www.cao.ie
www.hpat-ireland.acer.edu.au
www.studentfinance.ie
www.examinations.ie
Colleges websites
(HEAR, DARE)
(College Applications)
(Medicine)
(Grants)
(Exams info)
CAO – General Info.


Centralised application system for 45 Irish 3rd level institutions,
including 6 fee-paying colleges.
Every 6th year should now have a CAO Application Pack which
includes:




2012 CAO Handbook – application and course information
Paper application form
Application fee bank giro form
Application Dates and Fees
Paper Application
Fee
Closing Date
Normal
€45
1 February 2012 (5.15pm)
Late
€90
1 May 2012 (5.15pm)
Online Application
Fee
Closing Date
Early Discounted
€35
20 January 2012 (5.15pm)
Normal
€45
1 February 2012 (5.15pm)
Late
€70
1 May 2012 (5.15pm)
Change of Mind
No Fee
1 July 2012 (5.15pm)
Universities x 8 (Level 8's )







TCD
UCD
DCU
NUI Maynooth & Pontifical University
UCC
UL
NUIG
Institutes of Technology x 14
(Levels 6,7 & 8)














Dublin Institute of Technology
Athlone Institute of Technology
Cork Institute of Technology
Dundalk Institute of Technology
Dun Laoghaire Institute of Art, Design and Technolog
Galway-Mayo Institute of Technology
Institute of Technology, Blanchardstown
Institute of Technology, Carlow
Institute of Technology, Sligo
Institute of Technology, Tallaght
Institute of Technology, Tralee
Letterkenny Institute of Technology
Limerick Institute of Technology
Waterford Institute of Technology
Colleges of Education







The Church of Ireland College of Education
Froebel College of Education Maynooth
Coláiste Mhuire, Marino Institute of Education
St. Patrick's College of Education
St. Angela's College Sligo (Home Economics)
Mary Immaculate College Limerick
Mater Dei Institute *( R.E. & Hist/Eng/Music)
Fee Paying Colleges










Griffith College Dublin / Cork / Limerick
American College Dublin
Dublin Business School
Grafton College of Management and Science
Independent College Dublin
National Counselling & Psychotherapy Institute of
Ireland
Institute of Business & Technology Swords
ICD Business School
On average €5,000 Per Annum
20% Tax back ( currently)
CAO – General Info.




These are applied for on 2 separate lists on a single
form:
Level 6 & 7 Courses
Level 8 Courses
Ordinary Degrees (7)
Higher Certificates (6)
Honours Degrees (8)
Up to 10 Course Choices
Up to 10 Course Choices
The courses are clearly labelled in the CAO Handbook
N.B. – Care must be taken with courses marked
'Restricted'.
These courses cannot normally be applied for after
February 1st due to extra assessments required.
ENTRY REQUIREMENTS
These must be satisfied before "points" are
considered.



Minimum Entry
Requirements
E.g. UCD
Pass 6 subjects
At least 2 HC3
Pass in:
Irish
 English
 Another Language
 Mathematics

Specific Subject
Requirements
E.g.s
Engineering(TCD)
HC3 Maths
Veterinary Medicine(UCD)
 HC3 Chemistry
French (NUIM)
 HC3 French

If all Entry Requirements are met  applicant is deemed
'Qualified' to apply.
POINTS SYSTEM
Generally in the CAO system
No. of qualified applicants > No. of course places
--> selection system is needed.
Selection system used in Irish 3rd Level
Colleges is
POINTS SYSTEM
Points are calculated from ONE sitting of the
Leaving Certificate only.
 Points total is calculated from SIX best subjects
 Entry Requirements can be satisfied over more
than one sitting of the Leaving Certificate

Points System


Points are set by the pupils of each year
Minimum points are those of the last person
accepted onto the course

Supply and Demand - not quality of course

There is no such thing as 'wasting points'
POINTS ALLOCATION
Grade
A1
A2
Honours
100
90
Ordinary
60
50
B1
B2
B3
85
80
75
45
40
35
C1
C2
C3
70
65
60
30
25
20
D1
D2
D3
55
50
45
15
10
5
Honours Maths Extra 25 Points
Procedure




Convert all seven grades into points
Add 25 to your Honours Maths score if
its D3 or Higher
Then select your best six scores
If Honours Maths is not one of the best
six the 25 points don't count !
Making an application




Applications can be made online or by paper form –
use one method only. (€10 charge if 2 applications sent)
Always keep proof of sending application: online –
print courses screen, paper – obtain certificate of
post.
2 steps: (a) Create Application Account, (b) Log in
and enter details.
www.cao.ie  Apply & My Application
**VERY IMPORTANT**
Students must fill out both course lists in:
Genuine Order of Preference

They shouldn't put down courses on the basis of
predictions of next years cut off points or their own
points scores.
Page 1
Page 2
Page 3
Page 4
So – what is the best way to fill in the courses?
1
2
Dream Courses
3
4
5
6
Realistic Courses
7
8
9
10
Failsafe Courses
Places Allocation
Note:




The position of a course in a student's preference order does
not in any way affect their chance of getting a place on that
course.
The exact same procedure takes place for both lists on the
form, hence students may get get 2 offers in August – one from
each list, may accept only one.
Students should think carefully about not accepting one of these
offers, as they may not receive any further offers.
Regardless of whether or not they accept a course in round 1,
they will still be offered a higher preference course in
subsequent rounds if they become entitled one.
After Making Application


(Paper) Receive CAO number and Statement of Course Choices – check
this carefully.
(Online) Students receive CAO number online and use 'My Application'
to check over their application details.

May make changes to courses up to March 1st

Some students may be called for extra assessments.

Receive Statement of Application Record – check details carefully.

If a
student doesn't receive their Statements by the dates mentioned contact CAO
immediately – there could be a problem !
Change of Mind facility becomes available – use sparingly and carefully,
especially after exams

Leaving Cert. Results are sent to CAO.

Places are allocated and offered by post and online.

Students accept, reject or defer offered places.

Further rounds of offers are made until all course places are filled.
CAO TIMETABLE
2012 ENTRY









20th January, 2012

Closing date for receipt of early online applications
1st February, 2012

Closing date for receipt of normal applications
5th February to 1st March, 2012

Courses may be changed online including 'restricted'
Before/By 21st February, 2012

Receive Statement of Course Choices (paper applicants)
1st May, 2012

Closing date for receipt of late applications
Early May, 2012

Change of mind forms may be sent. (online - May 1st)
Before/By 31st May, 2012

Receive Statement of Application Record
1st July, 2012

Latest date for receipt of change of mind form in CAO.
Monday 20th August, 2012 (provisional date)

First round of offers will commence.
Vacant Places Facility


Where there are Available Places/Vacant
Places in specific courses, H.E.I.'s (Higher
Education Institutions) will advertise these on
the CAO website.
Before making an "Available Place/Vacant
Place" application, those matching the
description "Restricted Categories of
Applicant" on Page 3 of the CAO handbook
should first consult with the Admissions Office
of the HEI concerned.
Cost of Higher Education





No tuition fees but…
Student Services charge €2000
If more than one in college it is €1500
If you have to repeat a year you have
to pay full fees for the repeat year
Special Top Up Grant for People who
are living exclusively on social welfare
In Summary







Research courses thoroughly
Apply by January 20th
Apply online
Pay by debit/credit card
Put courses in order of preference
Obtain / retain proof of application
Be careful with change of mind
Tips for Success










Study an area of innate interest
Work ? Study balance 10 hours per week
Attendance vital - Lectures, tutorials, practicals
Get involved Clubs and Societies
Take Opportunity to TRAVEL
Keep Communication Channels open
If you need Help ask and you will get it !
5,000 Students reapply to CAO annually
Not everyone gets it right first time
Its ok to leave (before January 30th useful)
Entry to Medicine 2012










Aptitude Test called HPAT-Ireland
HPAT worth 300 Points
5 Colleges
Cost €95
Register by 20th January @ 17:15 hrs
Test date 25th February
Results 25th April
Scores can be used for 2 years i.e. for admission in 2012
& 2013
Information on www.cao.ie
www.hpat-ireland.acer.edu.au
Medicine - Entry
Requirements
Minimum Leaving Cert Points 480
Successful applicants 2009
CAO points
520 - 600
HPAT scores 153 - 225
1st time Leaving Cert 83%
(59% 2008)

No significant results from special courses
Medicine Entry Cont'd…


The maximum possible adjusted points
score for applicants to Medicine will
increase from 560 to 565 because of
Bonus Points for H.L. Maths.
For all scores over 550, each 5 point
band equals one extra point.
UCAS
Universities & Colleges
Admissions Service
Why apply to UCAS - courses
Generally speaking the following are the course areas
which Irish students tend to apply to through UCAS:

Medicine – Peninsula, Glasgow, Aberdeen, Edinburgh

Dentistry – Glasgow, Manchester, Leeds, Sheffield

Veterinary – Liverpool, Bristol, Glasgow, Edinburgh

Physiotherapy – Newcastle, Manchester, Robert Gordon, Cardiff

Speech Therapy – Strathclyde, Newcastle, Edinburgh, Cardiff

Pharmacy – Robert Gordon-Aberdeen, Strathclyde, Cardiff, Keele

Architecture – Cardiff, Edinburgh, Liverpool, Robert Gordon

Primary Teaching – Newman, Strawberry Hill, Liverpool JM, Edge
Hill, Aberdeen
Making an Application
Fees for 2012

England, Northern Ireland and Wales


Scotland


Fees of up to £9000
No fees
The above does not include accommodation,
living or travel expenses. If living in college
residences expect to pay in the region of
£3000 to £4000 per year, self-catering.
Wales

The Welsh Government will allow Welsh students a
maximum fee loan of £3,465 plus a new fee grant to
account for the balance of the actual fee charged (up
to £9k) wherever they study in the UK and for EU
students planning to study in Wales only. This means
that the subsidy will vary depending on what the
institution charges, eg, if an institution charges £7k,
the fee grant will be £3,535. Welsh domiciled and EU
students will therefore pay the same fees as other
students for the course at their chosen institution,
but will receive assistance from the Welsh
Government towards the costs.
Differences between
UCAS/CAO





UCAS
CAO
UCAS
CAO
UCAS
5 choices – 4 if medicine
10 Level 8, 10 Level 6/7 in
order of preference
Up to 5 conditional offers
Offers once results known
No change of mind facility
Important Dates

15th October for Oxford/Cambridge or
medicine, veterinary, dentistry

From 1st September

Deadline 15th January
Grants Available for Further
and Higher Education






Eligibility
EU Nationality or Other
Means Tested: Parental Income &
Number of Dependents
You can apply online
For information see:
www.studentfinance.ie (one stop shop !)
www.qualifax.ie See Grant Calculator
www.citizensinformation.ie/en/education/third_level_education/fees_and_supports_for_third_level_education
/maintenance_grant_schemes_for_students_on_third_level_courses.html
Nationality and Immigration
Status












Be a national of an EU member state or an EEA member state or Switzerland
Or Other…
Be a family member of one of the above, with permission to remain in the State as a
family member of such person under the European Communities (Free Movement of
Persons) Regulations 2006 and 2008 and EU Treaty rights provisions
or
Have refugee status
or
Have been granted humanitarian leave to remain in the State (foreign nationals granted
leave to remain under the Irish Born Child scheme - IBC/05 are not eligible)
or
Be eligible for subsidiary protection or have been granted leave to remain under
the European Communities (Eligibility for Protection) Regulations 2006 (pdf) or
Have permission to remain following a determination not to make a deportation
order
or
Have permission to remain in the State by virtue of marriage to, or civil partnership
with, an Irish national living here or be the dependent child of a person with such
permission
Income limits for maintenance grant and full fee grant
The family income limits for eligibility for a maintenance grant in
2011/2012 are set out below. These limits also qualify you in
respect of the fee grant (if you are otherwise eligible).
Number of
Dependent
Children
Full
Maintenance
Part
Maintenance
75%
Part
Maintenance
50%
Fewer
than 4
€41,110 €42,235 €44,720 €47,205
4 -7
€45,165 €46,415 €49,145 €51,880
Eight or €49,045 €50,400 53,360
more
Part
Maintenance
25%
€56,320
Income limits for partial fee grant
The family income limits for eligibility for a partial fee grant in
2011/2012 are set out below.
Number of
dependent
children
50% tuition
50% student
fees and 100% contribution
student
only
contribution
Fewer than 4
€51,380
€55,920
4 to 7
€56,460
€61,440
8 or more
€61,295
€66,700
Typical Documentation
Required









Original Birth Certificate
Offer of Place in College, if available
If PAYE Income:
P21 - i.e. PAYE Balancing Statement
P60 for each employment
P45 If employment ceased Notice of Assessment, Accounts,
Social Welfare Statements, Interest Certificates
If Self-Employed - Notice of Assessment, Accounts
If receiving Social Welfare
- Social Welfare Statement
Interest on Deposit Interest Certificates
Higher Education Access Route –
HEAR

National Agreed Criteria for all students

Online application



1st February – closing date
1st April – supplementary information to CAO
www.accesscollege.ie
The Higher Education Access Route
Official Definition

Higher Education Access Route is an
admissions route for school leavers from socioeconomically disadvantaged backgrounds.

It was established to increase the number of
students who traditionally do not go to third level.

The research shows that socio-economic
disadvantage has a negative impact on
educational attainment.
HEAR open to all school leavers in
2012
What colleges participate?
•Dublin City University
•Dublin Institute of Technology
•University College Cork
•University College Dublin
•University of Limerick
•NUI Galway
•Froebel College of Education
•NUI Maynooth
•Coláiste Mhuire, Marino Institute of
•Trinity College Dublin Education
•Church of Ireland, College of
Education
•Mary Immaculate College
•Mater Dei Institute of Education
•St. Angela's College, Sligo
•St. Patrick's College, Drumcondra
Who should apply?
Your family income must meet the HEAR 2012 Income Threshold
determined by:
How
many children are in your family;
How
many people in your family are in full time education;
Your
family's total income.
No. of Dependent Children
HEAR 2012 Income Threshold
Less than 4
€48,811
4-7
€53, 637
8 or more
€58,230
Additional €4, 980 allowed for family members in full time higher or
further education
How do you make an application?

Apply online at www.cao.ie by 1
February 2012

Supply supporting documents to
CAO by 1 April 2012
Why apply?

Reduced points CAO offers in the
participating HEIs provided you
matriculate and meet minimum
entry requirements

Post-entry supports such as
academic, social, personal and
financial (where available)
How are application processed?
Financial Indicators:

Indicator 1:
The family income falls within the HEAR 2012 Income Threshold

Indicator 2:
The family has a Medical Card/GP Visit Card

Indicator 3:
The family receives a means tested social assistance payment
Social & Cultural Indicators:
 Indicator 4:
You come from a socio-economic group under-represented in H.E.

Indicator 5:
You have attended a DEIS school for 5 or more years

Indicator 6:
The family lives in an area of urban or rural disadvantage
All students must meet the HEAR 2012 Income
Threshold (Indicator 1) + 2 other indicators
INDICATOR 1 plus 2 plus 4 or 5 or 6
INDICATOR 1 plus 3 plus 4 or 5 or 6
INDICATOR 1 plus 4 plus 5 or 6
D.A.R.E.

Not giving an advantage rather eliminating disadvantage

12 colleges

Points reduction and quota

Access to a variety of supports

Application made as part of CAO

Disclose you have a disability

Directed to S.I.F. ( Supplementary Information Form)

Indicate you wish to apply for DARE

Post Proof by April 1st to CAO

Personal Statement 300 words applicants tells their own experience of the disability

Decision in June - Appeal facility available

Documentation not completed by correct consultant is main reason for ineligibility and also failure to
adhere to deadlines

See: www.accesscollege.ie
Other Options




Apprenticeships
Defence Forces
Other Training Institutions
Direct to Employment
FÁS Apprenticeships





Apprentice finds employer recognised
by FÁS
Look out for job advertisements in
local/national press e.g. ESB and Aer
Lingus, Cadburys etc
Be active – send out CV's
Ensure employer registers
apprenticeship with FÁS
Pre-apprenticeship courses e.g. Dun
Laoire C.F.E.
FÁS Apprenticeships

Training is skills based and takes 3 to 4 years

Trainees receive a wage/training allowance

"On the job training" with the employer and academic
training at a FÁS centre or educational college – 7 phases

Minimum educational standard for entry

Junior Cert

Age 16

Many employers like/require a Leaving Cert
Defence Forces




Air Corp
Army
Naval Service
Army Equitation




Leaving Certificate
Medical
Visit www.military.ie
They are currently not recruiting !
Other Training
Institutions
(examples)

Teagasc
Agricultural
Horticultural
Forestry

RACE
Jockey Apprenticeship


Bord Iascaigh Mhara (BIM)
Fishing
Fish Farming
Private Colleges, e.g. Portobello, Dorset
Colleges, Pulse Sound Recording
Direct to employment






Garda Siochana
Defence Forces
Banks
Finance
Building Societies
Insurance



→See www.fás.ie and
local/national press


General Office
Work
Service Industries
e.g. retail,
hospitality
Civil Service
Local Authorities
Call centres
Thank You for your attention
Questions?