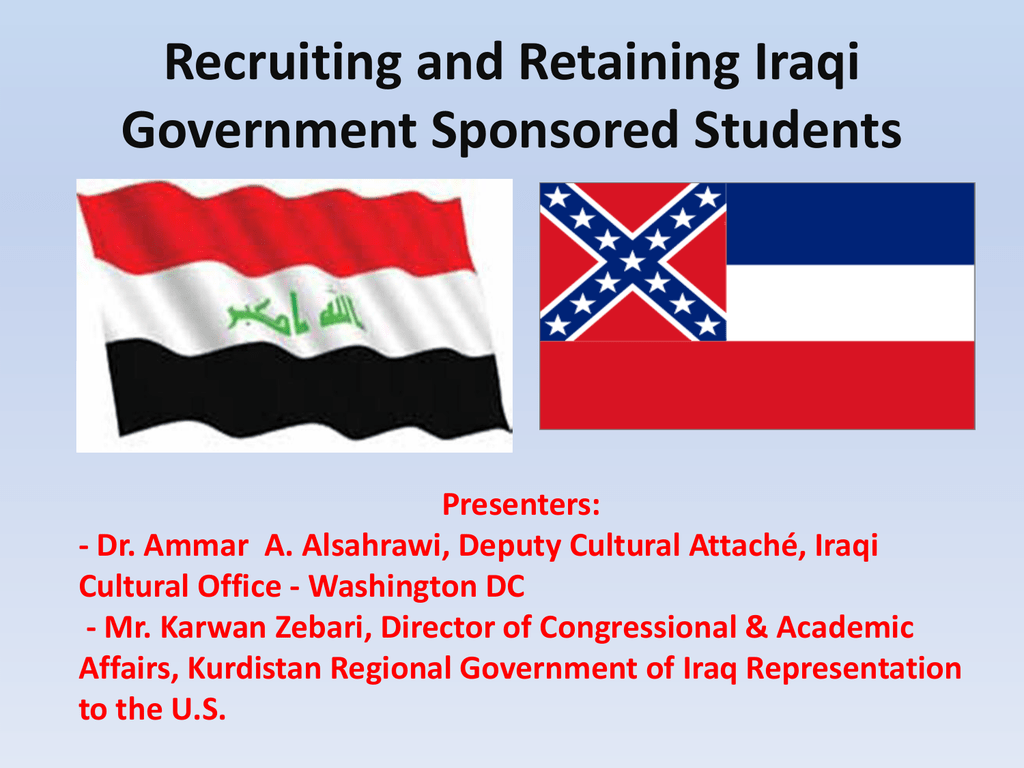 Recruiting and Retaining Iraqi
Government Sponsored Students
Presenters:
- Dr. Ammar A. Alsahrawi, Deputy Cultural Attaché, Iraqi
Cultural Office - Washington DC
- Mr. Karwan Zebari, Director of Congressional & Academic
Affairs, Kurdistan Regional Government of Iraq Representation
to the U.S.
Agenda
• Overview.
• Sponsored Scholarship Programs:
- Ministry of Higher Education and Scientific
Research (MoHESR).
- HCDP Scholarship program.
- HCED Scholarship Program.
• Recruiting Sponsored Students.
• Questions.
Overview
• Goal: Rebuilding higher education system
• 2 ministries of higher education (Baghdad and
Erbil)
• 3 scholarship programs (2 national programs;
1 regional program); Competitive
• Conditional Admission; Graduate studies,
STEM focus; ESL funding.
• Short-term research opportunities and
institutional collaboration
Challenges for Students
•
•
•
•
English language skills.
Unfamiliar with U.S. higher education system.
Access to resources and standardized tests.
Lack of Credit Cards, electricity, and reliable
Internet; Broken postal system.
• Visa application process and timing.
Scholarship Program Challenges
•
•
•
•
•
•
•
Poor access to Education.
Weakness in teaching and managing staff.
Teaching and learning methods are old, poor.
No matching of the curriculum with the market needs.
Limited funding.
An outdated curriculum.
Non collaboration between the national priorities and
education strategies.
• Lack of understanding of U.S. higher education system.
• Highly centralized and bureaucratic system.
Goals
• To improve the intake of different sciences on the
best international basis.
• To benchmark the candidates according to
international levels.
• To encourage community to improve their skills.
• Offer better academic staff for the Iraqi universities
for academic progress continuity.
• To bridge the gap of the past scientific isolation.
Government of Iraq - Ministry of Higher Education and
Scientific Research, Scholarship Program.
• Started in 2007 to send graduate students to U.S.
universities for STEM studies.
• 2012 - new program announced to award 10,000
scholarships within 5 years for master's and
doctorate degrees.
• More than 90% of students require Conditional
Admission for ESL and GRE.
Current Enrollment of GOI
MoHESR Scholarship Students
• Total enrollment: 282
• PhD students: 267
• Masters students: 15
• 138 student studying English (1st year).
• 144 student studying their academic program.
Current Iraqi Scholarship Student Enrollment
Missouri
University
Missouri S&T
University of
Cincinnati
UMKC
UMSL
Oklahoma State
Mississippi State
South Carolina
University
University of
Central Florida
University of
Arkansas Fayetteville
University of
Arkansas –
Little Rock
Applicant Should:
•
•
•
•
•
Be of Iraqi nationality.
Not be convicted of any non-political or ethical felony.
Not be more than 40 years old for MSc; 45 years for PhD.
Compete with other applicants from the same province.
Sign a contract with his/her sponsor, pledging a bond (collateral)
and a guarantor.
• Not have applied or obtained immigrant or refugee status (student
and accompanying family); or be nominated or enrolled in higher
education studies inside or outside Iraq; or be accepted, expelled,
or failed in higher education studies inside or outside Iraq.
Program Benefits
• PhD - 4 years with possible
extension to extra (5th) year
• Masters - 2 years with
possible extension for 6
months.
• 12 months of English
language program;
maximum course fees of
$14,000
• Monthly Stipend
• Comprehensive health
insurance for the student,
spouse and up to 2 children
• Academic tuition fees
• Research Thesis writing and
binding fees
• Round Trip travel expenses
• Conference attendance
Drop Box
• Iraqi Cultural Office operates a Drop Box Data Base that
includes primary details, scientific background data,
transcripts, recommendation letters, & contact information
for registered students.
• Updated and synchronized with new registrations; over 100
student currently are ready to start the application
processing.
• Contact ICO to request access to Data Base.
• U.S. universities access Data Base, identify possible recruits,
and contact students directly.
Admission letter
Letter Must Include:
• Clearly state conditional admission to the English Language
program & the Graduate Academic Program.
• Conditional requirements student must fulfill – TOEFL test
score, GRE test, etc.
• Student's major and sub-speciality.
• English Language program – start date (dd,mm,yyyy) and
estimated end date.
• Academic program – proposed start date and end date.
• Estimated duration of academic program.
• Estimated cost of English Language program and academic
program (with possible % of increase).
Program Rules
• No overlap between the English language and
academic programs.
• Up to a month allowed between the end date
of the English language program and the start
date of the academic program.
• Prefer J1, but can accept F1 visas.
Funding for Research
Research Scholarships Program:
Growing program for graduate students at Iraqi Universities to
do research abroad that cannot be done in Iraq. PhD students
eligible for 6 to 12 months of funding; 3 to 4 months master`s
students. Iraqi academic advisor funded for 1-month visit.
Post-Doctoral Research program for the Iraqi Faculty:
Up to 12 months of funding for university faculty to do research
in high priority fields of study; participants required to publish
research project for academic review in Iraq.
Recruitment & Retention
• Iraqi students lack capability to
approach international
universities because of their
long scientific isolation.
• Work with the Iraqi Cultural
Office and the Drop Box data
base.
• Wave the application fee
(outdated banking system).
• Paper application (poor
internet coverage).
• Offer visa to cover both
English language and academic
programs.
• Cultural and social orientation
on arrival to U.S.A.
• Socially and scientifically
engage spouse/dependents in
some activities as volunteers
or community grouping for
better cultural knowledge and
accommodation.
Contact Us
Iraqi Cultural Office, Washington DC
Dr. Ammar Alsahrawi – Deputy Cultural attaché.
E-mail: [email protected]
Tel: (202) 986-2626, Fax: (202) 986-2291.
www.iraqiculture-usa.com
The Iraqi Cultural Office works with EducationUSA Iraq and the
Education Specialist for Iraq at the U.S. Department of State.
HCED Program Benefits
•
•
•
•
•
•
Monthly stipend
Health insurance for student & family.
Tuition, fees, books, etc.
Travel expenses.
12 months fees for English Language program.
HCED finds employment for students upon
return to Iraq.
Recruiting Sponsored Students
• Offer Conditional Admission
• Complete Online Survey
www.surveymonkey.com/EducationUSAIraq
• EducationUSA Advising Centers in Baghdad and Erbil
• Attend EducationUSA University Fairs in Iraq
- September 28-30, 2013 in Baghdad
- April 2014 in Erbil
• U.S. – Iraq Higher Education Conference in Washington DC.
• Engage with Lorna, ICO, and KRG Office in DC.
• Easy, straight format of application (U Missouri - Columbia, U
Cincinnati).
Questions?