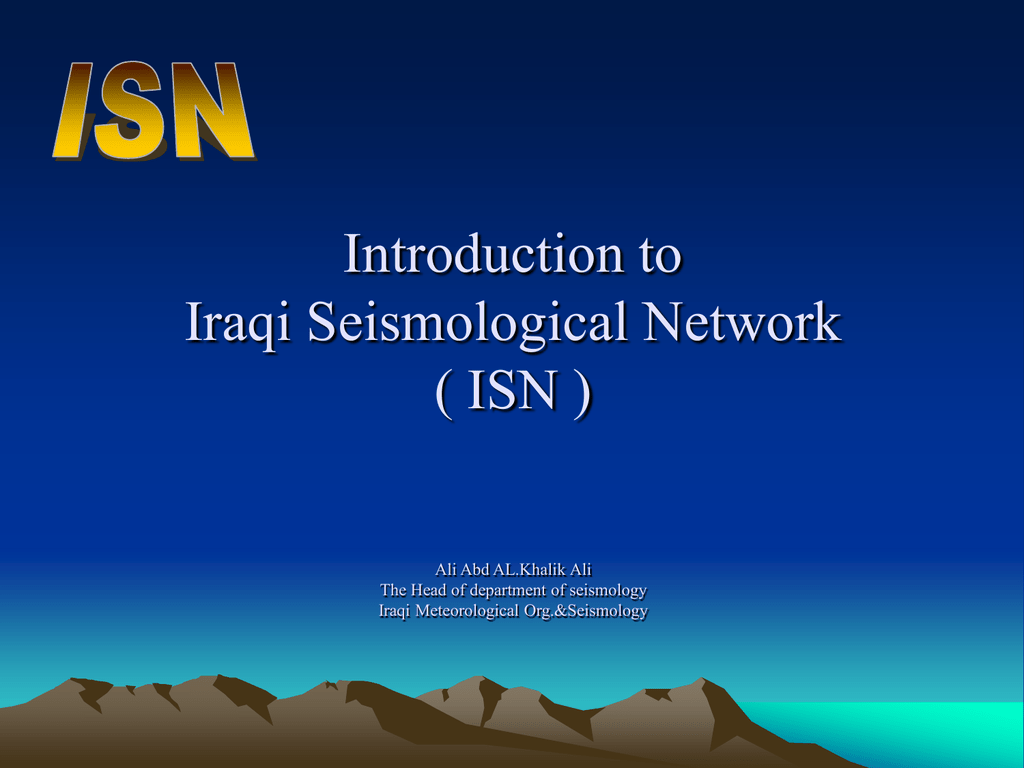 Introduction to
Iraqi Seismological Network
( ISN )
Ali Abd AL.Khalik Ali
The Head of department of seismology
Iraqi Meteorological Org.&Seismology
•Why Seismic Networks in Iraq?
•History of the Seismology in Iraq;
•Iraqi Seismological Network (ISN) Status;
•The Main Objective Of ISN;
•The Main Research in ISN;
Tectonic Map of Iraq
Map of the Arabian Peninsula and
surrounding regions
Seismicity Map of Iraq, Since 1900
Reviewing the history of the ISN
•
•
•
•
•
•
•
•
The seismological network in Iraq was started at the first in the universities through the Post Graduate studies at
the university of Baghdad in 1977.
In 1979, the first seismological observatory was operated in the scientific research fondations.
In 1980, the seismology unit was established and belong to BRC (Building Research Center) in The scientific
research council (SRC).
The great updating in the seismological instruments was accorded during 1984.During this year four (4)
permanent Seismological stations were operated with new instruments digital and visual recording. This stations
are in Baghdad, Mosul,Rutba and Sulaymania. All stations were provided by new equipments observe the
earthquake Events in Iraq and the world in both ways, analog and digital recordings.
In the late eighties when Iraqi Scientific Research was dissolved the Iraqi seismological Network was transferred
to the Iraqi Meteorological Org. and name was Iraqi meteorological Org.and seismology.
Another recent development to the ISN was conducted after the last war where recent and updated seismological
instruments were installed(10 stations) in the Kurdistan Region in the north of Iraq to deployed in the foothills
of the Zagros and Taurus mountain ranges in north and northeast Iraq , and name was (NISN). Each station has
Streckeisen STS-2 seismometers and Kinemetrics Q330 Quanterra digitizers.
The second system in (2008) is a five-element array in northern Iraq (Each element has an STS-2 seismometer
and Q330HR digitizer).
In 2008 and 2009, The recently upgraded Iraqi Seismic Network, The upgrade brings the ISN to a total of six
broadband permanent seismic stations (Baghdad, Mousul, Kerkuk, Naseria, Rutba, and Badra).
Stations, three component
broadband stations
consists of
•
•
•
•
•
Streckeisen STS-2 Seismometer
Quanterra Digitizer Q330
Baler 14
Battery box
VSAT System (TSAT)
All hardware and software were bought from Kinemetrics, Inc. of
USA.
Central Station in Baghdad
data center consists of
• (2) HP xw8400 workstations with ( Seisan & Rockhound)
• Altra 25 sun workstation with ( antelope)
• HP Compaq 6510B notebook ( Willard, Cimarron,
balaradd,Pecos….)
• HP 3600DN LaserJet network printer
• Cisco 2960 Catalyst 24-port switch
• Cisco 2811 modular router
• Symmetricom NTS-150 network time server
SEISAN PROGRAM
A map showing the distribution of NISN stations.
No.
Station
Name
1
KSBB
2
Latitude
(degrees)
Longitude
(degrees)
Elevation
(meters)
35.0415
45.7092
550
KSSS
35.7696
46.2362
1515
3
KSWW
36.1493
45.2624
1310
4
KSJS
35.4965
45.3452
825
5
KEHH
36.6764
45.0470
1725
6
KESM
36.9846
44.1981
1000
7
KDDA
37.2125
42.8207
750
8
KEKZ
35.9893
44.0970
450
9
MSL
36.3817
43.1483
242
10
BHD
33.2744
44.3858
32
A map showing the
location of 190 events
recorded by NISN (red
solid circles) for the period
30 November 2005 to 8
January 2006, ISC (green
crosses), and the USGS
(blue crosses) for the same
period.
A histogram showing the
number of events reported by
NISN (red bar), ISC (green
bar), and USGS (blue bar)
for the same time period.
The New stations (ISN)
No.
Station
Name
1
BHD
2
Latitude
(degrees)
Longitude
(degrees)
Elevation
(meters)
33.27
43.38
32
MSL
36.29
43.09
242
3
RTB
33.02
40.3
624
4
NSR
31.02
46.24
5
5
IBDR
33.11
45.93
64
6
IKRK
35.4
44.34
331
The Iraqi Seismic Stations
In the line with signs of recovery in Iraqi
seismology, the Iraqi Meteorological
Organization and Seismology has joined to
ISC and EMSC.
ISN stations in EMSC
The main objective of ISN
• Recording and analysis of earthquakes
• Issuing a monthly earthquake bulletin
• Research studies and microzonation, seismic hazard assessment, and
microearthquakes studies
• Preparing a technical report (site selection) for the vital and important
structures in Iraq such as dams, thermoelectical stations, bridge….
• introducing an earthquake data to The university for the research
programs
• Research studies and Microzonation seismic hazard
assessment. and Micro earthquakes studies.
The main research in ISN
• Monotoring and analysis of earthquakes at the Iraqi dams.
• Hazard and Risk assessment for Iraq in PGA term and
epicentral intensity I0 .
• Microzonation, microtremor observations.
• Prediction and earthquake prone area.
• Crustal studies.
• Iraqi seismic design code for building.
• Estimate the seismic velocity and attenuation structures of
the study area using the dispersion and receiver functions
of observed surface and body waves, respectively
This picture shows the first system that used in Iraq
The old seismic system that have three drums , each drum represents one of the
components
(Z,N,E).