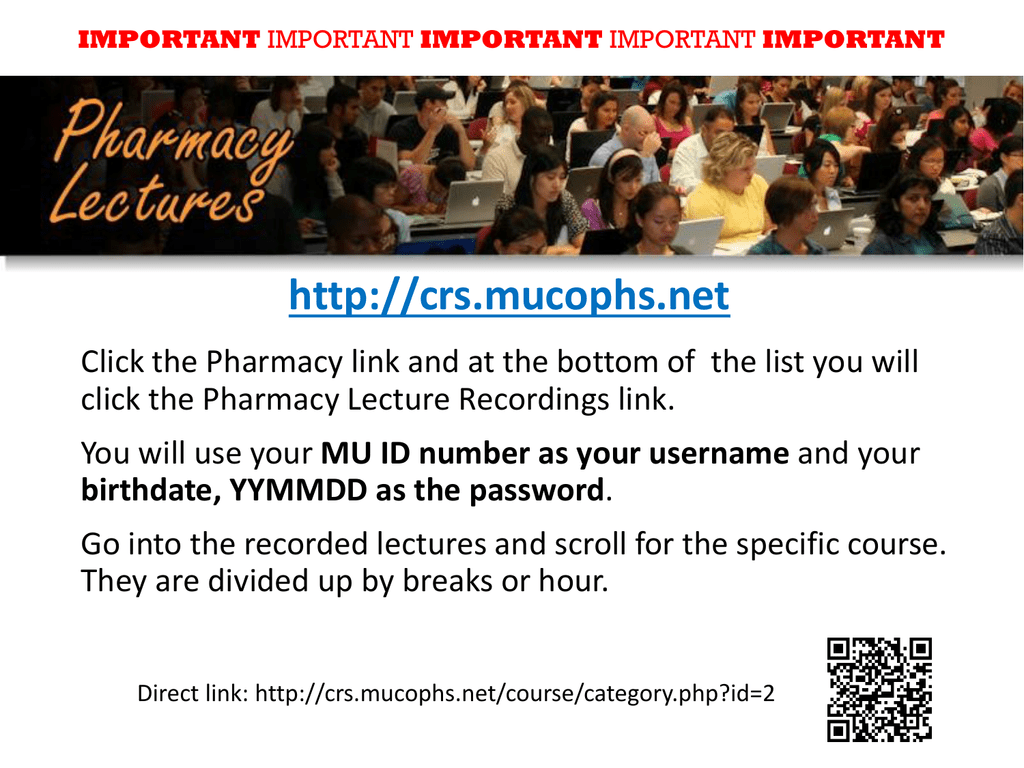 IMPORTANT IMPORTANT IMPORTANT IMPORTANT IMPORTANT
http://crs.mucophs.net
Click the Pharmacy link and at the bottom of the list you will
click the Pharmacy Lecture Recordings link.
You will use your MU ID number as your username and your
birthdate, YYMMDD as the password.
Go into the recorded lectures and scroll for the specific course.
They are divided up by breaks or hour.
Direct link: http://crs.mucophs.net/course/category.php?id=2
DON'T RISK YOUR FUTURE :
Cheating...
Receiving/giving test info during an exam.
Possessing unauthorized test material.
Submission of coursework that is not one's own.
Plagiarism...
Using another's work without proper
acknowledgement.
Lying...
Falsifying any Mercer document.
Theft...
Removal of unauthorized academic materials .
…ARE
HONOR CODE VIOLATIONS
MERCER COPHS STUDENT HANDBOOK
Having trouble in a class?
Failed an exam?
 RHO CHI is here to help!
 Students who have failed an exam
qualify for Dean Sponsored tutoring
(FREE)
 Tutoring is also available for $20 to any
student who would like additional help
in a course
 Contact Ms. Christie at
[email protected]
APhA's Generation Rx will be
assisting drug collection on campus
at
Mercer University
College of Pharmacy
as well as:
Gwinnett Co. Sheriff's Dept
Roswell Recycling Center
Georgia Society of
Health-System
Pharmacists
GSHP-SSHP
Tuesday, April 30th @ noon in room 172
P4 Panel:
Nelvin Daniel
Denise Ross
Britta Staubes
Peterson Worrell
If you're interested in finding out more about P4
rotations or getting ready for rotations around the
corner, this will be a meeting you won't want to miss!
This Friday, April 26th,
Dean Matthews will have a special treat
for everyone within the College. You will
be able to find him and his ice cream cart
in the Pharmacy classroom building
between 172 and 175 from 11:45 a.m.
until 1:15 p.m.
He would love to see all of you!