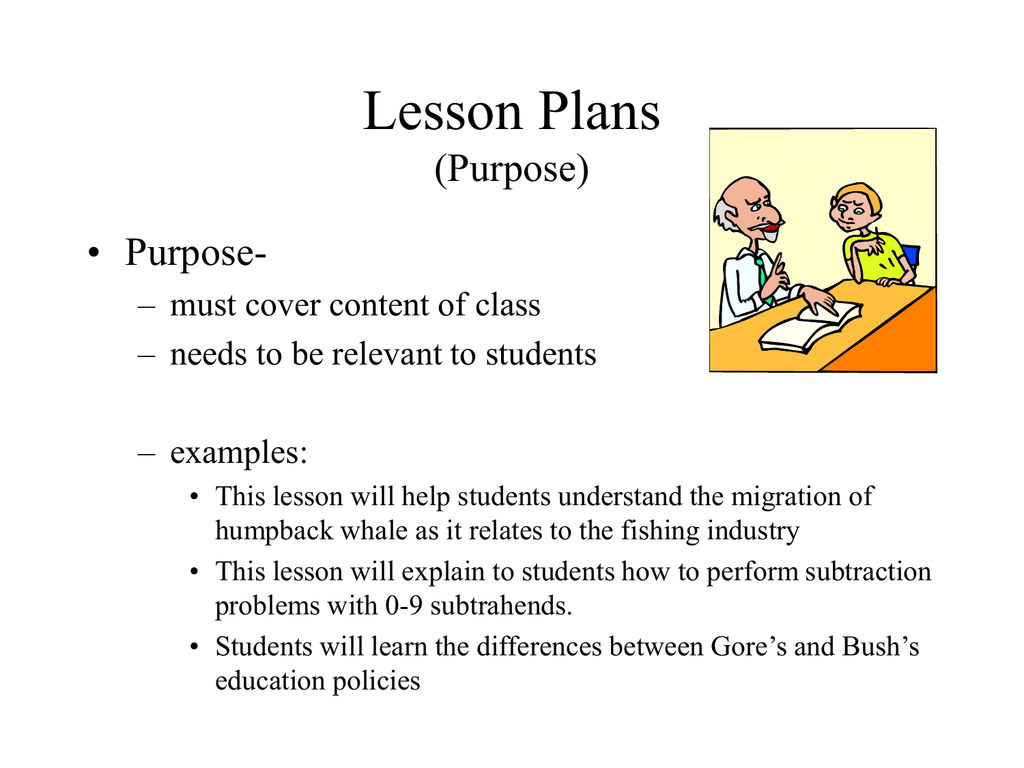 Lesson Plans
(Purpose)
• Purpose– must cover content of class
– needs to be relevant to students
– examples:
• This lesson will help students understand the migration of
humpback whale as it relates to the fishing industry
• This lesson will explain to students how to perform subtraction
problems with 0-9 subtrahends.
• Students will learn the differences between Gore's and Bush's
education policies
Lesson Plans
(Objectives)
• Objectives– match purpose
– Measurable and observable
– include time frame
• example - At the end of the lesson, the students will answer 10
subtraction questions on a teacher made test with 100%
accuracy using hands-on manipulatives
• Write an objective for teaching a student to read
words that start with the /r/ sound.
Lesson Plan
(Materials and time span)
• Materials– Must be appropriate for the student's age and academic
level
– only use accessible teacher materials
• example:
plastic cups, thin rope, cut-out letters, flip cards
for pluses and minus, toothpicks
• (nothing possibly dangerous)
– must be readily available for ease of transitions
• example:
If computer based, state where computers are
located.
• What are pros and cons for using hands-on
materials?
Lesson Plan
(Procedures)
• Should use previous knowledge (schema)
• Must apply to the measurable objectives
• Can work as assessment or independent
from assessment.
• Should be observable
• Age and grade appropriate
Teaching strategies
(Mercer & Mercer, 1998)
• Advanced Organizer
• I do it
• We do it
• You do it
• Feedback
Lesson Plan
(Assessment)
• Must match the objective
• Know how to assess and the needed criteria for
independence at each task.
• Must be observable
• What would you use to assess these:
– Reading a passage with proper pronunciation on /th/
and /sh/ sounds.
– Recall 10 important dates of WWII.
– Solve addition problems with 0-9 addends?
Lesson Plan
(Analysis of mastery)
• Evaluation criteria
– Grade listings
– Requirements:
• Below 80%- need for revision
• Between 80%-90%- continue at this level
• Above 90%- move on to multiple variables
– Feedback planned:
• Follow-up in class or out of class planned.
When is 100% not appropriate for mastery
Application
• Design a lesson plan for teaching how to
learn the differences between the words:
– Shirt; ship; think; thick.
• Design a lesson plan for teaching addition
with 5's.
• Design a lesson plan for teaching the parts
of insects.
Summary
• What components should be included in a
lesson plan.
• Objectives should be ___________ and
________________.
• Educational materials should be _________.