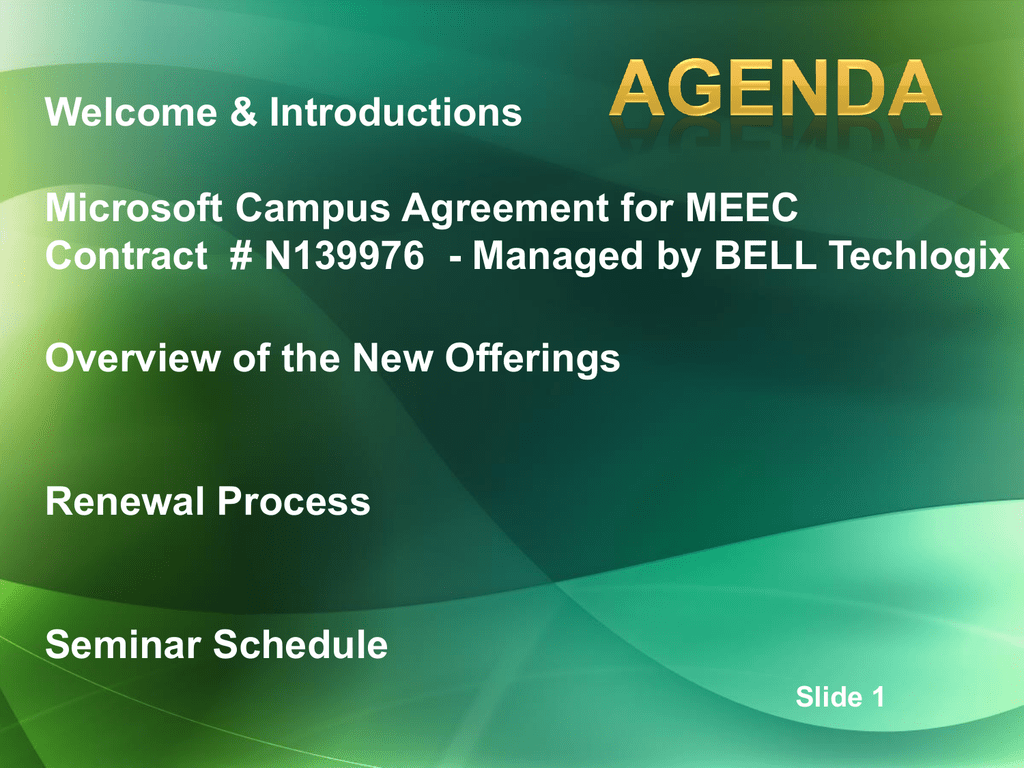 Welcome & Introductions
Microsoft Campus Agreement for MEEC
Contract # N139976 - Managed by BELL Techlogix
Overview of the New Offerings
Renewal Process
Seminar Schedule
Slide 1
Blend of two contracts:
SELECT Agreement for supplemental ad-hoc
of perpetual licenses
purchase
"Software Assurance" maintenance for additional fee
is available.
Campus Agreement model for enterprise-wide
subscription licensing.
Lease of licenses.
Slide 2
Base Offering
Campus Agreement Offering—MEEC Suite
Additional Offerings
Applications/CALs (specially priced for MEEC)
Remote Desktop Services
Project Professional
Visio Professional
Education Server Platform (Site/Enterprise License)
Infrastructure
SQL
Slide 3
Desktop
Office Suite
Os Upgrade
Enterprise CAL Suite
Expression Web Professional
Visual Studio Professional
Microsoft Desktop Optimization Pack (new)
Slide 4
Windows Server CAL
Exchange Standard &Enterprise Server
CALs
SharePoint Standard &Enterprise Server
CALs
System Center Desktop Suite MLs
Office Communications Standard
&Enterprise CALs
Windows Rights Management CAL
Forefront Security Suite
Slide 5
Forefront Security Suite: Client Security, Exchange Security, Online Protection for Exchange , SharePoint Security, Office
Communication Server Security, Threat Management Gateway Online, Unified Access Gateway
Enterprise
CALs
Standard
CALs
Servers
Windows Rights
Mgmt Services
CAL
System Center
Client Suite
System Center
Configuration
Manager
Windows Server
CAL
(Workload, File and
Print, WSS, AD)
(Monitoring and
Updates)
System Center
Configuration
Manager
Windows Server
Key
Exchange Ent
CAL
(Archiving, Unified
messaging,
Compliance)
Exchange Std
CAL
(Messaging,
Calendar, Contacts)
Exchange Server
Server consoles not included in
CAL Suites
Office SharePoint
Ent CAL
(E-forms, Spreadsheet
publishing, Data
integration, FAST,
Performance Point)
OCS Standard
OCS Enterprise
CALs
(IM, Conferencing)
Office SharePoint
Std CAL
(ECM, Portal, Search)
Office SharePoint
Server
Core CAL Suite component
Office
Communications
Server
System Center
Operations
Manager
Enterprise CAL Suite
component
Slide 8
Items above white line are part of MEEC CAL suite.
App-V turns applications into centrally managed services that are never
installed, never conflict, and are streamed on demand to end users
AIS is a hosted service that collects software inventory data
and translates it into actionable business intelligence
DART reduces downtime by accelerating desktop repair, recovery,
and troubleshooting unbootable Windows-based desktops
DEM enables proactive helpdesk problem management by analyzing
and reporting on application and system crashes
AGPM enhances governance and control over Group Policy through
robust change management and role-based administration
MED-V enables deployment and management of Microsoft Virtual PC to
address key enterprise scenarios, primarily resolving application
compatibility with a new version of Windows
Slide 9
Work At Home Rights
Faculty/staff – Campus Agreement applications
Media purchased by school and distributed
Media ordered by end user via e-Academy site
Home Use Program
Faculty/Staff – Microsoft Office
Media purchased by end user from Microsoft
Personal Purchase via (Student Select)
Faculty/Staff/Students, Parents & BOE)
Media & License purchased by school and distributed
Media & License ordered by end user via e-Academy site
Slide 10
Base Offering
Campus Agreement MEEC Suite
ADDITIONAL OFFERS
Applications/CAL (specially priced for MEEC)
Remote Desktop Services
Project Professional
Visio Professional
Servers (count FTE for both Employees and students)
Education Server Platform ---Infrastructure
Education Server Platform --- SQL
Slide 11
Software Asset Management Simplified
Replaces need to count individual SERVER instances
Affordable/Predictable Costs
Fee is FTE based add faculty and students **
Fee is locked in for 5 year term
Access to High Quality, High Performance Server
Software
Software Assurance/Upgrade rights included
**K-12 sites count only students in 9th-12th grade population
Slide 12
MEEC Vendor - BELL Techlogix
PROCESS
PRICES
PEOPLE
Slide 14
MEEC Renewal - Process
Timeline
JULY 31, 2010 – Current Agreement's Expire
July 30, 2010 - True Up Form due back to BELL Account
Manager (the sooner the better)
August 6, 2010 - All quotes and contract documents from Bell
will have been received by schools (the sooner the better)
August 27, 2010 - Procurement Documentation (payment
method) due to Bell(the sooner the better)
NEW MEEC CLIENTS – You will have a few added
steps – and will follow very similar timeline.
Slide 15
BELL Documents - Process
True Up Email Letter sent week of 7/19
Details of Program/Timeline
Bell Techlogix Campus Agreement True Up .doc
Year 1 MEEC Contract # N149976
Contract Documents sent 1st week of August
Campus Agreement Enrollment Form
Campus Agreement Program Signature Form
Slide 16
MEEC Prices*
Year 1
Year 2
Year 3
Year 4
Year 5
Contact Bell
Please Note: These prices reflect further discounts from the
MEEC/Microsoft negotiated prices shared earlier this year with
MEEC members.
*Prices are confidential and cannot be shared with other organizations outside of
MEEC
Slide 17
PEOPLE - BELL Techlogix http://meec.bellind.com
Lisa Goolsby - 877-213-5990
[email protected]
K-12 Public Schools A – H:
•Allegany, Anne Arundel, Baltimore City, Baltimore, Calvert , Caroline, Carroll,
Cecil, Charles, Dorchester, Frederick, Garrett, Harford & Howard Counties
•All Private Higher Education and Community College Sites
•Public Libraries
Dana McNeil - 877-394-7900
[email protected]
K12 Public Schools M - Z :
Montgomery , Prince George, Queen Anne's, Somerset , St. Mary's, Talbot ,
Washington, Wicomico & Worcester Counties
Bryan Zatkulak - 888-989-8560
[email protected]
ALL PRIVATE K-12 Schools, JHU & USM Sites
Janet Immink - 888-423-5533
[email protected]
MEEC Program Manager
Slide 18
PEOPLE- Microsoft
Fred Altimont- 240-676-6757
[email protected]
All Public and Private Higher Education,
Community Colleges & Public Libraries
Joanne Silvestri- 215-896-9555
[email protected]
All K12 Public and Private Schools
Michael IcoreTechnical Strategist for Higher Ed and K12
Slide 19
PEOPLE - MEEC
Tamara Petronka
[email protected]
MEEC Executive Director
University System of Maryland
1450 S. Rolling Road, Rm. 2.018
Baltimore, MD 21227
(410) 455-5617
Pat Collins
[email protected]
MEEC Member Services Coordinator
(410) 455-5661
(410) 455-5600 FAX
Slide 20
Microsoft Seminar Schedule
July 29, 2010
10:30 – 12:00
(Review MEEC Microsoft NEW Contract Materials)
September 21, 2010
9:30 to 11:00
(Enterprise CAL – Deep Dive)
October 26, 2010
9:30 to 11:00
(MDOP – Microsoft Desktop Optimization Pack – Deep Dive)
November 23, 2010
9:30 to 11:00
(Microsoft System Center Suite)
January 11, 2011
9:30 to 11:00
(Microsoft Hosted Services – BPOS – [email protected] - Azure)
February 8, 2011
9:30 to 11:00
(Microsoft Forefront Security Suite)
Slide 21
Slide 22
© 2007 Microsoft Corporation. All rights reserved. Microsoft, Windows, Windows Vista and other product names are or may be registered trademarks and/or trademarks in the U.S. and/or other countries.
The information herein is for informational purposes only and represents the current view of Microsoft Corporation as of the date of this presentation. Because Microsoft must respond to changing market
conditions, it should not be interpreted to be a commitment on the part of Microsoft, and Microsoft cannot guarantee the accuracy of any information provided after the date of this presentation.
MICROSOFT MAKES NO WARRANTIES, EXPRESS, IMPLIED OR STATUTORY, AS TO THE INFORMATION IN THIS PRESENTATION.