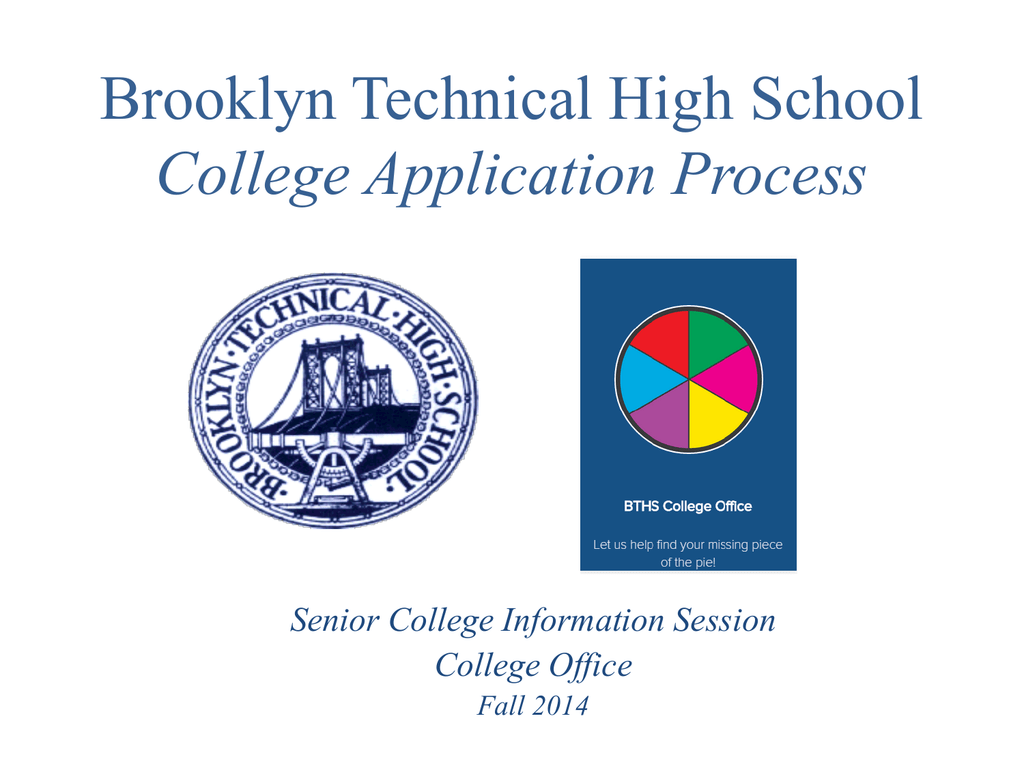 Brooklyn Technical High School
College Application Process
Senior College Information Session
College Office
Fall 2014
WHO ARE WE?
Meet the College Office Staff!
•
•
•
•
Ms. Iacono
Ms. Maysonet–Sigler
Mrs. Levitt (Scherman)
Ms. Bove
College Advisor/ Guidance Counselor
College Advisor/ Guidance Counselor
Financial Aid Advisor
Secretary
Located in Room 7S5
Today's Agenda
• Fee Waivers
• Common Application
• Naviance Process
• Teacher Recommendation Letters
• SAT & ACT Scores
• Tips for Creating your College List
• Questions & Answers
Fee Waivers - available in Rm. 7S5 during lunch periods ONLY!
Students who are Free or Reduced Lunch Eligible may receive the
following Fee Waivers:
Exams:
• SAT & SAT Subject Tests (2 Fee Waivers Per Exam while in High School)
• ACT (You are allowed 2 ACT Waivers while in High School)
College Application Fee Waivers:
• 4 College Board Fee Waivers
• 10 NACAC Fee Waiver
• CUNY Application Fee Waiver: Stay Tuned for the LOTTERY!!
– Must apply FIRST and give the College Office your W000 #! (We receive a very
minimum amount of CUNY Fee Waivers- First come- First served! Must be FREE
LUNCH Eligible ONLY!)
Regarding SUNY Applications/Fee
Waiver
• Students should ONLY apply to SUNY via the Common Application
• You will receive NACAC Fee Waivers for these schools
 Students may only apply to SUNY schools through www.suny.edu if the
school that they are applying to is NOT on the Common Application
 Students applying to SUNY EOP Program- Must also apply via Common
Application but must fill out the EOP Supplement that the specific college
requires
Common Application
www.commonapp.org
Common Application
Complete your common application at
www.commonapp.org
• If a school you are applying to is ON the Common Applicationyou MUST apply using the Common App….
• You can save your application until it is ready to be sent
• Be sure to follow instructions carefully and complete ALL
required essays and supplements
• Remember to click "SUBMIT" when application is complete
 SCHOOLS NOT LISTED ON COMMON APPLICATION
– Go to the school's website, follow application instructions, list school
on "NON-Electronic Transcript Form" if necessary
Applying to CUNY/SUNY
• Must apply to CUNY at www.cuny.edu Deadline: Feb 1st
– You may apply to six (6) CUNY colleges/programs
– Complete CUNY app early, do not wait for Feb. 1!
– Admission is rolling and programs fill-up on a first-applied, first-served basis!
• Macaulay Honors College: www.macaulay.cuny.edu.
– You may apply to six college programs
– These schools must be listed in preference order
– When you apply to Macaulay Honors, you will AUTOMATICALLY be considered for
regular admission to CUNY
– Only 1 application is required
– Application Deadline for Macaulay: Dec. 1st
– You MUST list Macaulay on the "Early Deadline Transcript
Request Form" – Due Oct. 1st
• Must apply to SUNY via the Common Application
College Office Application Deadlines
October 1st & November 12th
Refer to handout for detailed instructions
October 1st – Create Common App & CUNY accounts
October 1st – Link Naviance account to Common App account
October 1st – List ALL EA/ED/Colleges with applications Due by December 15th into
Naviance
October 1st – Submit completed "Early Deadline Transcript Request/ED Parent Consent
Form" to College Office
November 12th- All Colleges you are applying MUST be entered into Naviance Account.
November 12th – Submit "Transcript Request for Non-Electronic Schools" to the College
Office
Transcript Request Forms
• These Forms can be found at www.bths.edu under "College Office" tab
and then click on "Forms.
PLEASE NOTE:
 We do not need a Transcript Request form for CUNY Schools (Except if your applying
to Macaulay Honors because this is an earlier deadline
 List CUNY schools in your Naviance Account, when completing the CUNY app you
will be asked to enter your OSIS #, which will allow CUNY to access your Transcript
PLEASE BE AWARE: After the above deadline dates have passed, the Naviance System
will be TURNED OFF and students will no longer be able to add colleges on to the
system. All students should be prepared to FINALIZE college lists by November 12th
About Naviance
• What role does Naviance play in your application Process?
– It allows the College Office and Your Guidance Counselor to
know where you are applying so that we can send out your
TRANSCRIPT, COUNSELOR LETTER OF
RECOMMENDATION and SECONDARY SCHOOL REPORT
to each of those schools on time!
– It is a paperless process and saves you time and money on
postage!
– It is simple and easy and your college application is NOT
COMPLETE until you follow the steps outlined in the
"Application Instructions" for Naviance
Teacher Recommendation Letters
• How many Teacher Recs do I need?
• Who should I ask?
• What should I provide my Teacher with to help
them write the best possible letter about me!?
• How do teacher recommendations get sent to
colleges?
Sending SAT/ACT Scores
• YOU are responsible for sending YOUR
Standardized Test Scores to each of the
Colleges that YOU are applying to.
– Please visit www.collegeboard.com to send SAT
scores and www.act.org to send your ACT scores.
Creating Your College List
Consider all the Factors! What is important to you??
• LOCATION
• Financial Aid Policy
–
–
•
•
•
•
•
•
•
•
•
•
Merit Aid?
Meet Full Demonstrated Need?
Scholarships
Study Abroad Programs
Internships Opportunities
Co-Op Program
MAJOR
Sororities & Fraternities
Sports Teams
Parental Input
First Generation going to college?
Visit! How did it feel?
What is Oversaturation?
• What do the statistics show us?
Open-Minded, Diverse, Colorful
College Visits
• Meeting reps at Tech!
• Visit colleges! Attend open houses!
• Apply for Special Weekends, which include
FREE overnight stays!
College Office Events- Fall 2014
• Are you receiving emails from the College Office?
Do you Read them!???
• Several Panel Presentations scheduled for the upcoming weeks!
• First Generation Night – September 30th
• Trips: TBA
• And more to come….Please check your Naviance email daily!
• Questbridge: You must see Mrs. Levitt ASAP!
QUESTIONS!???
Do not hesitate to ask!
Make sure you read ALL emails that come from
the College Office Staff:
Ms. Iacono, & Mrs. Levitt (Scherman),
Ms. Maysonet – Sigler, & Ms. Bove!
Also, read ALL emails from your
Guidance Counselor!