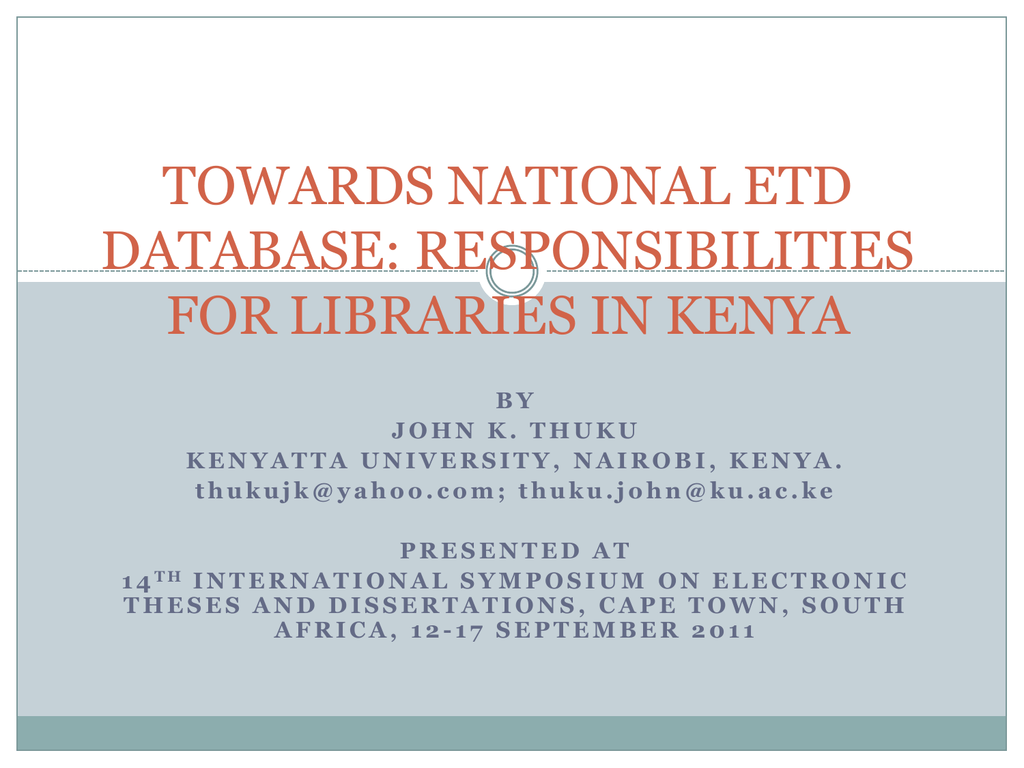 TOWARDS NATIONAL ETD
DATABASE: RESPONSIBILITIES
FOR LIBRARIES IN KENYA
BY
JOHN K. THUKU
KENYATTA UNIVERSITY, NAIROBI, KENYA.
[email protected]; [email protected]
PRESENTED AT
1 4 TH I N T E R N A T I O N A L S Y M P O S I U M O N E L E C T R O N I C
THESES AND DISSERTATIONS, CAPE TOWN, SOUTH
AFRICA, 12-17 SEPTEMBER 2011
Outline
 Background.
 Indicators to the need for National Repository in




Kenya.
Responsibilities for Libraries/Librarians.
The INAR Model Approach.
Role of National Repositories.
Conclusions.
Background
 Recently there has been a marked increase in the number of theses
and dissertations from universities in Kenya.

NB: "Kenya" in this context may mean any other AAU member state and
particularly those participating in DATAD program.
 Scholarly research use enormous public resources and do build to
national wealth, however the results of research :


Poorly visible to new researchers and other scholars, also
Not accessible to industry and/or business community who need them to
improve their products and services.
 Many initiatives however exist that attempt to enhance visibility:
 Library OPACs, lists, catalogues, IRs, … but are limited.
 But how can research be made visible and accessible?
 Can libraries have a role?
 Is it the ICT specialists OR librarians (the experts in knowledge management) to
provide the a sustainable solution?
 -
Indicators to Theses and Dissertations
 The research-based knowledge in Universities is
indicated by 3 parameters:
I.
II.
III.
Number of Universities in the country.
Post graduate programs offered.
Students presenting theses and dissertations.
 Lack of a central database of theses and dissertations
presents researchers with numerous challenges in
finding what research is taking place in Kenyan
Universities.
 Therefore new research may not be acknowledged
appropriately and there a high chance for duplication.
I. Growth of Universities in Kenya
2000
2001
2002
2003
2004
2005
2006
2007
2008
2009
Public
6
6
6
6
6
6
7
7
7
7
Private
9
11
13
17
17
17
17
21
21
24
Total
15
17
19
23
23
23
24
28
28
31
Source: Kenya. Economic Survey Reports 2005, 2010
Currently (2011) there are 50 Universities recognized by Commission of Higher Education
(CHE)
II. Post Graduate Programmes
 In 2008 the directory of approved programmes by CHE
listed 17 postgraduate programmes.
 5 of these programmes were offered in five or more
universities, thus:





Doctor of Philosophy (5)
Master of Education (7)
Master of Business Administration (8)
Master of Science (11)
Master of Arts (14).
 In order to know the extent of research undertaken in
Kenyan universities and minimize possible duplication a
common database is justified.
III. Graduating Students
 University of Nairobi has the highest enrollment of
post graduate students followed by Kenyatta
University in the country.
 Recent statistics on post graduate students
graduating show a gradual rise:
2009
2010
University of Nairobi
1420
2022
Kenyatta University
510
545
Responsibilities for Libraries
 University libraries are required to organize and make




accessible information materials, which include theses
and dissertations.
Libraries are expected to innovatively adapt new
technology in fulfilling their mandate.
Control and access to theses and dissertations, in
whatever format, remain a responsibility of libraries.
Thus establishment of a mechanism to manage and
access to documents is essentially a role of libraries.
Therefore a national database of theses and dissertations
is a necessary and effective tool for libraries to locate
and facilitate these publications.
INAR MODEL for ETD MANAGEMENT
 INAR is Institutional, National and African-based
Repository.
 INAR is a 3-tier hierarchal model for management of
theses and dissertations.



Institutional repositories at the bottom
National ETD at the middle.
Regional DATAD at the top.
 At each level there are defined processes to build the
data.
 Records should adherence to established international
metadata standards, and should be shareable across and
between levels.
THREE TIER – INAR MODEL
AIM of INAR Model
The overall aim is to effectively control research
emanating from Universities in Africa. In this model:
 Librarians, as experts in information management,
should provide stewardship in planning and building
the institutional repositories.
 Further responsibilities for librarians:


Encourage researchers deposit new information in the IR.
Facilitate access through established indexing services and
repositories so as to enhance visibility of research.
 Libraries should take responsibility for custody and
management of IR.
Metadata Creation Process
The library should ensure that standards in metadata
and other controls are adhered to during creation.



Ideally the input of metadata should be done at the bottom
level (the institutional repository)
Data is then harvested into the national repository where it is
verified and modified to meet the requirements of DATAD
database.
Lastly, upload to the top level – DATAD online.
Storage of Fulltext ETD
 Whereas records can be shared well across all levels,
storage of full text ETD present many challenges.


Issues about copyright and intellectual property rights remain
unresolved and hinder progress towards hosting fulltext
documents beyond institutional boundaries.
Libraries have different priorities, capacities and competences
and this also presents additional challenges.
 It is important to have acceptable practices that
enhance sense of ownership and build data that can
later be harvested in other platforms in the
hierarchy.
Options to Storage of ETDs
 Towards building national ETDs, there are three
options suggested:



First, the institutions are the custodians of their ETDs. Have
developed their own IR policies. The ETD metadata is passed
on to the national repository before dispatch to DATAD. This
is quite acceptable.
Second option is where the national repository takes the
responsibility for acquisition, organization, storage and
facilitates access. This is the most efficient and suitable
method.
Third, ETDs are managed at DATAD headquarters. Obvious
benefits include experience, access to suitable equipment,
advocacy and sustainable budget.
Role of National Repository
In implementing INAR model, a national repository is crucial
and its primary roles will be:
 Maintain record of all theses and dissertations produced in
the country.
 Provide a single reference tool to scholarly research in the
country.
 Play advocacy roles towards establishment of IR.
 Train and steer the development of IRs at all levels.
 Ensure that the ETD metadata conforms to the acceptable
international standards.
 Facilitate assignment of Digital Object Identifier (DOI) to
ETDs, and
 Collaborate with national and regional services that work
towards visibility and accessibility to scholarly work.
Conclusion
 The need to control scholarly research from the
universities at national level is very important because it
represents great wealth for the country. It benefits not
only the scholars but also policy makers and business
community.
 Individual universities are encouraged to establish
institutional repositories and link them with national and
regional repository to enhance visibility.
 The concept for institutional, national and African-based
repository described here promises a better and
sustainable solution for enhancing visibility and control
of research from African universities.
References












Commission of Higher Education. 2008. Directory of Approved Programmes in Kenyan
Universities.
Drake, M. A. 2004. Institution repositories: hidden treasures, Searcher, 12(5).
Genoni, P. 2004. Content in Institutional Repositories a Collection Management Issue,
Library Management, 25(6/7).
Jain, P., Bentley, G., Oladiran, M.T. 2009. The role of institutional repository in digital
scholarly communications, in African Digital Scholarship and Curation Conference 2009,
12-14 May, CSIR Conference Centre, Pretoria,
Kenya. Ministry of Planning and National Development 2010. Economic Survey.
Kenya. Ministry of Planning and National Development 2005. Economic Survey.
Kenyatta University. 2010. The Tribune.
Robinson, M. 2009. Promoting the Visibility of Educational Research through an
Institutional Repository. Serials Review, 35(3).
University of Nairobi. 2009. Alumni Hit 110,000 as 41st Graduation is Marked. Available
http://archive.uonbi.ac.ke/news-and-events/id=180
University of Nairobi. 2009. 3994 Awarded at the 42nd Graduation Ceremony. Available
http://archive.uonbi.ac.ke/news-and-events/id=194
University of Nairobi. 2010. 43rd Graduation Ceremony, Chancellor's Court. Available
http://archive.uonbi.ac.ke/news-and-events/id=257
University of Nairobi. 2010. 4500 Graduands Feted in Lively Celebrations. Available
http://archive.uonbi.ac.ke/news-and-events/id=273.
Thank you.