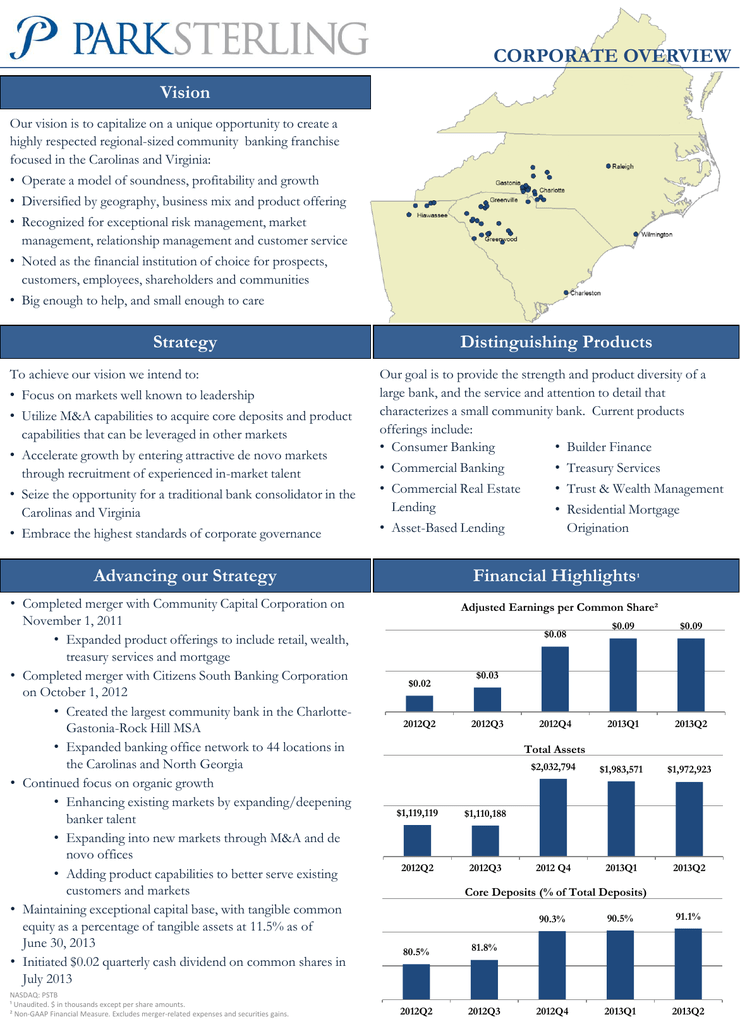 CORPORATE OVERVIEW
Vision
Our vision is to capitalize on a unique opportunity to create a
highly respected regional-sized community banking franchise
focused in the Carolinas and Virginia:
• Operate a model of soundness, profitability and growth
• Diversified by geography, business mix and product offering
• Recognized for exceptional risk management, market
management, relationship management and customer service
• Noted as the financial institution of choice for prospects,
customers, employees, shareholders and communities
• Big enough to help, and small enough to care
Strategy
To achieve our vision we intend to:
• Focus on markets well known to leadership
• Utilize M&A capabilities to acquire core deposits and product
capabilities that can be leveraged in other markets
• Accelerate growth by entering attractive de novo markets
through recruitment of experienced in-market talent
• Seize the opportunity for a traditional bank consolidator in the
Carolinas and Virginia
• Embrace the highest standards of corporate governance
Distinguishing Products
Our goal is to provide the strength and product diversity of a
large bank, and the service and attention to detail that
characterizes a small community bank. Current products
offerings include:
• Consumer Banking
• Builder Finance
• Commercial Banking
• Commercial Real Estate
Lending
• Asset-Based Lending
Advancing our Strategy
• Completed merger with Community Capital Corporation on
November 1, 2011
• Expanded product offerings to include retail, wealth,
treasury services and mortgage
• Completed merger with Citizens South Banking Corporation
on October 1, 2012
• Created the largest community bank in the CharlotteGastonia-Rock Hill MSA
• Expanded banking office network to 44 locations in
the Carolinas and North Georgia
• Continued focus on organic growth
• Enhancing existing markets by expanding/deepening
banker talent
• Expanding into new markets through M&A and de
novo offices
• Adding product capabilities to better serve existing
customers and markets
• Maintaining exceptional capital base, with tangible common
equity as a percentage of tangible assets at 11.5% as of
June 30, 2013
• Initiated $0.02 quarterly cash dividend on common shares in
July 2013
NASDAQ: PSTB
¹ Unaudited. $ in thousands except per share amounts.
² Non-GAAP Financial Measure. Excludes merger-related expenses and securities gains.
• Treasury Services
• Trust & Wealth Management
• Residential Mortgage
Origination
Financial Highlights¹
Adjusted Earnings per Common Share²
$0.09
$0.09
2013Q1
2013Q2
$2,032,794
$1,983,571
$1,972,923
2012 Q4
2013Q1
2013Q2
$0.08
$0.02
2012Q2
$0.03
2012Q3
2012Q4
Total Assets
$1,119,119
$1,110,188
2012Q2
2012Q3
Core Deposits (% of Total Deposits)
80.5%
81.8%
2012Q2
2012Q3
90.3%
90.5%
91.1%
2012Q4
2013Q1
2013Q2
Page 2
Executive Officers
James C. (Jim) Cherry
Chief Executive Officer/Director
Nancy J. Foster
Chief Risk Officer
David L. Gaines
Chief Financial Officer
Bryan F. Kennedy, III
President
32 years of banking experience including Chief Executive Officer of Mid-Atlantic Banking,
President of Virginia Banking, Head of Trust and Investment Management for Wachovia Bank.
28 years of banking experience including Chief Risk Officer for CIT Group and Chief Credit
Officer of Community Banking Group at LaSalle Bank.
24 years of banking experience including Chief Risk Officer for Corporate and Investment
Banking, Senior VP and Comptroller, and Co-Manager of integration office for Wachovia Bank.
30 years of banking experience including President North Carolina, Regions Bank and Executive
Vice President, Park Meridian Bank. Helped organize Park Sterling in October 2006.
Independent Directors
Leslie M. (Bud) Baker, Jr.
Chairman
Kim S. Price
Vice Chairman
Walter C. Ayers
Director
Larry W. Carroll
Director
Jean E. Davis
Director
Patricia C. Hartung
Director
Thomas B. Henson
Director
Jeffrey S. Kane
Director
Ben R. Rudisill, II
Director
Retired Chairman of Wachovia Corporation. Also served Wachovia as Chairman, President, Chief
Executive Officer, and Chief Credit Officer, as well as President of the North Carolina Bank.
Former President and Chief Executive Officer of Citizens South Banking Corporation and
Citizens South Bank.
Retired President and Chief Executive Officer of the Virginia Bankers Association. Served as
member of ABA's Communication Counsel, Government Relations Counsel and others.
President and Chief Executive Officer of Carroll Financial Associates, Inc., a registered
investment advisory firm. CPA background. Park Sterling organizer in October 2006.
Retired Senior Executive Vice President for Operations, Technology and e-Commerce at
Wachovia Corporation. Also formerly head of Human Resources and head of Retail Banking.
Executive Director of Upper Savannah Council of Governments. Founding member and former
Chair of Community Capital Corporation.
President of Henson-Tomlin Interests, LLC and Senior Managing Director of Southeastern Private
Investment Fund. Helped organize Park Sterling in October 2006. M&A attorney by background
Retired Senior Vice President in charge of Charlotte office of Federal Reserve Bank of Richmond.
Also served as head of Banking Supervision and Regulation.
President of Rudisill Enterprises, Inc., since 1976. Former Chairman of Citizens South Banking
Corporation and Citizens South Bank.