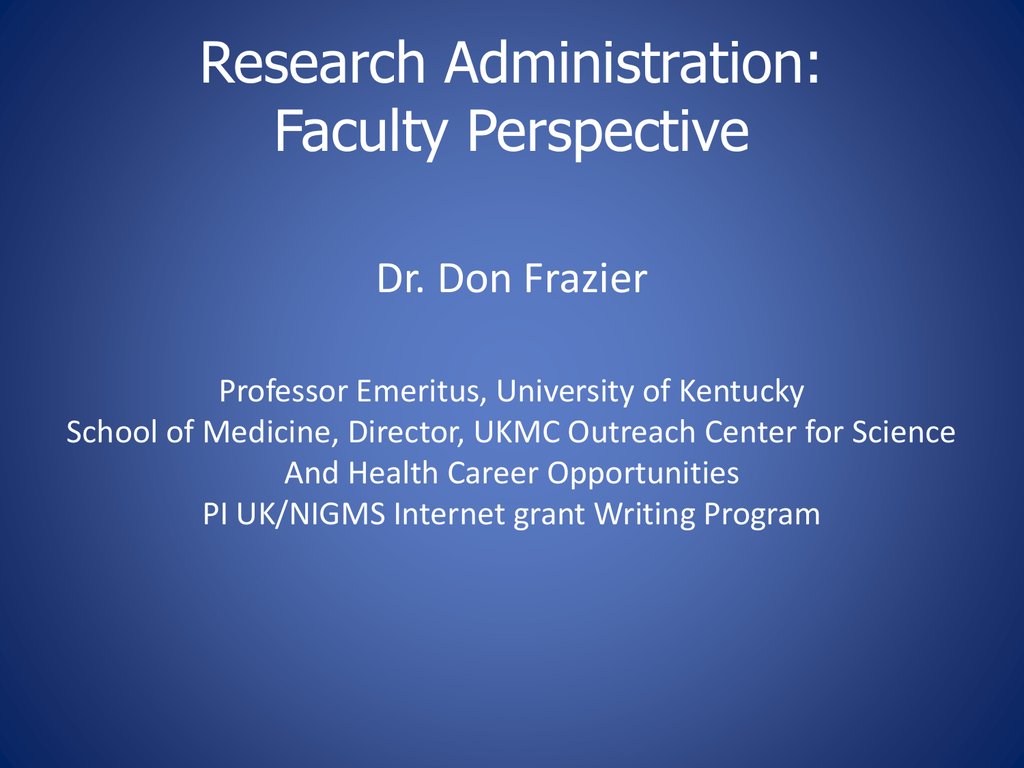 Research Administration:
Faculty Perspective
Dr. Don Frazier
Professor Emeritus, University of Kentucky
School of Medicine, Director, UKMC Outreach Center for Science
And Health Career Opportunities
PI UK/NIGMS Internet grant Writing Program
Perception
• Perception
Reality
• Hurtle: Barrier
Team mate
Why Should I Apply for a Grant?
• Grants allow you to…
–
–
–
–
–
Achieve your intellectual and programmatic goals
Implement change in your institution or environment
Advance your field
Travel to carry out your work
Get resources/assistance with your current activities
What we know…..
• "Grantsmanship is a scholarship activity and
• Grantsmanship is a learned skill"
• 1st rule: Start Early
Pre-Submission
How to get started
"Where do you fit in?"
The Process Begins
Good Idea
Good Idea
Significant?
Does it address an important problem
How will scientific knowledge be advanced
Innovative?
Builds upon or expands knowledge base
Capable of making a difference
Understandable?
Can you help?
The Idea – Research Plan
• 1. Fits with expertise and facilities
• 2. Research the literature
–Any role here?
Funding Opportunity Announcements
• All applications must be submitted in response
to an active FOA
NOT-0D-10-134 Federal or Foundation
Questions to be addressed
• What granting agencies funds my area of
research?
• How do I get a copy of their mission statement
and guidelines?
• Where do I find the application forms?
• What do they want? How and who will
evaluate the merit of my proposal?
• NOW I CAN START TO WRITE!!
How can my office help?
1. Develop a data-base of your Faculty's
research interests /student development
2. Cross-match funding opportunities (FOA's)
with faculty – Federal/Foundation/State/ etc.
3. Send alerting emails to appropriate faculty
Sources of Information
• Government publications and web sites
• Foundations and corporations publications and web
sites
• Professional societies and organizations
• Generic source guides – books and electronic
databases
• Journal articles
• Lists and abstracts of funded projects
– (Caution: sponsor priorities do change)
• Professors/colleagues/mentors
Example: Federal Agencies
NIH/NSF
Grants.gov
How to find Funding Opportunities and
Download Applications Utilizing Grants.gov
and the NIH Guide
What is Grants.gov
• Federal government's single on-line portal to
find and apply for Federal grant funding
• Utilized by all 26 Federal grant-making
agencies
• NIH system that allows applications/grantees
to electronically receive and transmit
application and award information
Finding an Opportunity –
Grants.gov
•
•
•
•
•
Locate and learn
More about funding
Opportunities in a
Standardized
Manner.
•
•
•
Sign up to receive
New grant postings
by email.
Full Announcement –
about the funding opportunity
will contain all important information
The RePROTER Database
• A Federal resource
• An On-Line Resource for Research
Administrators and Faculty
• Developing Proposals to NIH and other DHHS
Agencies
RePORTER Database
•
•
•
•
•
•
•
National Institutes of Health (NIH)
Agency for Health Care Research and Quality (AHRQ)
Centers for Disease Control and Prevention (CDCP)
Food and Drug Administration (FDA)
Health Resources and Services Administration (HRSA)
Office of Assistant Secretary of Health (OASH)
Substance Abuse and Mental Health Administration
(SAMHSA)
Search RePORTER Database for
Funded Projects Information
Determine if specific projects have been funded
as well as the funding mechanisms (e.g., R01,
R03, R21, K01, K99)
Identify potential competitors and/or
collaborators
Criteria to Evaluate Each Funding
Source- How can you help me?
• Objectives/Priorities of the agency – key is FIT
• Eligibility
– Institution (e.g., 501 (c)3, faith-based organization)
– Individual (e.g., US citizen, minority, Hispanic, female,
graduate student, new investigator, mid-career
researcher)
• Type of project – e.g., fellowship/scholarship,
training grant, research support, construction,
travel to collections
• Application process – e.g., letter of inquiry, phone
call, pre-proposal, full proposal
• Read the guidelines!
NIH
Types of Grant
•
•
•
•
•
•
•
•
•
•
•
•
C's – Construction grant
D's – NIH Director's Programs (varied topics
E's – Health Professor
F's – Fellowships
G's – Resource Programs * (G11 – Brad – ERDAG12 – PhD Programs)
H's – Community Source Programs
K's – Research Career Development
P's – Research Program Project*
» P20 [Exploratory Grant – new Programs – Centers]
R's – Research Projects – Individual (R03, R-15, R21)*
S's – Research Related (S06, S11, S21, SC1 [R01], SC2 [Pilot], SC3)*
T's – Training Program
U's – Collaborative Agreement
Funding Opportunities
Some Options to Consider
(by applicants at selected institutions)
Academic Research Enhancement Award (AREA)
– Parent R 15
Support of Competitive Research (SCORE)
Program
-Research Advancement Award (SC1)
- Pilot Project Award (SC2)
- Research Continuance Award (SC3)
Additional Options Open to all
Institutions
• Small Grant (R03)
• Exploratory/Developmental Research Grant
(R21)
• Career Development Awards
– K-Awards Across Institutions and Careers
http://grants.nih.gov/training/careerdevelopmentawards.
htm
AREA Program (R15) Features
• Institutional Eligibility
– Must offer baccalaureate or advanced degrees in healthrelated sciences.
– If an institution has multiple schools, an individual college
that has received no more than $6 million per year from
NIH in each of 4 of the last 7 years is eligible.
• Principal Investigator (PI) Eligibility
– PI must have primary faculty appointment at AREA-eligible
institution.
– PI may not be PI of active NIH research grant at time of
AREA award.
– PI may not be awarded more than one AREA grant at a time.
AREA Program
• Purpose
– Support small-scale research projects by faculty at eligible,
domestic institutions
– Expose students to meritorious research projects
– Strengthen the research environment of applicant
institution
• Participating Institutes, Centers, and Offices
– Almost NIH-wide (22)
R15 Features
•
Project period limited to 3 years.
•
Direct costs limited to $300,000 over entire project period.
•
Deadline – NIH's standard dates apply, by 5:00 p.m. local time of applicant
institution.
•
Grants are renewable.
•
Preliminary data are not required.
•
Proposal should include plans to expose students to hands-on research, but no
didactic or training plans because this is a research award.
•
Parent R15 guidelines – http://grants.nih.gov/grants/guide/pa-files/PA-12006.html
SCORE (SC1, SC2, SC3) Program
• The SCORE Program is a developmental program designed to increase the
research competitiveness of faculty at minority-serving institutions and
institutions with a historical mission of training students from backgrounds
underrepresented in biomedical research.
• Institutional Eligibility:
– historical mission of educating students from diverse backgrounds
underrepresented in biomedical and behavioral research (i.e., African
Americans, Hispanic Americans, American Indians, Alaska Natives,
Native Hawaiians, U.S. Pacific Islanders, and persons with disabilities).
– award science degrees to undergraduate and/or graduate students.
– have received less than $6 million from NIH R01 support in last two
fiscal years.
SCORE Program
 Three Individual mechanisms (investigator-initiated) with distinct funding
levels for the different developmental levels of PIs:
– SC1 (PAR-13-069) – Research Advancement Award
– SC2 (PAR-13-070) – Pilot Project Award
– SC3 (PAR-13-071) – Research Continuance Award
(http://www.nigms.nih.gov/Training/MBRS/SCOREDescription.htm)
 Deadlines: March 4, 2013; May 25, 2013; September 25, 2013 by 5:00 PM
local time of applicant organization.
 Eligible faculty may only apply/hold one SCORE individual award.
 Eligible institutions may only apply/hold a maximum of 20 SCORE
awards.
SCORE Program
PI eligibility:
 Only full time faculty on regular professorial appointments
may apply for SCORE awards.
 See SCORE frequently asked questions:
http://www.nigms.nih.gov/Training/MBRS/SCOREUpdateFAQ.htm .
 Fully developed faculty with a track record of external
support (other than MBRS) and publications are ineligible
to apply for SCORE individual awards.
 Faculty currently receiving other developmental or external
support are ineligible to apply for any SCORE individual
award.
SCORE Award Summary
SC1 Research
Advancement
Award
SC2
Pilot Project
Award
SC3 Research
Continuance
Award
Programmatic Goals
Foster the transition to
major non-SCORE support
Allows beginning PIs to
generate preliminary data
to establish a new line of
research
Allows PIs conduct projects
of limited scope and
publish
Max Direct Costs
(Modular Budgets)
$250 K/yr
$100K/yr
Not to exceed $300K for
entire project period
$75K
Not to exceed $300K for
entire project period
Duration
4 years
Renewable, unless PI has
received one cycle of R01
or R21 during professional
career
3 years
NOT renewable
4 years
Renewable
Common Requirement
PI's development objectives and plan to achieve them must be provided.
No Co-PIs
Other Requirements
PI must have a mentor and
a mentoring plan
SCORE Program Overview
Advanced Investigators
Seeking to transition to
Non-SCORE support
SC2 Pilot
Project Award
(Nonrenewable)
Beginning Investigators
SC1 Research
Advancement
Award
(renewable)
SC3 Research
Continuance
Award
(renewable)
Investigators at intermediate stages
of development seeking support for
projects of limited scope
RO1 or
other
external
support
SCORE Program – New Requirement
Institutional Information
• Evidence of institution's historical mission to educate students from backgrounds
nationally underrepresented in biomedical and behavioral research, and efforts to
provide services to the underserved community.
•
Total NIH R01 support in the last fiscal year.
•
Institutional data on:
– Last academic year's demographics of student body in the sciences – enrollment, graduation
numbers, and percentages of the different groups nationally underrepresented in biomedical
and behavioral research.
– Number of underrepresented students graduating from the applicant institution who have
gone on and completed the Ph.D. in biomedical and behavioral in the past ten years. (Use NSF
WebCaspar at https://webcaspar.nsf.gov/).
•
Institutional letter certifying the time and effort requested by the PI will be
provided. Letter must explain also the institution's commitment to the PD/PI's
proposed research development.
New and Early Stage Investigator Policy
• Early stage Investigator – within 10 years of
terminal degree or medical residency
• Support new investigators at rates comparable
to those for established investigators
submitting new R01s
• Cluster applications from new investigators for
review and discuss first at study section
meeting
"IDEA Development Award"
• Career for Biomedical Research Excellence
-COBRE• IDEA Networks of Biomedical Research Excellence
-INBRE-
Institutional Development Award
Message to your Faculty
• Lack of good project/mission fit usually results in rejection!
 Analyze the match (your goals – their needs)
• What's in it for the sponsor?
• How does your project accomplish the sponsor's goals?
• Why would the sponsor want to "buy" your idea?
 Link project objectives and activities closely to sponsor goals.
• What else has the sponsor funded?
 Review abstracts/successfully funded proposals.
 What kinds of organizations were the awardees?
 What similarities does your organizations share?
Explore the "non-obvious" sponsors!
Elements of Grant Success
Good ideas
Good reviewers
Good timing
Good luck
Good presentations
Good
Grantsmanship
Good Timing is NOT
"I plan on submitting a grant application in two weeks..can you tell me who
might be a good program person for me to speak with before I send my
application in?"
"We could become a Barrier!"…… Start Early!
Summary
• Services you can provide meRequired
 Funding opportunities - FOA's, matched to my expertise
 Sponsor "Guidelines" – check
 Budget Preparation – allowed/disallowed cost share, etc.
 Certifications – IACUA, IRB, DUNS number, and a host of other
regulatory requirements
 Check List
 Grant Management
 And more – i.e., review of my proposal
I love my TEAM MATE!!!