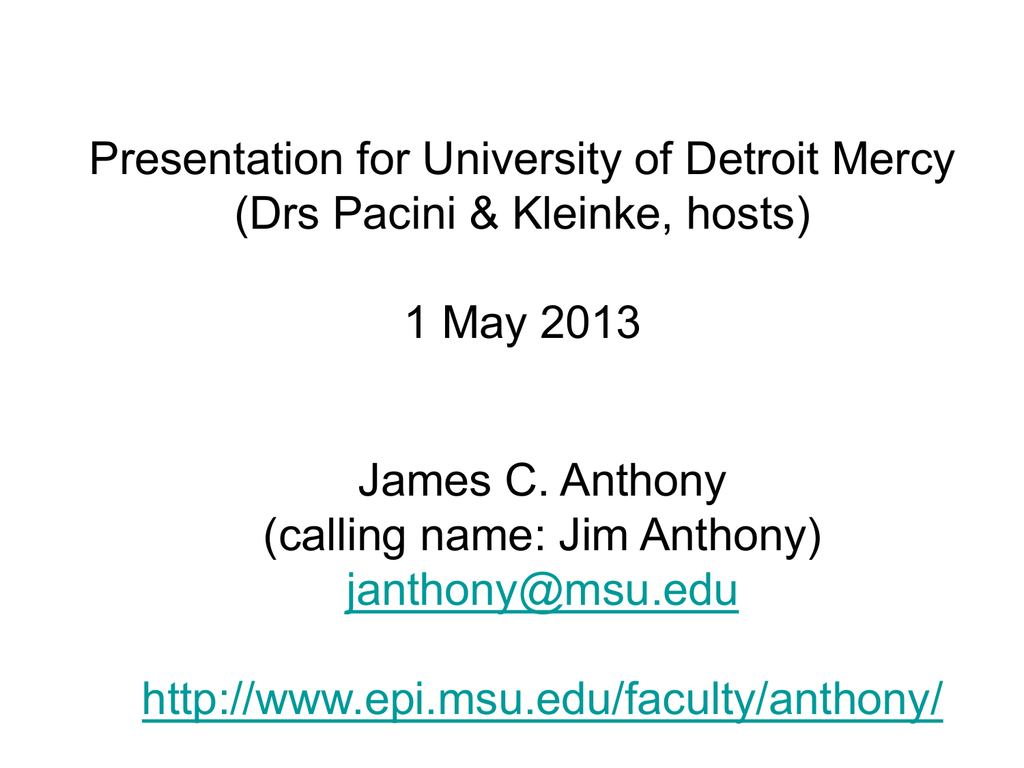 Presentation for University of Detroit Mercy
(Drs Pacini & Kleinke, hosts)
1 May 2013
James C. Anthony
(calling name: Jim Anthony)
[email protected]
http://www.epi.msu.edu/faculty/anthony/
Introduction to the R15 NIH Funding Mechanism
Academic Research Enhancement Award (Parent R15)
Program Announcement (PA) Number: PA-12-006
http://grants.nih.gov/grants/guide/pa-files/PA-12-006.html
Acknowledgements to Dr. Harootunian for development of some of these slides
http://grants.nih.gov/grants/guide/pa-files/PA-12-006.html
The purpose of the Academic Research Enhancement Award (AREA) program is to
stimulate research in educational institutions that provide baccalaureate or
advanced degrees for a significant number of the Nation's research scientists, but
that have not been major recipients of NIH support. AREA grants create
opportunities for scientists and institutions, otherwise unlikely to participate
extensively in NIH research programs, to contribute to the Nation's biomedical and
behavioral research effort. AREA grants are intended to support small-scale
research projects proposed by faculty members of eligible, domestic institutions, to
expose students to meritorious research projects, and to strengthen the research
environment of the applicant institution.
SMALL ????
$300,000 PLUS Overhead
Area Grant Information
AREA contacts - Persons to contact regarding AREA funding opportunities and
questions about IC research interests.
AREA Grant Research Objectives
AREA FAQs – Frequently Asked Questions (e.g., 12 page limit)
Research Supplements to Promote Diversity in Health-Related Research - Principal
Investigators holding an active Academic Research Enhancement Award (R15) Grant
also may apply for a supplement under this program. Grantees must check with the
appropriate awarding component before an application for a supplement is submitted.
Review Guidance for AREA applications - AREA applications are evaluated using the
standard NIH review criteria for unsolicited research grants. Reviewers will assess the
AREA-specific programmatic features of an application under the Investigator and
Environment criteria.
Submission Date Schedule
Standard application deadlines: February 25, June 25, and October 25
AIDS-related research deadlines: January 7, May 7, and September 7
"Turnaround Time"
Review c. 4-5 months later
Summary statement: c. 5-6 months later
Notice of award: c. 9 months later, if funded
1 re-submission allowed; same dates as shown above
"Success Likelihoods"
2002-2006: 25%-42%, depending upon the institute
More recently: 20%-25%, …
Compared to R01, R21, R03 mechanisms:
• Not as much money as R01
• More time (duration) and money than R03 or R21
• It seems that no slack is being cut to anyone in the peer review process. An
R15 requires just as much science innovation and rigor as an R03, R21, or
R01.
• The added advantage is in the payline on the scoring chart as shown on the
next slide = judgment call within the funding agency.
Payline for R15, R21, or R03 might be at the 4-5 level.
Payline for R01 more typically at the 1-2 level..
Within NIH Category of
Research Project Grants (RPGs)
• R15: $300,000 direct cost total to stimulate research at
colleges and universities that have not recently received
significant NIH support. Project can run 1-3 years. No
harm in asking for 3 years if the research requires it. Can
be renewed for 2nd and renewable periods of support.
• R21: Two-year grant for exploratory/ developmental
research $275,000 direct costs for up to 2 years).
Cannot be renewed for a second period of support.
• R03: 1-2 year grant award for small projects completed
in short period, up to $100,000 total ($50K/year).
• R01: Original and historically oldest NIH grant
mechanism. NIH big league work.
•
Note: These are the only four "R" grants allowed to use the "modular"
(translation=simplified) budgeting approach (provided cost threshold is not
crossed).
• R15 unique opportunities:
– Special supplements are available to recruit and
support high school and college students from
underrepresented populations.
– So check out R15 AREA Award past awardees,
current guidelines, FAQs, contact information, and
lots more.
– Other R15 resources:
• Sample PI biographical sketch
• Sample Modular Budget
• Contact Information
• Questions regarding eligibility, policies, procedures, and other
administrative aspects of the NIH AREA program should be referred
first to the Office of Sponsored Programs at the educational
institution.
• All programmatic and scientific questions should be directed to NIH
Institutes and Centers (ICs) sponsoring the AREA program. See
AREA contacts.
• For NIH-wide policy and other questions about the AREA program,
please contact the R15 mailbox: [email protected]
Getting Ideas for Viable R15 Awards
NIH Project Reporter
http://projectreporter.nih.gov/reporter.cfm
http://projectreporter.nih.gov/reporter.cfm
Click on the hot link to see abstract
summary and other details
RESULTS OBTAINED BY COMBINING:
SOCIAL AND BEHAVIORAL
IN THE QUERY SEARCH FIELD
MORE RESULTS OBTAINED
BY COMBINING:
SOCIAL AND BEHAVIORAL
IN THE QUERY SEARCH FIELD
IDEA GENERATION:
LINK UP WITH ALREADY FUNDED R01 PROJECTS
NEARBY….
IDEA GENERATION:
LINK UP WITH ALREADY FUNDED R01 PROJECTS
OR FROM A DISTANCE….
Why Am I Here?
A. MSU faculty generally are not eligible for R15.
(But we can collaborate !!!)
B. Recruitment of potential research fellows
Lots of pertinent ideas of mutual interest we can discuss,
if you are interested.
University/College Student Behavioral Health Issues
Obesity research
Cost of care issues
End of life issues
Early life development
End of life development
Zoonotic disease epidemiology
Biobehavioral pig model to complement non-human primate model
Questions?