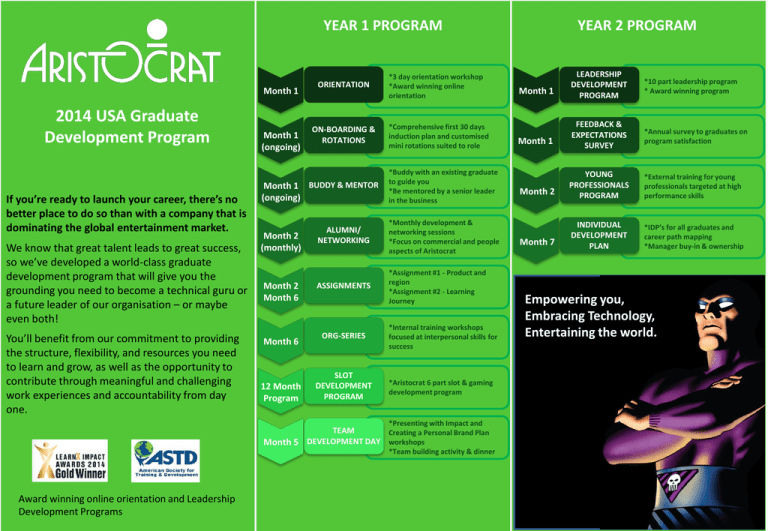 YEAR 2 PROGRAM
YEAR 1 PROGRAM
Month 1
2014 USA Graduate
Development Program
If you're ready to launch your career, there's no
better place to do so than with a company that is
dominating the global entertainment market.
We know that great talent leads to great success,
so we've developed a world-class graduate
development program that will give you the
grounding you need to become a technical guru or
a future leader of our organisation – or maybe
even both!
You'll benefit from our commitment to providing
the structure, flexibility, and resources you need
to learn and grow, as well as the opportunity to
contribute through meaningful and challenging
work experiences and accountability from day
one.
Month 1
(ongoing)
Month 1
(ongoing)
Month 2
(monthly)
Month 2
Month 6
Month 6
12 Month
Program
ORIENTATION
ON-BOARDING &
ROTATIONS
*3 day orientation workshop
*Award winning online
orientation
*Comprehensive first 30 days
induction plan and customised
mini rotations suited to role
BUDDY & MENTOR
*Buddy with an existing graduate
to guide you
*Be mentored by a senior leader
in the business
ALUMNI/
NETWORKING
*Monthly development &
networking sessions
*Focus on commercial and people
aspects of Aristocrat
ASSIGNMENTS
*Assignment #1 - Product and
region
*Assignment #2 - Learning
Journey
ORG-SERIES
*Internal training workshops
focused at interpersonal skills for
success
SLOT
DEVELOPMENT
PROGRAM
*Aristocrat 6 part slot & gaming
development program
*Presenting with Impact and
TEAM
Creating a Personal Brand Plan
Month 5 DEVELOPMENT DAY workshops
*Team building activity & dinner
Award winning online orientation and Leadership
Development Programs
Month 1
LEADERSHIP
DEVELOPMENT
PROGRAM
*10 part leadership program
* Award winning program
Month 1
FEEDBACK &
EXPECTATIONS
SURVEY
*Annual survey to graduates on
program satisfaction
Month 2
YOUNG
PROFESSIONALS
PROGRAM
*External training for young
professionals targeted at high
performance skills
Month 7
INDIVIDUAL
DEVELOPMENT
PLAN
*IDP's for all graduates and
career path mapping
*Manager buy-in & ownership
Empowering you,
Embracing Technology,
Entertaining the world.