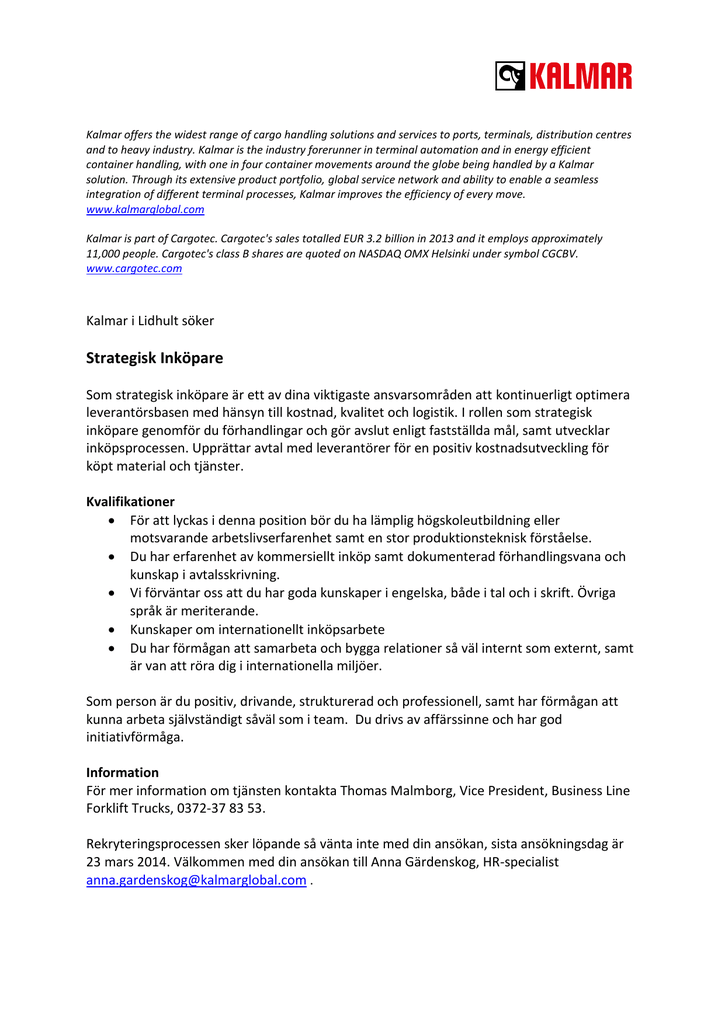 Kalmar offers the widest range of cargo handling solutions and services to ports, terminals, distribution centres
and to heavy industry. Kalmar is the industry forerunner in terminal automation and in energy efficient
container handling, with one in four container movements around the globe being handled by a Kalmar
solution. Through its extensive product portfolio, global service network and ability to enable a seamless
integration of different terminal processes, Kalmar improves the efficiency of every move.
www.kalmarglobal.com
Kalmar is part of Cargotec. Cargotec's sales totalled EUR 3.2 billion in 2013 and it employs approximately
11,000 people. Cargotec's class B shares are quoted on NASDAQ OMX Helsinki under symbol CGCBV.
www.cargotec.com
Kalmar i Lidhult söker
Strategisk Inköpare
Som strategisk inköpare är ett av dina viktigaste ansvarsområden att kontinuerligt optimera
leverantörsbasen med hänsyn till kostnad, kvalitet och logistik. I rollen som strategisk
inköpare genomför du förhandlingar och gör avslut enligt fastställda mål, samt utvecklar
inköpsprocessen. Upprättar avtal med leverantörer för en positiv kostnadsutveckling för
köpt material och tjänster.
Kvalifikationer
 För att lyckas i denna position bör du ha lämplig högskoleutbildning eller
motsvarande arbetslivserfarenhet samt en stor produktionsteknisk förståelse.
 Du har erfarenhet av kommersiellt inköp samt dokumenterad förhandlingsvana och
kunskap i avtalsskrivning.
 Vi förväntar oss att du har goda kunskaper i engelska, både i tal och i skrift. Övriga
språk är meriterande.
 Kunskaper om internationellt inköpsarbete
 Du har förmågan att samarbeta och bygga relationer så väl internt som externt, samt
är van att röra dig i internationella miljöer.
Som person är du positiv, drivande, strukturerad och professionell, samt har förmågan att
kunna arbeta självständigt såväl som i team. Du drivs av affärssinne och har god
initiativförmåga.
Information
För mer information om tjänsten kontakta Thomas Malmborg, Vice President, Business Line
Forklift Trucks, 0372-37 83 53.
Rekryteringsprocessen sker löpande så vänta inte med din ansökan, sista ansökningsdag är
23 mars 2014. Välkommen med din ansökan till Anna Gärdenskog, HR-specialist
[email protected] .