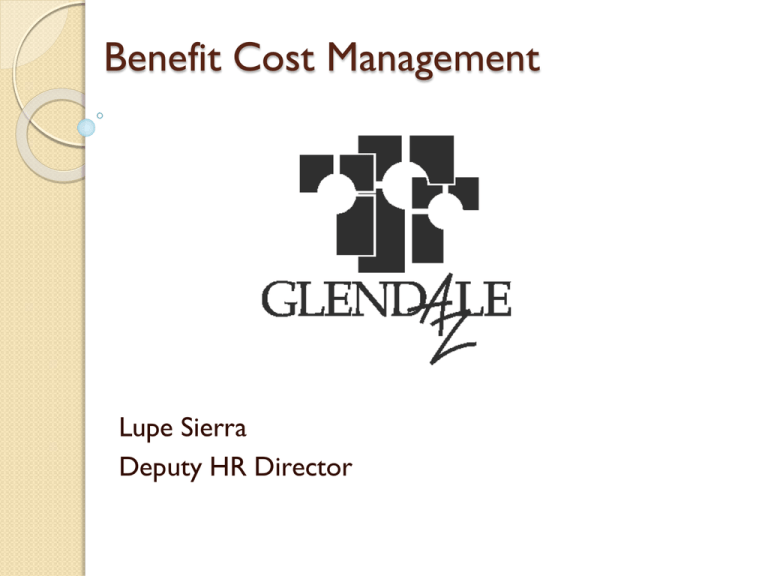 Benefit Cost Management
Lupe Sierra
Deputy HR Director
Benefit Cost Management

Insure the integrity of the plan.
◦ Understand the contract provisions.
 Make sure your benefits staff understands them
too.
◦ Consistently adhere to the contract
provisions.
◦ Provide accurate plan administration
 Eligibility requirements
 Timely processing of enrollment changes
The Impact of Enforcing
Eligibility Requirements

Eligibility verification audit results
◦ $2100 average annual cost of each dependent on
medical plan
◦ 319 ineligible dependents were removed due to
failure to meet contract definition of eligible
dependent
 Ex-spouses (divorce never reported to HR)
 Ex-stepchildren
 Loss of student status
◦ ROI
 Cost of audit $30,000
 Savings for removing ineligible dependents $669,000
 Savings for this year and possibly multiple future years
Contract Provisions & Their Impact

What you get for the premium paid.
◦
◦
◦
◦
◦
◦
◦
Provider discounts
Network
Costs for booklets, ID cards etc.
Performance guarantees
Technical & administrative capabilities
Premium payment arrangements
Banking arrangements
Best Cost Containment Tools





Spend the money for qualified
consultants.
Review your utilization reports to see
how plans are being used or abused.
Stay current with trends, legislation.
Anticipate and prepare for change.
Hire a benefits administrator that really
enjoys the job!