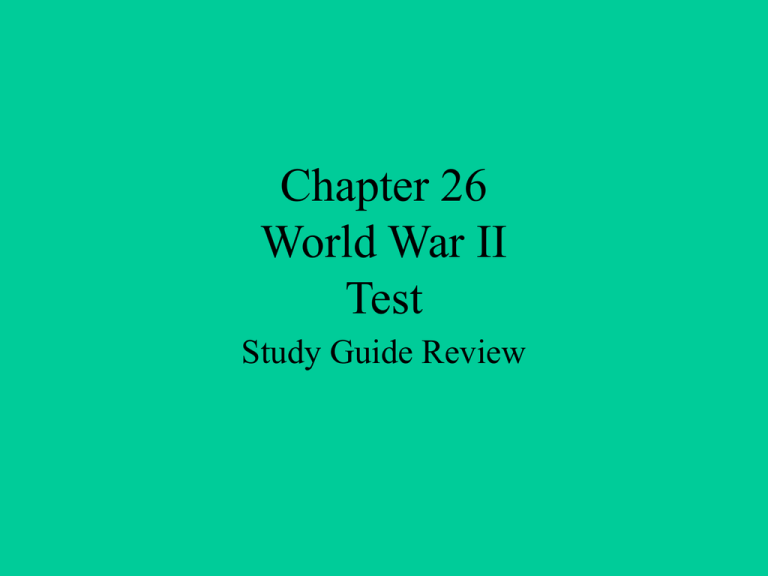 Chapter 26
World War II
Test
Study Guide Review
Multiple Choice
1.
2.
3.
4.
5.
6.
7.
8.
RAF- Never Quit
Douglas MacArthur
Erwin Rommel
54,000 of 76,000 Survived Death
March
Pearl Harbor
Allowed them to not worry about
neighbors to the east and invade Poland.
Soviet Leader
German Leader
Multiple Choice
9. Fascism
10. Totalitarian/ Dictatorship
11. Appeasement (Gave Hitler
Sudentenland)
12. Protective border along German Border
(built by France and Britain)
13. Dwight D Eisenhower
14. Persecuted
15. Island hopping( with Nimitz's help)
16. Nuremburg
Multiple Choice
17. Churchill GB's Prime Minister
18. Mussolini- 1935
19. Switzerland, Sweden, Turkey
20. December 7th 1941 Sunday 7:55am
21. Japan
22. Invasion of Poland
23. Women
24. 1st Major defeat of Japanese
25. Holocaust
Multiple Choice
26. Turning point- Stalingrad
27. Japanese sent there
28. Radio Operators- talked code
29. Tuskegee Airmen- African Americans
30. Conserving Food
Matching
1.
2.
3.
4.
5.
6.
7.
8.
9.
10.
Lightning War
Developed A-Bomb
Limited number
British and American Pledge
Clerks and nurses during the war
Wiping out a Group of people
Allied Invasion of France
Concentration Camp
Desert Fox
President 1945
Short Answer
•
•
•
•
Germany, Italy, Japan
Britain, France, US, Russia
Victory in Europe
Holocaust
–
–
–
–
Death and Work camps for Jews
Jews
6,000,000
Auschwitz
Short Answer
• Discrimination in the beginning but gained
respect. Joined service as combatantsTuskegee airmen; Got Defense industry Jobs.
• A Date which will live in Infamy
• September 1st, 1939
• Allies
• Invasion of Normandy France- June 6th, 1944
D-Day
• The allies were dropped off on 5 different
beaches. (American beaches in Bold)
– Sword, Utah, Gold, Juno, and Omaha
• The invasion was led by Gen. Eisenhower
• Erwin Rommel was in charge of the Nazi
Forces in Normandy
• Official name- Operation Overlord
D-Day
• The invasion was Postponed 1 time due to
weather.
• The country that was invaded was France
• The invasion was launched across the
English Channel from Great Britain.
Review
Who are these people and which countries did they lead?
This Death camp on the Vistula river
exterminated the most people.
+
Which Axis General was
given this nickname?
1.What was this invasion called?
2. Which were the American beaches?
3. Where did these troops come from?
• What is the more common group name of
the 332nd Fighter Group?
What was the date of this Attack at Pearl Harbor?
At what conference did Chamberlain give the Sudetenland to Hitler?
This 60
mile march
took the
lives of
22,000
Allied
troops
fighting in
the pacific.
This person took office on April
12th, 1945.
WWII
Started
when this
country
invaded that
one? What
are the two
countries?
When did
this happen?