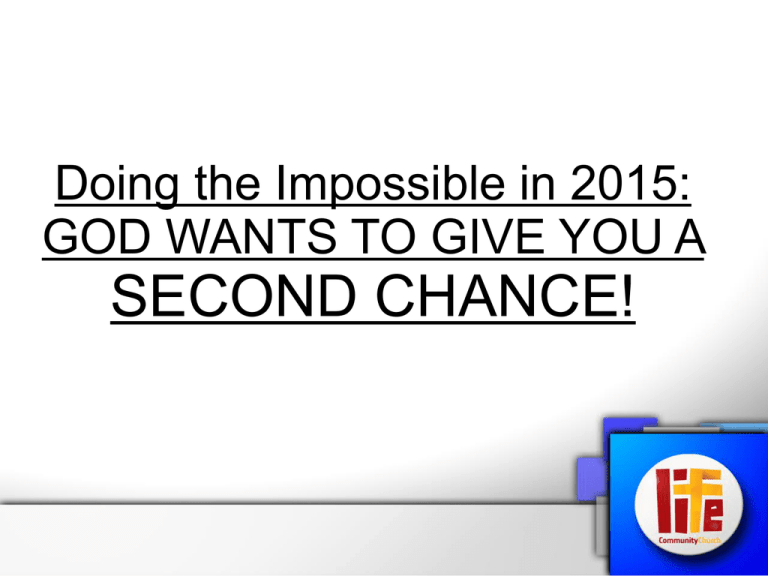 Doing the Impossible in 2015:
GOD WANTS TO GIVE YOU A
SECOND CHANCE!
• 1. God has already helped people in
worse conditions than you!
• Manasseh
• "Now when he (Manasseh) was in affliction, he
implored the Lord his God, and humbled himself
greatly before the God of his fathers, and prayed
to Him; and He received his entreaty, heard his
supplication, and brought him back to Jerusalem
into his kingdom. Then Manasseh knew that the
Lord was God" (2 Chronicles 33.12-13)
Doing the Impossible in 2015!
• 2. Shake off guilt and condemnation.
• SAMSON
• Judges 16.28 Then Samson prayed to
the Lord, "Sovereign Lord, remember
me again. O God, please strengthen me
just one more time.
• After all the mistakes he had made, Samson
had the audacity to believe that God would
hear him and God would answer him with the
strength, favour and blessing that
he had had before he had made
his mistakes.
Doing the Impossible in 2015!
• 3. God will forgive you AND ALSO
He will bless you.
• PETER
• Jesus told Peter that he would deny him three
times before the rooster crowed.
• Nothing you have done is a surprise to God.
• Too many think that God will forgive us BUT not
bless us, after what we have done. He
will forgive me but He won't use me.
Doing the Impossible in 2015!
• 4. Go BOLDLY to the throne of grace
• Heb 4.16 "Let us therefore come boldly to the
throne of grace, that we may obtain mercy
and find grace to help in time of need."
• JACOB.
• Jacob took advantage of his brother's hunger and stole
his birthright.
• He then deceived his father for his brother's first-born
blessing.
• Jacob wanted to change. He met the angel at the
brook and wrestled with him. Jacob refused to let him
leave until he had blessed him.
• God not only gave him the blessing but
he also changed his name from deceiver
to prince with God.
Doing the Impossible in 2015!
• 5. Stop finding fault with yourself
• THOMAS
• Thomas refused to believe the reports and the
disciples. He was doubting.
• Jesus came straight to Thomas when they
gathered together. He did not go to the faithfilled ones but to the doubter.
• Thomas said, Lord I believe. Jesus could have
been cross with him. But God does not judge
you by your mistakes.
Doing the Impossible in 2015!
• 6. Be like a child
• Jesus taught that we need to have the
faith of a little child.
• When children make mistakes they
don't sit around for 6 months feeling
bad about it and thinking that they
have missed their destiny in life.
• Let your mistakes go and move
forward with your life.
Doing the Impossible in 2015!
• You are not a failure until you quit... you
are a learner.
• When our children are learning to walk
we cheer and clap at every step.
• We cry out you are walking. We don't tell
them about all the times they fell down!
• God is not focused on all the times you
fall but he is preparing you for greater
things!
Doing the Impossible in 2015!