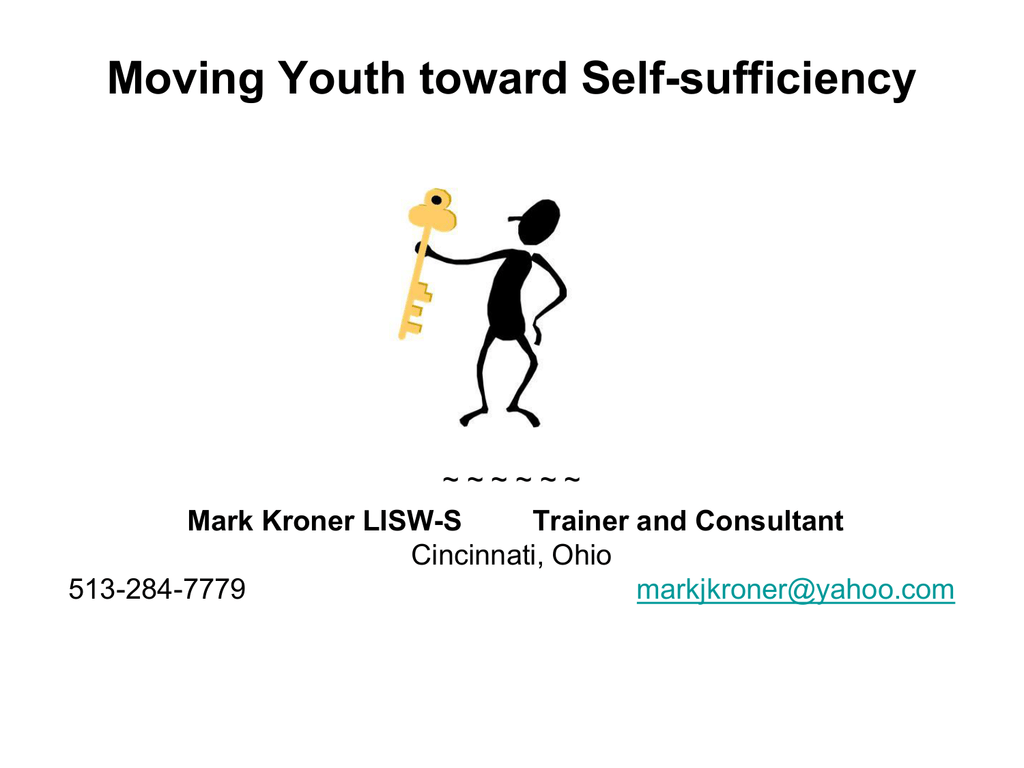 Moving Youth toward Self-sufficiency
~~~~~~
Mark Kroner LISW-S
Trainer and Consultant
Cincinnati, Ohio
513-284-7779
[email protected]
The 10 Key Elements of Effective Transition Services**
1. Education and development of entire system
2. Stable sources of funding
3. Getting entire system involved in transition process
4. Life Skills assessments and training
5. Social support development/permanency
6. Employment and Educational support
7. Real life experience
8. Most appropriate living arrangements
9. Addressing of special needs
10. Aftercare
**And a well-paid case-manager to make it all work!
So who still needs Independent Living?
•
•
•
•
•
•
•
•
•
Youth who are ready to go out on their own
Youth who do not want to/cannot live with others
Youth who do not want to be adopted/were adopted
Youth who enter system as teens in states that end at 18
Youth with mental health issues
Youth with criminal backgrounds/sex-offenses
Youth who want to/do not want to return to unstable families
Pregnant/parenting youth
Youth who do not want to leave foster care but need to
Training of System and IL staff on needs of
transition age youth
•
•
•
•
•
•
•
•
•
•
The time frame we and youth have to work within
The transition realities of all youth
The research on homelessness
The developmental needs of T.A.Y.
The current service system/lack of
Who is in charge of overseeing this process
The role of the case-manager/caseworker
Life skills assessment/training strategies
Community resources/national resources
Special needs youth
Living Arrangement Options
• Foster homes
Group homes
• Individual apartments
Shared housing
• Supervised apartments
Host homes
• Roommates
Shelters
• Adoptive homes
Relative homes
• Trailers
Adult/youth apartments
What are the advantages and disadvantages of each option?
$ources of Funding
•
•
•
•
•
•
•
•
•
•
•
Purchase of service contracts; state or country
Shifting of funding from other placements
HUD
Donated buildings
Set-asides
McKinney Vento/supportive housing
Family Unification Program
Foundations
Chafee
Private donations of supplies/furnishings/cash
United Way
Keys to operating
successful housing programs
•
•
•
•
•
•
•
•
•
Planned preparation of youth and adults
Clear policies and expectations
Consistent supervision and monitoring
Plans for when things aren't working
Management of risk and liability
Staff who can engage and motivate youth
Connections with landlords/housing entities
Tolerance of normal behavior
Multiple options/back-up plans
Common Concerns
•
•
•
•
•
•
•
•
•
•
•
Who signs the lease?
How can you tell if a youth is ready for IL housing?
What about liability? Damages?
What is the best housing option?
How often do you need to see a youth?
How do you find landlords willing to rent to youth?
Do youth have to contribute anything?
Can we place foster youth in TLP/HUD programs?
Shouldn't we focus more on keeping youth with adults?
What about visitors/roommates?
What about after office hour crises?
Life Skills assessments and training
•
•
•
•
•
•
•
•
•
Sharing assessment results
Building life skills training from assessment results
Creating workbooks
Using internet for life skills materials
Already developed curricula
Games, videos, former clients, guest speakers
Using Incentives
One-on-one training/groups
Weekly/monthly/weeklong/camps/retreats
The Core Case-management Strategy:
Talking Transition
• Help youth see and prevent potential problems/options
• Help youth make decisions
• Give youth responsibility to take action
• Keep a future focus
• Expect resistance
• Process "mistakes"
• Develop patience
Addressing Special Needs
•
•
•
•
•
•
•
•
•
Pregnant/parenting youth
Youth with MH/CD issues
Youth with developmental disabilities
Youth with criminal records/sex-offenders
Youth with unique cultural backgrounds
LGBTQI2-S youth
Youth from gangs
Immigrant youth
Youth with chronic medical problems
Aftercare
•
•
•
•
•
•
•
Emergency assistance
Non-emergency financial assistance
Provisional discharge
Second chances
Allow for re-entry
Counseling/support
Involvement of former youth in training/policy
development
• Connections to adult services
• Referrals to needed resources
Useful Publications
•
"Housing Options for Independent Living Programs"
Available at or 202-662-4278 or www.CWLA.org
•
"Moving In: Ten Successful IL/TL Program Models"
Available at Northwest Media 800-777-6636 or www.northwestmedia.com
•
Housing Assistance for Youth Who Have Aged Out of Foster Care: The Role of the Chafee
Foster Care Independence Program http://aspe.hhs.gov/hsp/12/chafeefostercare/rpt.shtml
•
Housing for Youth Aging Out of Foster Care: A Review of the Literature and Program
Typology http://www.huduser.org/portal/publications/interim/hsg_fter_care.html
•
"A Future Near Me: Questions to guide a young adult's journey to self-sufficiency"
National Resource Center for Youth Services 918-660-3700 www.nrcys.ou.edu
•
"A Path Near Me: Questions to guide a young Native American journey to the future"
National Resource Center for Youth Services 918-660-3700 www.nrcys.ou.edu
•
"Operation Independence: Individual and group life skills training activities"
National Resource Center 918-660-3700 www.nrcys.ou.edu
Bio: Mark J. Kroner LISW-S
• Mark is an independently licensed social worker who has worked
with thousands of youth in transition in the child welfare, juvenile
justice, mental health and homeless youth systems. Mark has
written numerous articles and books on housing and self-sufficiency
and has been active as a 21 year IL program director, advocate,
trainer and national consultant.
• Mark has four children, ages 23,25,27 and 30 and two
grandchildren, all in various states of transition.