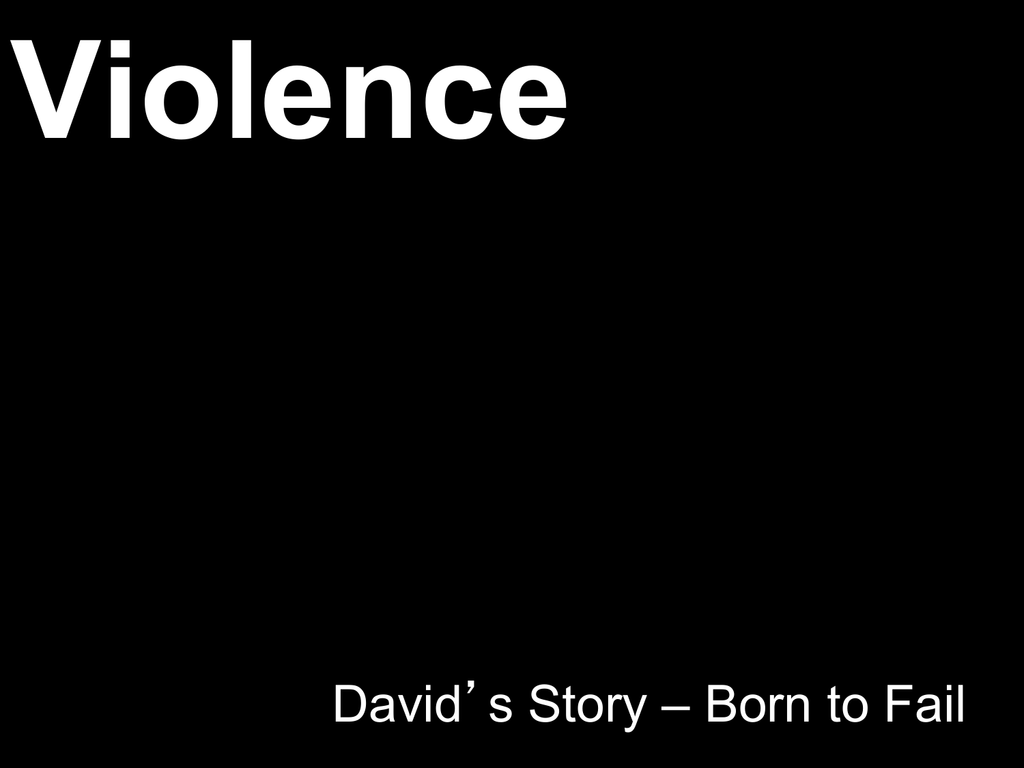 Violence
David's Story – Born to Fail
The Plan
•
•
•
•
•
Violence Reduction – The Context
Public Health – A useful Lens
Early Years – Could it be Magic ?
David's Story – Knew that would happen!!
Change – Can we make it Irresistible?
"The
challenges we face converge,
intertwine and often remain largely
beyond our understanding. Most of
us suspect that the "experts" don't
really know what's going on and that
as a species we've released forces that
are neither managed nor
manageable."
Thomas Homer-Dixon
(Paper by Prof Phil Hanlon University of Glasgow 2009
"One manifestation of this is the rise of
new epidemics such as obesity,
addiction-related harm, declining wellbeing, rising rates of depression and
anxiety and widening inequalities. The
tools of modernity have proven
unsuccessful in tackling such "diseases."
Learning our way into the future public health: a proposition
Journal of Public Health Vol 33
September 2011
Phil Hanlon, Sandra Carlisle, Margaret Hannah, Andrew Lyon, David Reilly
"We have been fixated on
the causes of disease
rather the mechanisms that
can create health."
Sir Harry Burns
Chief Medical Officer
2011
Sense of Coherence
• Your world is structured, predictable and
explicable
• You have the internal resources to meet the
demands
• The demands are seen as challenges worthy of
investment and engagement
Sir Harry Burns
Chief Medical Officer
2011
Violence
The WHAT
"Interpersonal violence – violence
between individuals in families and
communities – is a
public
health problem."
Etienne Krug
Director
Department of Injuries and Violence Prevention
The HOW
Surveillance
Systematic
data
collection
Implement
Scale up and
evaluate
effective
programmes
Identify risk /
protective
factors
Research why
it occurs
Develop and
evaluate
interventions
Find out what
works.
Understand theCauses of Violence
Two components to Violence:
• The propensity to be violent - personal
factors
• The triggers of violence - social factors
The Wave Report 2005 "Violence and what to do about it"
What do Employers Want ?
Percentage of Employers reporting an employee skill gap
Planning and organising
Customer handling
Problem solving
Team working
Oral communication
Other technical and practical skills
Written communication
Basic computer literacy / using IT
Strategic management
Advanced IT or software
Using numbers
Literacy
0%
10%
20%
30%
40%
50%
60%
Future Skills Bar Chart. See Future Skills Scotland Website,
Employer Survey 2004, p27, fig 15.
Consequences: long-term
Death
ACEs are fundamental
risk factors for disease
and early death
Disease, Disability
Early
Death
and Social Problems
Adoption of
Health-risk Behaviors
Social, Emotional, &
Cognitive Impairment
Adverse Childhood Experiences
Toxic Stress
Conception
Rates of Return to Human Capital
Higher Education
Secondary
Primary
Preschool
Economics
"A major determinant of successful schools is
successful families. Schools work with what
parents bring them. They operate more
effectively if parents reinforce them by
encouraging and motivating children"
Professor James Heckman
Chicago University
Ecological Model = The Frame
Societal
Lack of punishment for
pre cursor offences – knife
carrying
Lack of visible swift
justice
Links to deprivation
Scottishness
Inequality
Community
Relationship
Cultural norms
Parenting
Legitimisation of violence Lack of knowledge
Access to and use of alcohol Friends that engage in
Lack of aspiration
violence
Dependancy
Prevalence of gang culture
Violent families –
Tolerance
siblings/parents
Lack of significant
adults/positive role model
Individual
Lack of communication skills
Poor behavioural control
Impulsiveness
Aggressive behaviour
Lack of skills to deal with
conflict
Inability to judge risk
Lack of "life" skills
Exclusion from Services/Schools
Nutrition Diet Health
Alcohol
Lack of employment
opportunities
Purpose
Scottish Government Economic Strategy
National Outcomes
NATIONAL PERFORMANCE
SOAs
birth
LIFE JOURNEY
10
16
18
Valuing our Young People
Early Years Framework
More Choices More Chances
Curriculum for Excellence
GIRFEC
Promoting Positive Outcomes (ASB)
YJ Framework
NATIONAL POLICIES
Road to Recovery (Drugs)
Alcohol framework
Equally Well (Health Inequalities)
Achieving our Potential (Poverty)
Challenges
• Wicked problems – Leaders not technicians
• Professional Gangs = Territorialism
• Outcomes not processes
• Assets not deficits
Coalition of the Willing
• Deciding WHAT we do is EASY
• Deciding HOW we do it is HARD
• Knowing WHY we do it is AGREEMENT
Relationships
AMAZING PEOPLE
DO AMAZING THINGS
Aspire to build a
cathedral and not
a garden shed.