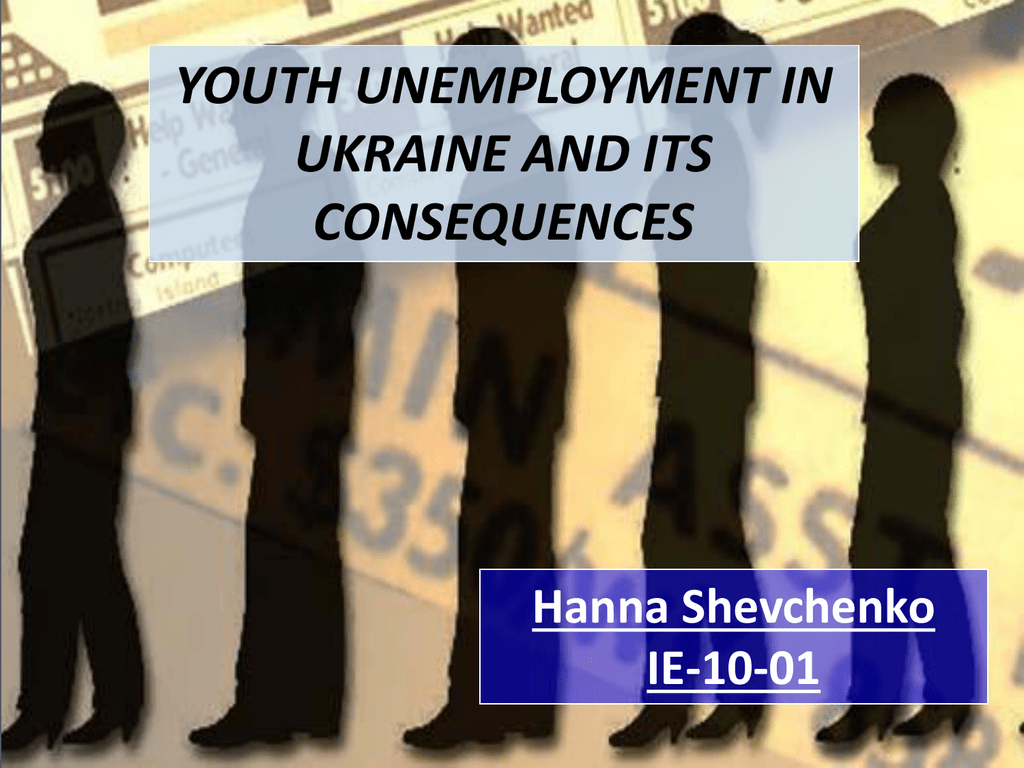 YOUTH UNEMPLOYMENT IN
UKRAINE AND ITS
CONSEQUENCES
Hanna Shevchenko
IE-10-01
STRUCTURE
Introduction
Main body
- Youth unemployment and causes of
this problem.
- Consequences of youth unemployment.
- Possible solutions to this problem in Ukraine.
Conclusion
Youth Unemployment and
Causes of This Problem
Youth unemployment is some form
of unemployment associated with
the period from leaving school to
inclusion in the workforce.
Unemployed young people are a special
social group which does not have such
values as a job associated with its
prestige, wealth and general recognition
at certain time.
Youth Unemployment in Europe
February 2013
30,8
2008
21,1
10,2
26,2
Great Britain
7,7
58,4
55,7
38,2
France
Great Britain
22,2
17,6
France
Germany
Germany
Spain
Spain
Italy
Italy
Portugal
Greece
Ireland
37,8
13,8
10,2
15,9
Portugal
Greece
20,4
20,7
Ireland
According to sociological
surveys in recent years Ukraine
has faced such problems of
employment as:
•the reducing number of
employees in the country,
• growth of labor mobility,
• increasing number of
employees in the shadow sector
etc.
Youth Unemployment in Ukraine
25
23,8
21,4
20,4
20
18,2
18
16,6
18,7
17,1
16,2
15,8
16
2006
2007
2008
17,6
17,9
2010
2011
18,6
%
15
10
5
0
1999
2000
2001
2002
2003
2004
2005
2009
2012
Consequences of Youth Unemployment
1. It is
accompanied by
poverty,
significant
deterioration of
population's
living standards.
2. The inability to
find a job in the
homeland makes
youth look for
the one abroad,
which leads to
the outflow of
labor force and
brain drain.
3. Unemployment
leads to the
aggravation of the
crime situation
because people have
no other way to get
money.
4. Youth
unemployment
is particularly
alarming
because young
people are the
future of the
country.
Knowing about mass
unemployment, young
people stop taking
education seriously, so
it is rather difficult to
find an expert. It
shouldn't be
overlooked that most
crimes are often
committed by youth.
Possible Solutions to This Problem in Ukraine
The following measures could reduce unemployment
among young people aged 15 to 24:
to develop and adopt a special
Law which would involve extensive
use of flexible working time and fix
the conditions of temporary and
seasonal contracts
 to provide
the special
projects for
financing
active
measures to
promote
youth
employment
 to develop and implement an
effective mechanism for
financial and other support to
enterprises, institutions and
organizations participating in
the program on youth
employment.
It is quite possible that such
measures will not only have a
positive impact on the
unemployment rate in the
country but also subsequently
the economic level of
development as a whole.
Conclusion
Youth unemployment today is not only a
problem of Ukraine, it has reached a global
level, and requires immediate action in our
country and in others. An effective solution to
the problem of youth unemployment will give
impetus to the development of the national
economy, contribute to the formation of
Ukraine as a stable, developed and
prosperous nation.